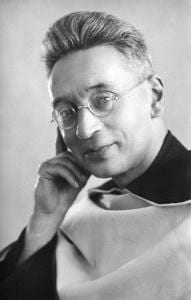 Titus Brandsma was born as Anno Sjoerd Brandsma to Titus Brandsma and Tjitsje Postman on February 23, 1881 in Bolsward, the Netherlands. His parents ran a small dairy farm and were very devout Catholics, even though they were the minority in the predominantly Calvinist region. Titus and all of his siblings (except one sister) ended up joining religious life.
Titus began his secondary studies at age 11 at the Franciscan-run minor seminary for boys in Megen. It was at this point that he began contemplating a priestly or religious vocation. Instead of joining the Franciscans, though, he joined the Carmelite friars in September 1898, taking the religious name Titus in honor of his father.
He was ordained a priest in 1905 and was awarded a doctorate of philosophy at Rome in 1909. From then until 1923, he worked as a writer and teacher. During this time, he led a project of translating the worked of St. Teresa of Ávila into Dutch. Titus also helped to found the Catholic University of Nijmegen (now called Radboud University) and was a professor of philosophy and the history of mysticism there for a time. Rather than being known for his scholarly work as a professor, Titus was known for his constant availability to anyone who needed him.
In 1935, Titus traveled on a lecture tour of the United States and Canada, speaking at institutions of his Order. Upon seeing Niagara Falls, he wrote, "I not only see the riches of the nature of the water, its immeasurable potentiality; I see God working in the work of his and the manifestation of his love." He reveled at the magnificence of God through His creation, something we should strive to do. God is everywhere and in everything, after all.
The Nazis invaded the Netherlands in May 1940. Titus had been very vocal against the Nazis and so these two factors combined to bring him to the Nazis' attention. In part of his work against the Nazis, Titus hand delivered a letter from the Conference of Dutch Bishops to the editors of Catholic newspapers, telling them not to print official Nazi documents. Titus was able to visit fourteen editors before the Nazis caught up with him. He was arrested on January 19, 1942.
Titus was first held prisoner at Schevenignen, then Amersfoort, and then Cleves, before being finally transferred to the Dachau concentration camp on June 19. There his health quickly declined and he was transferred to the camp hospital. In the infirmary, he died by a lethal injection on July 26. This injection was part of the program of medical experimentation on prisoners.
In a biography on Titus, it is said that his character consisted of some vanity, a short temper, extreme energy, political innocence, true charity, unpretentious piety, decisiveness, and great courage. He was truly a man of virtue and always sought to be more virtuous.
Titus was known well for his knowledge of Carmelite spirituality and mysticism. His studies on mysticism were the basis for the establishment of the Titus Brandsma Institute in Nijmegen in 1968. He was also known for speaking out against anti-Semitism, even though, at the time, the popular theological opinion of his peers towards Judaism was negative. He was honored by the city of Dachau with the naming of a street adjoining the former camp after him (even though it's one of the narrowest streets in the towns).
Pope St. John Paul II beatified Titus Brandsma on November 3, 1985.
Image courtesy of https://commons.wikimedia.org/wiki/File:TitusBrandsma.jpg