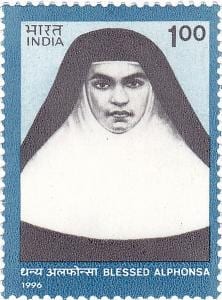 Alphonsa of the Immaculate Conception is a very special saint. She is the first person of Indian origin to be recognized as a saint and is the first canonized saint of the Syro-Malabar Catholic Church, and Eastern Catholic Church (this means she was not part of the Latin Rite).
She was born Anna Muttathupadathu on August 19, 1910 in Arpookara, a village within Kerala, India. As a child, her parents nicknamed her Annakkutty ("little Anna"). When Alphonsa was three, she suffered greatly from eczema for over a year before it was able to be brought under control. Her mother died when she was young, so Alphonsa was raised by her maternal aunt, but suffered under her hands and because of teasing by schoolchildren.
Alphonsa, as a child, received many marriage proposals from reputed families but she did not wish to enter into a marriage. To keep suitors at bay, she fell into a pit of burning chaff and burned her feet badly. This left her partially disabled for the rest of her life but also afforded her the freedom to enter religious life, as she desired.
As soon as she was able, Alphonsa entered the Franciscan Clarist Congregation and completed her schooling through them. She received the postulant's veil in 1928 and took the name Alphonsa of the Immaculate Conception in honor of the saint whose feast day it was, St. Alphonsus Ligouri. She took her permanent vows on August 12, 1936.
Alphonsa enjoyed a short period of respite from her ailments but contracted severe pneumonia in June 1939, which left her even more weak. In October 1940, a thief entered her room at night and this caused her to additionally suffer amnesia. From then on, her health deteriorated. In July 1945, she developed gastroenteritis and liver problems which caused violent convulsions and much vomiting. After these health problems and more, Alphonsa died on July 28, 1946 at the age of 35.
Many of the miraculous cures attributed to Alphonsa involve the straightening of clubbed feet, most likely because she had lived with deformed feet. She is a patroness against illness.
Image courtesy of https://commons.wikimedia.org/wiki/File:Saint_Alphonsa_1996_stamp_of_India.jpg