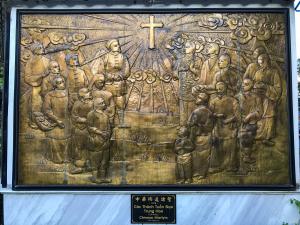 Martha Wang Luo Mande was born in 1812 in Zunji, China. She and her husband later lived in Qingyian and owned a small vegetable farm.
Martha Wang and her husband were unable to have biological children. What a sorrow this was for them. I wonder if she felt as many of us who have trouble conceiving feel: Did she feel unworthy or defective? Did she feel abandoned by God? Did she feel subhuman? Was she able to see past the physical lacking in her body to the spiritual realties quickly or very gradually? This is all speculation, as we do not know, but it is good to remember that the saints are people like us who experienced the full range of emotions. Our emotions don't separate us from holiness and God but lead us to that. It is in embracing our emotions and rightly ordering them that we grow in virtue and, thus, in holiness.
Despite being unable to have children of their own, Martha Wang and her husband adopted two nephews.
When Martha's husband died, her sons left home and she moved to the edge of town where she ran a small inn. A Catholic stayed at her inn once and she was intrigued by the Faith. On Christmas 1852, Martha Wang converted to Catholicism. She then moved to Guiyang where she worked as a cook in a Catholic hostel. She was later hired by Bishop Hu to work as the cook and cleaning lady in the seminary he opened in Yaojiaguan.
In 1861, some soldiers, who were extremely anti-religious, arrived at the seminary and arrested three seminarians for being Christians. They were sentenced to death. On July 29, Martha Wang walked with the condemned seminarians to the place of execution, despite threats from the soldiers. Because of her support for them, she was also arrested and sentenced to death. It is said that "all four showed on their faces the peace and joy that rose from courage to die for their Catholic Faith, as they prayed up to the last minute before entering the glory of martyrdom."
Image courtesy of https://commons.wikimedia.org/wiki/File:Martyr_Saints_of_China.jpg