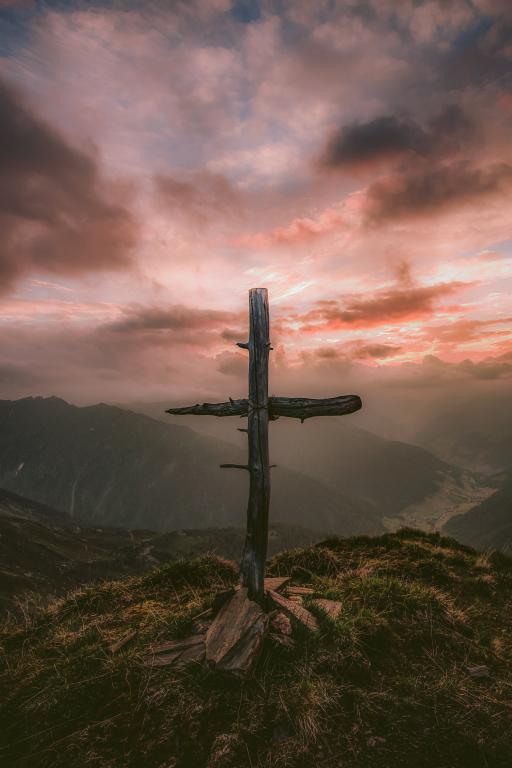 A rather necessary distinction is needed thanks to another week of scandalous tweets and insta-outrage. The distinction between Christ privilege and white privilege. The following words will not argue against the idea that white privilege exists, however.
I am not here to refute the claim that those with white skin have shields protecting them from suffering. No. My aim is simply to highlight some of the baffling things that many of us may be guilty of saying and what it truly reflects when we speak (or type) without thinking.
A charge has been levied against love itself.
A couple of months ago, my husband and I were having a discussion about what happens when love is offered in the face of hate. The Beatitudes came to mind, and a very particular verse was considered, along with a question posed: Do we persecute others for love? Is that what Jesus meant when he said that we would be persecuted because of him?
During Jesus' preaching on the Sermon on the Mount, the Beatitudes are introduced. My particular focus in on verse 11, but for the sake of context—to avoid cherry-picking— I have included 3 preceding verses. Matthew 5:7-9, 11 reads:
Blessed are the merciful, for they will be shown mercy.
Blessed are the pure in heart, for they will see God.
Blessed are the peacemakers, for they will be called children of God…
Blessed are you when people insult you, persecute you and falsely say all kinds of evil against you because of me.
Rejoice and be glad, because great is your reward in heaven, for in the same way they persecuted the prophets who were before you.
Here's the thing, I believe that Jesus Christ and God are One. Jesus is God in flesh, made fully human, but also fully divine. Jehovah Witnesses would argue against such an extraordinary idea. At least, the Jehovah Witnesses that used to visit me often did. Nonetheless, I think most of us agree that Jesus and God are one.
But, if you need a little more convincing, the Gospel of John reiterates the position. John 1:1-4 states:
In the beginning was the Word, and the Word was with God, and the Word was God. He was with God in the beginning. Through him all things were made; without him nothing was made that has been made. In his was life, and that life was the light of all mankind.
Jesus is the Word and the Word was God. Therefore, Jesus is God.
And as 1 John 4:7-9 highlights, God is love.
Dear friends, let us love one another, for love comes from God. Everyone who loves has been born of God and knows God. Whoever does not love does not know God, because God is love. This is how God showed his love among us: He sent his one and only Son into the world that we might live through him.
So, Jesus is the Word, the Word is God, and God is love. Jesus is love. Jesus' name means love. And so, this adds evidence to my proposition that we shall be persecuted in the name of love, that is God.
Not exactly a new idea. Most of us know that God is love. But, do most of us believe that we will be persecuted for love, or rather that we would be persecuted for following Christ? Aren't the two the same, anyway? Perhaps. But many Christians hold to the idea that they will be persecuted solely for their theological beliefs.
For the sake of word space, let's agree that love will be persecuted. In fact, love has been persecuted, judiciously, even. Most of us are familiar with the story of Loving v. Virginia; Richard and Mildred Loving are one of the truest testaments that love faces persecution and prosecution.
Of course, this is not the only instance worthy of highlighting, but again, for the sake of space, I am going to cut to the chase.
Below, is a a portion of the screenshot. Yes, it is edited. I cut the remaining text out because it is inflammatory and not relevant to the point.

Of course I am conflicted. The very things condemned in this post are the very mantras that I apply to my own life.
Disney has supplied me with similar mantras that are staples in my own home.

Dory taught me to "just keep swimming". Moving forward and moving on is a good thing, or so I thought.
Jesus taught to forgive—to show mercy— and also warned not to "cling." Which I took as a sign to let go of the burdens and contempt of the past.
Jesus also taught: "Love the Lord your God with all of your heart and with all of your soul and with all of your mind and with all of your strength" but also to "love your neighbor as yourself."
Richard Rohr taught me that "love is what we long for and were created for—in fact, love is what we are as an outpouring from God—but suffering often seems to be our opening to that need, that desire, and that identity."
Martin Luther King Jr. taught me "Hate is rooted in fear, and the only cure for fear-hate is love."
So I have to ask the question: What is it exactly about the idea of spreading love that deems it worthy of the label of "white privilege"?
Love is Universal
Love is the only transforming power that we have available to us. To all of us. Christ doesn't play favorites. This universal message is available to all who are willing to receive it. Love is a universal language that doesn't get lost in translation. Love in action is easily identifiable by all. So, the idea that spreading love is somehow not acceptable or a cause for condemnation perplexes me.
So, perhaps it is not white privilege so much as it is Christ privilege?
The privilege of Christ grants us the space to embrace the unknown. Christ privilege allows us to see all the suffering unfolding before our eyes as a temporary moment in a temporary time frame that will be remedied when we pass away from this world. That doesn't mean that we don't concern ourselves with injustice, or obvious oppression, or even racism. It simply means that, even if all of our efforts to alleviate the suffering of others doesn't go according to our plan, that God will alleviate the suffering of all.
It doesn't dismiss the very cruel evils that pervade our world.
But if we are getting caught up in the idea that unity, love, and moving forward are devices afforded only to those who are white; what does that say about the Good News? That it's only available for white people? That love itself is a privilege that only white people will ever know?
I refuse to accept that.
Love is being persecuted. Love is being trampled upon. And if we don't stand up for love, I would have to ask: what the hell are we willing to stand up for?
We can spread love, unify and come together, and move forward without dismissing the very true realities of evil that people face day in and day out. We can show mercy, we can be peacemakers, and we can get back to purity of the heart. It isn't a privilege afforded just to white people. It is a privilege that Christ has offered all people, all over the world. Let's stop segregating love. For truly, love sees no color.
** Edit**
I have been informed that much of this has been taken as inflammatory and insulting. I apologize, sincerely.
I am reflecting on many of the comments.
If you feel that there was a better way to present my message, please don't hesitate to share your feedback (criticisms).
Thank you for allowing me the space to process and evolve. Thank you for your patience and grace. I know I have much more growth ahead.
Recorded Conversations is now available for your listening pleasure.