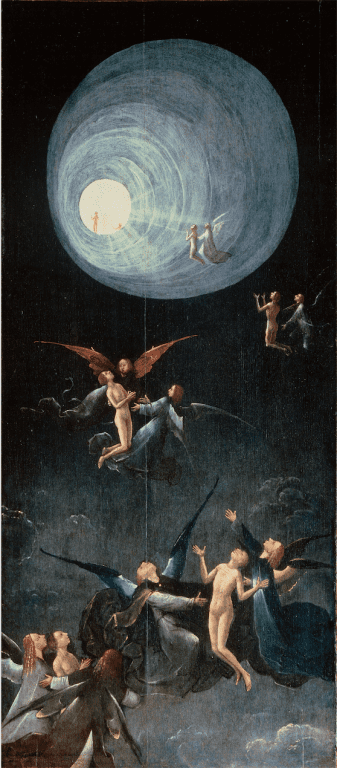 Continuing with a passage from a rough manuscript-in-progress:
One of Osis and Haraldsson's physician-respondents told of an engineer in his fifties, stricken with coronary thrombosis:
He saw a "bearded man" standing at the opening to a long golden corridor.  He was shaking his head and motioning him to go back, [and] said:  "Not now, later."  This made the patient very happy.  He said I [the doctor] need not give him medicine anymore:  "I am not wanted up there."  It was right after this experience that he started getting better.[1]
The Gallup poll reported that 9% of its NDE-informants—3% of all those who said they had come close to death—mentioned the tunnel.  At the time, that statistic represented half a million people.[2]  The Evergreen study says that 38.2% of its interviewees reported "darkness" as part of their experience, which may refer to the same phenomenon.  Ring and Cooper report 38% in their study of NDEs among the blind.[3]  Of Susan Blackmore's informants in India who had come near death, three-nineteenths—three-eighths, or 38%, of those who claimed an NDE—reported a "tunnel."[4]   [Illustration:  Hieronymus Bosch (d. 1516), "Ascent into the Empyrean."]  Coming in roughly midway between the statistics previously cited, Arvin Gibson says that a tunnel figured in 22% of the interviews he has conducted.  Generally, he reports, it occurs in the cases of those whose NDEs have been "fairly extensive."[5]  Just slightly less than 23% of those interviewed as part of Kenneth Ring's Connecticut Study told of moving through a dark, peaceful place, which some identified as a tunnel, while others called it a "funnel," a "pipe," a "culvert," or a "drum," or else left it unnamed.[6] At least two of Gallup's informants spoke of a long, dark "hallway."[7]  Thirteen of the eighty-one earthquake survivors interviewed by Feng Zhi-ying and Liu Jian-xun, or sixteen percent, reported encountering a tunnel or tunnel-like place during a near-death experience.[8]
[1] $Osis and Haraldsson, At the Hour of Death, 152.
[2] $Gallup, Adventures in Immortality, 32.  See Gallup's discussion on pages 52-54.
[3] Ring and Cooper, Mindsight, 38.
[4] Susan J. Blackmore, "Near-Death Experiences in India: They Have Tunnels Too," Journal of Near-Death Studies 11/4 (Summer 1993): 215.  Blackmore, it might be noted, was attempting, as she explicitly states, to establish the universality of tunnels or of tunnel-like darkness in order to explain NDEs as dependent on the physiology of the human brain.
[5] Gibson, Fingerprints of God, 67.  See, for instance, the account that he records on pages 58-60.
[6] $Ring, Life at Death, 53; compare Guggenheim and Guggenheim, Hello from Heaven!, 131, 154-160.
[7] $Gallup, Adventures in Immortality, 45, 113.
[8] Feng Zhi-ying and Liu Jian-xun, "Near-Death Experiences among Survivors of the 1976 Tangshan Earthquake," Journal of Near-Death Studies 11/1 (Fall 1992): 39-48.
Posted from Las Vegas, Nevada