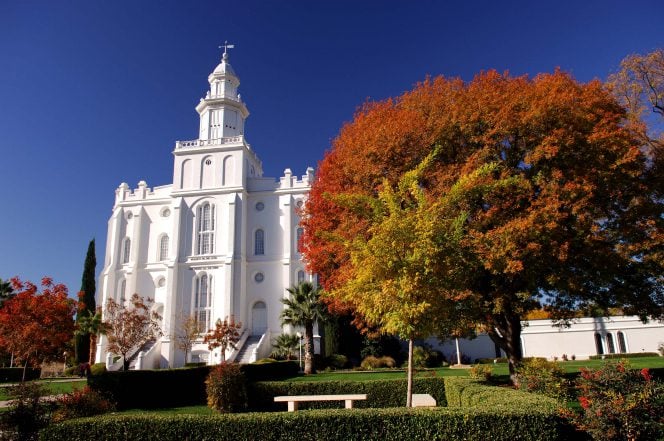 When I first arrived at Brigham Young University, I came as a mathematics major, with the vague notion that I wanted to become a cosmologist.  (I had almost gone to Caltech, which, in retrospect, would have been a significant mistake.)  Also, I seem to recall that I just thought that mathematics was the most purely intellectual of all subjects, something wonderfully admirable, so that was what I wanted to do.
I soon realized, though, that mathematics was not my passion, and also that I wasn't especially good at it.  I mean, I wasn't bad.  I could earn A's.  But I didn't think that I would or could be much of a contributor.  For one thing, I just wasn't that interested.
I'm reminded of a story about Henry B. Eyring, of the First Presidency.
As a college student, he often worked out physics problems with his father — who also bore the name Henry Eyring, and who was a world-renowned scientist — on a basement blackboard.
One day, the senior Eyring commented, "We were working a problem just like this a week ago. You don't seem to understand it much better. Isn't this what you think about all the time?"
His son, Hal, answered that no, it wasn't.  Perhaps just a tad disappointed, but perhaps not, Henry Eyring the father offered some very valuable advice:  "Find something, Hal, to do that you think about all the time, that you enjoy so much that when you don't have to think about it, that's what you think about."
In recent years, I had been reading Hugh Nibley, and I was much smitten with him.  I discovered that history, and specifically the history of religion, was what really intrigued me, and I've been at it ever since.
I graduated from BYU in classical Greek, with a minor in philosophy.  (No major was available at the time.)  But, naïvely, I thought that the study of classical Greek was played out by then, and I feared devoting my life to the particle τε in the works of some obscure Hellenistic poet.
I've long since realized that late or post-classical antiquity is a treasure-trove of underappreciated and understudied people and thoughts, and that I could have burrowed happily into that world.  Or I could have become a Byzantinist; I woud have been happy as a Byzantinist.  Instead, though, I decided to focus on the Middle East, and particularly on the then-neglected (or so it seemed to me, and so it certainly was among Latter-day Saints) world of Islam.
But my interests have never been purely focused on Islam, and, although I'm fairly described as an Islamicist — or, using a word that I've never really adopted as my own, as an Islamologist — I really see myself as a historian of religion, and, particularly, as a historian of religious thought.
Thus, my interest in Mormon scripture is, in a very real sense, of a piece with my classes on the Qur'an and my conception and founding of BYU's former Middle Eastern Texts Initiative.
Posted from St. George, Utah