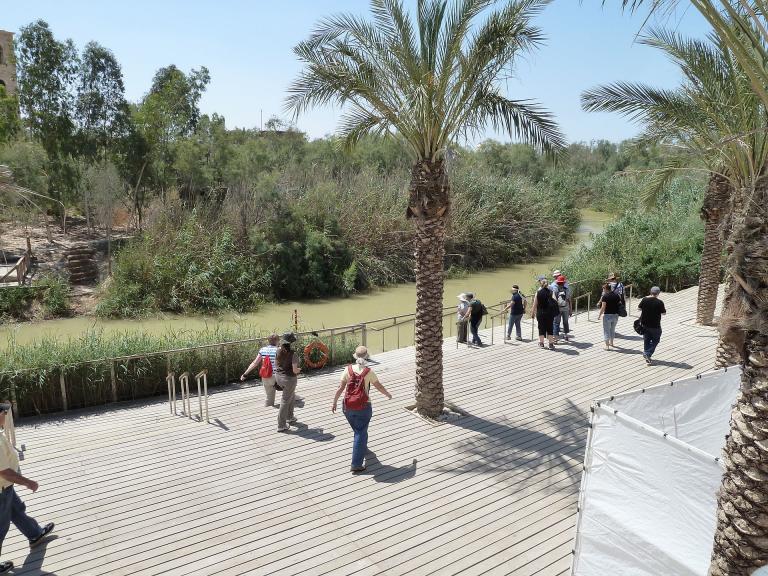 Again, I want to stress that the Isaianic prophecy — cited most fully by Luke 3:4-5, but mentioned in all of the gospels — refers to John as the advance guard or herald of a "royal progress," assigned not to level all of the mountains and valleys of Earth but, speaking figuratively, to prepare the road that the king, the messiah, would travel in order to greet his people and inaugurate his rule.  The roadway is to be upgraded, smoothed, leveled, and straightened out, and bridges are to be built:
4 As it is written in the book of the words of Isaiah the prophet:
"A voice of one calling in the wilderness,
'Prepare the way for the Lord,
    make straight paths for him.
5 Every valley shall be filled in,
    every mountain and hill made low.
The crooked roads shall become straight,
    the rough ways smooth.
Finally, from the rather distinct account of the fourth gospel:
19 Now this was John's testimony when the Jewish leaders in Jerusalem sent priests and Levites to ask him who he was. 20 He did not fail to confess, but confessed freely, "I am not the Messiah."
21 They asked him, "Then who are you? Are you Elijah?"
He said, "I am not."
"Are you the Prophet?"
He answered, "No."
22 Finally they said, "Who are you? Give us an answer to take back to those who sent us. What do you say about yourself?"
23 John replied in the words of Isaiah the prophet, "I am the voice of one calling in the wilderness, 'Make straight the way for the Lord.'"  (John 1:19-23, New International Version)
Why might the Jews have imagined John to be Elijah?  It's not as crazy as it might first seem.  Please see this short article, published in the Deseret News on 27 April 2018:
"Is this the place of Christ's baptism?"