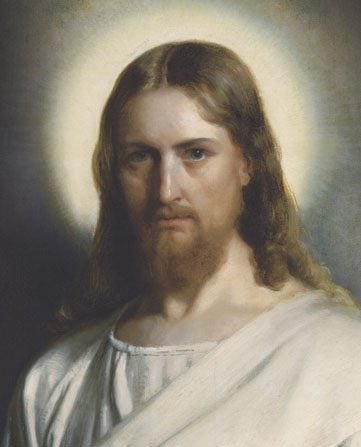 This paper was presented by Nick Frederick on Saturday, 14 March 2015, at an Interpreter Foundation conference on "Exploring the Complexities in the English Language of the Book of Mormon":  Conference Talks: "Full of grace, mercy, and truth": Exploring the Complexities of the Presence of the New Testament within the Book of Mormon
While it has often been observed that the language of the New Testament plays a key role in the English text of the Book of Mormon, how the New Testament appears in the Book of Mormon has not been thoroughly explored. This presentation will offer some preliminary suggestions on how we can adequately identify New Testament passages within the Book of Mormon, as well as examining the variety of ways the New Testament text is woven throughout the pages of the Book of Mormon.
***
I posted some links yesterday about the decision by the Los Angeles Dodgers, my beloved hometown baseball team when I was young, to honor and celebrate the LGBTQ+ activist group known as the "Sisters of Perpetual Indulgence."  Here's another link, from the Wall Street Journal: "These Aren't Tommy Lasorda's Dodgers: Why would the team honor a group that mocks Catholics?"
And here's yet another, from the Deseret News:  "Perspective: In L.A. Dodgers controversy, 'Sisters of Perpetual Indulgence' LGBTQ group wins at the expense of people of faith: There is a straight line from religious nones to areligious nuns, with ever fewer people daring to speak for people of faith"
Here's an interesting perspective on the smash hit television series The Chosen from a writer for The Times of Israel:  "Why this Jew is binge-watching The Chosen (and maybe you should too): The TV drama all the Christians were talking about presents the most intensely Jewish Jesus and Gospels we've ever had"
And there's good food for thought in this report of a recently-concluded global study:  "New Ipsos survey includes newsworthy updates on religious attitudes worldwide"
Here's something from the Cowboy State Daily:  "Plans For 101-Foot Mormon Temple In Cody Spark Opposition, Petition Drive: A proposed Mormon temple in Cody has drawn backlash from some locals who say it will blight their views, violate zoning rules and cause other issues in the residential neighborhood it's planned for."  Having been alerted to this controversy, I skimmed through the Facebook page of the group "Preserve Our Cody Neighborhood," which has been organized to oppose the construction of the Cody Wyoming Temple at that location, and I found some of the comments (and the one posted video) quite instructive.
***
I here extract and share some notes from Robert J. Hutchinson, Searching for Jesus: New Discoveries in the Quest for Jesus of Nazareth — and How They Confirm the Gospel Accounts (Nashville: Nelson Books, 2015).  I found them interesting, and you might, as well.
[S]ome scholars — perhaps most famously the liberal Anglican bishop John A. T. Robinson in his classic 1976 work, Redating the New Testament — have openly challenged the late dating of the Gospels.  Despite his status as a liberal theologian, Robinson didn't buy the argument that the Gospels were written forty to one hundred years after Jesus's crucifixion.  "One of the oddest facts about the New Testament is that what on any showing would appear to be the single most datable and climactic event of the period — the fall of Jerusalem in AD 70, and with it the collapse of institutional Judaism based on the temple — is never once mentioned as a past fact," Robinson wrote.58

In the last few years, younger scholars have also begun to question the old assumptions of New Testament scholarship regarding the dating of the Gospels.  One of the more fascinating examples is James Crossley, a young British New Testament scholar at the University of Sheffield in the UK.  Crossley studies the New Testament from a strictly secular perspective, and even debates Christian apologists such as William Lane Craig on such topics as the resurrection of Jesus.  Yet Crossley is skeptical of late datings for the gospel of Mark.  In a fascinating 2004 book, The Date of Mark's Gospel, Crossley defies more than a century of New Testament scholarship to argue that the gospel of Mark, far from being written in the late AD 60s or even early 70s, as older scholars have long believed, could well have been written as early as the mid-30s — perhaps just five to ten years after Jesus was crucified.  (29, citing John A. T. Robinson, Redating the New Testament [London: SCM Press, 1976], 13)
In the end, [Richard] Bauckham makes a powerful case, against at least a century of New Testament scholarship, that the Gospels are based on and incorporate the testimony of eyewitnesses who saw and heard Jesus of Nazareth while he was alive on earth.  Moreover, based on a detailed analysis of the texts, he accepts that at least one gospel writer, John, was himself an eyewitness to some of the events he describes, just as the gospel itself appears to claim (21:24).  (37, citing Richard Bauckham, Jesus and the Eyewitnesses , 472)
For Bauckham, John was a thoroughly Jewish eyewitness follower of Jesus.  In this, he follows some earlier scholars, such as F. F. Bruce, who insisted that John's gospel is so riddled with details of Palestinian geography and local Jewish customs that only an eyewitness on the ground in Jerusalem could have known them.  "The evangelist was evidently a Palestinian," Bruce wrote.  "Although he may have been far from his native land when he wrote his Gospel, his accurate knowledge of places and distances in Palestine, a knowledge which appears spontaneously and naturally, strongly suggests one who was born and brought up in that land, not one whose knowledge of the country was derived from pilgrim visits.  (37, citing F. F. Bruce, The New Testament Documents: Are They Reliable? [Grand Rapids, MI: William B. Eerdmans, 1981], 46-47)
Indeed, some Jewish students of the New Testament, particularly in recent decades, exhibit a far less skeptical attitude toward the Gospels as historical sources than did the first generation of "critical" scholars in Germany in the early twentieth century.  For example, the famous Israeli biblical scholar David Flusser (1917-2000), an Orthodox Jew who taught at the Hebrew University of Jerusalem [and also a friend of Truman Madsen's whom I was privileged to meet and spend a bit of time with at the BYU Jerusalem Center – dcp], often sought to correct what he saw as the distortions that the hyper-skeptical approach to the Gospels created in trying to understand who Jesus was and what he was trying to do.  "The early Christian accounts about Jesus are not as untrustworthy as scholars today often think," he wrote in his classic book Jesus.  "My research has led me to the conclusion that the Synoptic Gospels are based on one or more non-extant early documents composed by Jesus' disciples and the early church in Jerusalem . . .  Thus, when studied in the light of their Jewish background, the Synoptic Gospels do preserve a picture of Jesus that is more reliable than is generally acknowledged."  (37-38, citing David Flusser, The Sage from Galilee: Rediscovering Jesus' Genius [Grand Rapids, MI: Wm. B. Eerdmans, 2007], 2-3; first English edition originally published as Jesus [Jerusalem: Magnes Press, 1997].)