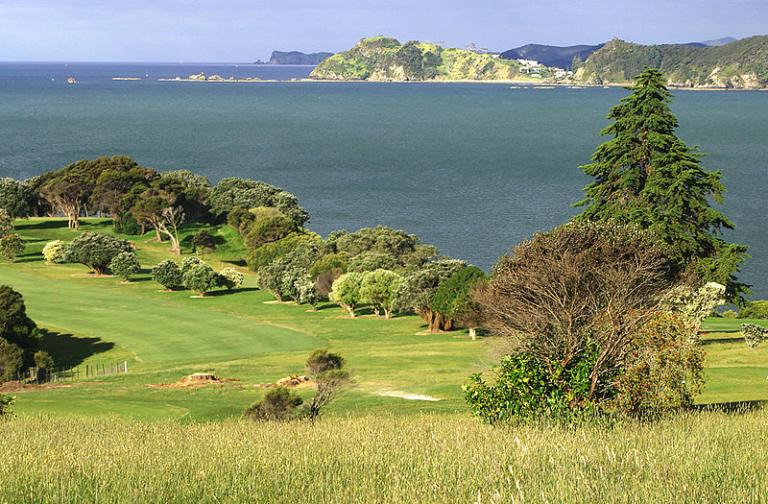 My friend Mike Davis shared this story with me over the weekend, about archaeological findings in Israel's Negev Desert (which doesn't look very much like the Bay of Islands or New Zealand generally):
"1,500-year-old garbage dumps reveal city's surprising collapse: Archaeologists thought Elusa, a popular Roman wine center, collapsed with Islam's arrival. Its trash reveals a very different—and alarming—reason."
And here's another account:
"Ancient Garbage Heaps Show Fading Byzantine Empire Was 'Plagued' By Disease and Climate Change"
It has long been assumed that Islam came roaring out of the desert in the early seventh century, armed and militant, and sorely damaged the thriving Byzantine or Eastern Roman Empire.  Now, though, it's apparent that climate change and disease had already done considerable damage — as anybody familiar with the lethal plagues of the Emperor Justinian's day should already have suspected.
***
Have you ever wondered?
"Why do so many Egyptian statues have broken noses?"
***
Some stories that you might enjoy — or, at least, find meaningful — related to the recent mass murders in Christchurch, New Zealand:
"Hamilton Latter-day Saints Welcome Muslim Neighbours"
This one-man performance of the traditional Maori haka has been viewed by nearly a quarter of a million people.  Be advised that it takes a while before the man is actually shown:
"New Zealand shooting: Man performs emotional Haka dance at Christchurch attack site"
I found this clip quite moving:
"Muslim News Anchor Reacts to Christchurch Attack"
"New Zealand students honor shooting victims with haka dances"
"'Terrorism has no religion': Perth Imam"
"Auckland's St Paul's College Sing 'No Maria' at Ponsonby Mosque"
Muslim boys enacting a Maori tradition:
"Al-Madinah Boys Perform Emotional Haka"
"'I don't have any grudge': Husband of victim says he forgives terrorist: Farid Ahmad, whose wife Husna Ahmad was killed in the New Zealand terrorist attack says he harbours no hatred toward terrorist Brenton Tarrant, insisting forgiveness is the best path forward."
***
I've posted previously about the brazen, unashamed appearance of tyrannical religious bigotry in San Antonio:
"San Antonio and the rise of anti-religious tyranny in the United States"
This odd notion of exclusion as a way of enforcing inclusion, of intolerance as the royal road to tolerance, of openmindedness requiring the suppression of dissenting opinions, is surprisingly common in certain circles — and, in at least one case, it's now being justified on the basis of . . . well, the mass murders in Christchurch:
"New Zealand Bookstore Bans Jordan Peterson Bestseller: Following mosque attack still sells Hitler's 'Mein Kampf'"
"Cambridge Rescinds Its Offer to Jordan Peterson"
I recently read a book by Jordan Peterson, and I confess that I'm still not quite understanding his immense appeal.  But I certainly don't undertand the need for him and his views to be silenced.