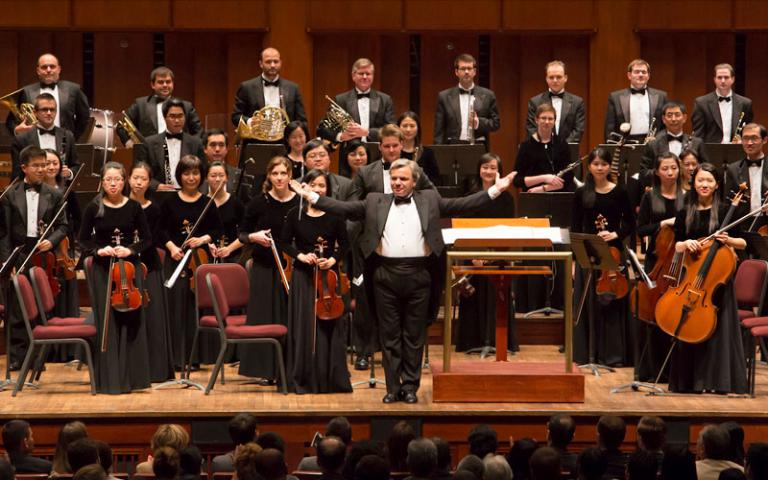 On Wednesday night, my wife and I attended a Utah Opera performance of Mozart's Die Zauberflöte ("The Magic Flute"). It's the opera that I know best; my wife felt that she needed to ask me not to sing along. It was a solid performance, though not my favorite: I prefer Sarastro as an imagined Egyptian priest, not as a 1960s hippie guru. And his beard reminded me of George Clooney's as one of the Soggy Bottom Boys in O Brother, Where Art Thou? But it's a great piece.
This afternoon, Saturday, we attended a performance by Shen Yun up at the George S. and Dolores Doré Eccles Theater in downtown Salt Lake City. I had seen the billboards along I-15, but I didn't know that we were going until yesterday, and I had no idea what to expect. Probably, I thought, state-sponsored Chinese acrobats.
Instead, it was almost all classical Chinese dance and a few ethnic dances, some of them comic, with a couple of songs thrown in.
But I was more astonished, by far, at the ideology that appeared at several points — intermittently — in the production. Here, for example, is the printed program's description of the first scene:
Once upon a time in a heavenly realm, where in bliss winged angels dwelled, ever so gradually the cosmos began declining and approaching its end. Suddenly, one day, the Creator appears. Addressing the divine beings, He offers them a chance to enter the future. Their mission would be sacred, yet perilous: follow Him down to the mortal realm, and there begin to renew the cosmos. Countless divinities answer the calling, incarnating on Earth to establish a glorious culture in the land known as China.
I realized that this simply could not possibly be the state-sponsored performing troupe that I had thought it was. Way too religious. And then there was a dance vignette depicting the persecution of the Falun Gong or Falun Dafa movement by the Communist government of China — via agents prominently wearing hammers and sickles — and it all became much clearer. Later, at the end, an apocalyptic scene shows an enormous tsunami (represented as looming perhaps two thousand feet high) about to overwhelm a modern city. As it draws closer, the face of Karl Marx appears in it. And then the Creator appears, descending from the sky and saving the city.
Here's a portion of the first of the two songs on the program:
Higher lives thus came to this painful world
To learn the Way and return to Heaven, in body divine
But over all our lifetimes and trials
Our purpose was slowly forgot
Consumed with the lives we lead
Oddly, this is at least partially congruent with elements of Die Zauberflöte. Consider, for instance, this passage from the duet "Bei Männern welche Liebe fühlen," sung by Papageno and Pamina:
Mann und Weib, und Weib und Mann,
Reichen an die Gottheit an.
Which can be loosely translated as "Man and woman, woman and man, approach divinity."
Says the second of the two Shen Yun songs, referring to a premortal human existence:
Divine were we before human skin
Oh, and while we're at it, here is another passage from that second song:
Atheism and evolution are deadly ideas
Modern trends destroy what makes us human
Anyway, Shen Yun is manifestly a Falun Gong operation. It was, at points, rather shockingly didactic, even preachy. I didn't expect that at all, and I found it intriguing on multiple levels. What a mix! Sometimes it felt a bit like the old "Up With People" shows that I recall from my high school years. It was about as subtle as a Church pageant. But I must say, too, that the show was extremely well done. The orchestra was very good. The dancing was flawlessly perfect and precise, and often quite acrobatic and spectacular. On the other hand, the Chinese and English narration, by a young American man and a young Chinese woman, was also flawlessly perfect and precise — and the narrators, unlike the dancing, struck me as far too choreographed.
It was a fascinating afternoon. I'm still sorting it out. I need to talk about it with one or more of the professors of Chinese in my department.