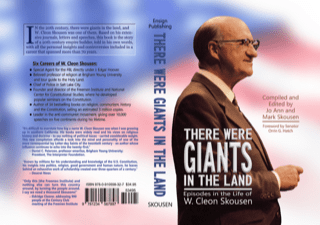 I received the following from my friend Mark Skousen, and I think that some of you will be interested in it.  So I share it here pretty much in toto:
Our New Book is Banned in Beijing!
"Cleon Skousen was truly a giant. I encourage everyone to read the story of this great man, which will inspire you to join the cause of liberty." — Senator Mike Lee

I'm thrilled to announce the release of a new book that my wife Jo Ann and I have worked on for three years — the incredible story of famous anti-communist author and Constitutional expert W. Cleon Skousen. 

He was one of a kind, a "giant in the land." I've mentioned my Uncle Cleon many times in my writings and speeches. He had a tremendous influence on my life and the life of millions through his speeches, lectures, bestselling books and tours of the Holy Land.

Years after he passed away in 2006, wherever I go, I'm still asked, "Are you related to W. Cleon Skousen?"

I answer with enthusiasm, "Yes, he was my uncle and was like a father to me after my own father passed away when I was 16."

Here's a longer answer: My father Roy Skousen died of cancer at age 46, leaving behind 10 children that my mother had to raise (she was 39!). I was only 16 at the time. My Uncle Cleon, who was quite famous for his bestselling book "The Naked Communist," and his Thousand Year books about the Bible, stayed close to our family when we moved to Utah, and he became in many ways my second father. I was a pallbearer at his funeral in 2006.

He inspired me and in many ways I owe my success to his influence. He was instrumental in my complete rewriting of my book, "The Making of Modern Economics." I tell the story in the introduction to Cleon's book. Cleon stayed at our home in Northern Virginia and regaled our children with Bible stories. My wife and I spent time together with him on a cherished trip to Israel in 1980. Jo Ann helped edit Cleon's book, "Days of the Living Christ."

Many family members wanted to write his biography, but eventually, it fell on Jo Ann and me to compile and edit his voluminous journals and private diaries (200 of them!) into this book, and it took a long time, three years to do it. Now it's out. The introduction is by Senator Orrin Hatch, who always said he was elected and was a senator for 42 years because of Cleon's influence.

Our book has been endorsed by former Speaker of the House Newt Gingrich, Senator Mike Lee, Heritage Foundation's founder Ed Feulner, radio host Glenn Beck, conservative marketing genius Richard Viguerie, former congressman Bob McEwen, Leadership Institute founder Morton Blackwell and many others. He was long-time friends with former congressman Ron Paul.

The late Senator Orrin Hatch wrote the foreword: "Cleon had witty, humorous, twinkling eyes, sparkling eyes that would light up every time you started talking about our country, the Constitution and the beautiful land we live in. Cleon's eyes witnessed the highs and lows of our modern era, yet he always had a positive outlook."

Cleon Skousen was a master storyteller and spell-bounding speaker, whether it was about the history of communism, the Bible, the Constitution or the greatness of America. He was a family man who, with his wife Jewel, raised five boys and three girls.


Revealing Memoir Based on His Private Diaries

Now, after three years of hard work by my wife Jo Ann and I, his personal story can be told for the first time, in his own words, revealing never-before-published details about his personal and family life, his six careers and his influence with top government and religious leaders. The book includes over 190 rare photographs and newspaper clippings.

Over his 70-year career as an FBI agent, chief of police in Salt Lake City, BYU professor, author of the "Thousand Year" books, leader in the anti-communist movement and defender of the Constitution, Dr. Cleon Skousen gave over 10,000 speeches and wrote several bestselling books that have sold millions: The Naked Communist… The Naked Capitalist… The 5,000 Year Leap… The Making of America… and the Thousand Yearbooks about the Bible (which still sell today, because they bring the Bible to life like no other book).

I asked radio/TV personality Glenn Beck to write a blurb for the book. He wrote: "When I die, there are two people I want to meet, and one of them is Cleon Skousen. Have you ever read a book that literally changed your life? The Five Thousand Year Leap would solve every problem we have in America."

Labeled the "Constitutional guru" of the conservative movement by the New York Times, Cleon Skousen constantly defended our Constitutional rights and warned America about the dangers of communism, which he regarded as "the greatest threat to liberty on the earth today."

'Giants' is Banned in China!

His anti-communist crusade got him into trouble, even after his death. When our publisher tried to print a low-cost edition of the book in China, the Chinese government intervened and prohibited his book from being published in China.

The printer wrote us, "I was informed that China won't allow it to be printed in any mainland printer due to its contents, what they referred to as 'sensitive material.'"

I guess they took offense to such as statements as "no patriotic American can be either a communist or a supporter of communism" (p. 155) and "Mao's 'butcher' was believed to have supervised the slaughter of some thirty-five million Chinese" (p. 320).

Our publisher chose to print it in "free" South Korea at a slightly higher cost.


Highlights:

–Why 1913, the year of his birth, became a special year in Cleon's drive to achieve political success. "God gave me a mission in life to fight the three political mistakes of 1913!"(See p. 308-309).

–Working with the "ruthless" J. Edgar Hoover during his 16 years with the FBI, plus Skousen's encounters with gangsters Mickey Cohen, Bugsy Siegel and "Machine Gun" Kelly (49-51, 80-84, 88-90, 270-271).

–A Church leader predicts in the summer of 1939, "There will be war!" which leads to Cleon's first book, "Prophecy and Modern Times." (59-60)

–Behind the scenes at the FBI headquarters on the Day of Infamy, December 7, 1941, when Japan bombed Pearl Harbor (73-74).

–Cleon's scariest assignment: planting a telephone bug in gangster Mickey Cohen's house in LA. Suddenly, someone yelled, "Shhhh! The FBI!" (81-82).

–Meeting famed "Gone with the Wind" actress Olivia de Havilland and how he used a secret tape to show how she was being duped by a Communist front organization: Her surprising reaction (85-87). This story is worth the price of the book! 

–His confrontation with an atheist professor and later a debate with the son of notorious atheist Madalyn O'Hair (38-42, 383-385).

–His courtship of his high-school sweetheart Jewel Pitcher,and the secret to their marriage that lasted 74 years (43-44, 166, 479-480).

–What it was like raising five boys and three girls, and why his faithful wife Jewel should be the co-author of Cleon's book, So You Want to Raise a Boy (206-209).

–The real reason Skousen was fired as chief of police of Salt Lake City in 1960 (168-169).

–How a Church leader's public endorsement made The Naked Communist an overnight bestseller, selling over two million copies (153-154, 160-161).

–Cleon's appearance on nationwide TV at the Hollywood Bowl on October 16, 1961, with John Wayne, Jimmy Stewart, Senator George Murphy and Ronald Reagan in "Hollywood's Answer to Communism" (193-198).

–Cleon's friendship with Hollywood producer Cecil B. DeMilleand his role in the filming of "The Ten Commandments" (136-140).

–Friendships with the Osmonds (373-375, 385), Roy Rogers and Dale Evans (166, 195), Art Linkletter (300-302), Eagle Forum founder Phyllis Schlafly (442-443) and economist Milton Friedman (299-300).

–Did Elvis Presley read Cleon's "First 2,000 Years"?! (351-352).

–His special relationship with Ronald Reagan, and the behind-the-scenes reason why Reagan was forced to add George W. Bush Sr. to the Presidential ticket in 1980 (243-244, 331-332, 380-381, 387).

–How his Freemen Institute helped elect Utah Senator Orrin Hatch; their close friendship (290-292, 308-309, 322-324, 365-367).

–Cleon's 70-year close relationship with Ezra Taft Benson as Secretary of Agriculture under Eisenhower and later as president of the LDS Church.

–Confessing a weakness for defending controversial figures like Senator Joseph McCarthy (296-297), the John Birch Society(299), Black Panther Eldridge Cleaver (345-351) and Reverend Moon (343-344), and how they all eventually disappointed him.

What Others Are Saying

"Cleon Skousen was a key figure in the emergence of modern conservatism and the Reagan Revolution." — Newt Gingrich, former Speaker of the House

"Congratulations for bringing this wise American patriot back to center stage. His book remains a standard bearer for those who believe in the miracle of America." — Ed Feulner, Heritage Foundation

"It is difficult to overstate how big a name W. Cleon Skousen was when I was growing up in southern California. His books were widely read and his views on history, religion and politics carried considerable weight. This new compilation affords a look into the mind and personality of an author whose influence continues to echo into the 20th century." — BYU Professor Daniel Peterson

"I say we need a thousand Skousens." — Eldridge Cleaver, former Black Panther

How to Order the First Edition

We printed up 4,000 copies of the first edition of "There Were Giants in the Land," and they will sell quickly. It's available in hardback only and is 544 pages long, with lots of photographs spread throughout the text. Both Jo Ann and I wrote introductions, and an index.

It is beautifully designed and will be a keepsake to be read and re-read. Every page is full of interesting stories and commentaries, all relevant to today's hot political, economic and cultural issues.

The pub date is this Sunday, Sept. 17, which is Constitution Day. (Cleon would like that.) It is now in stock and available in bookstores and on Amazon. (A Kindle version and audiobook are in the works.)

We offer the best deal. Buy it at a discount at www.skousenbooks.com. It's priced at only $34.95 postpaid. We pay shipping anywhere in all 50 states. Order your copy today. (They also make a great holiday or birthday gift.)

Good Investing, AEIOU,




Mark Skousen
Doti-Spogli Endowed Chair of Free Enterprise, Chapman University
Wikipedia
Newsletter and trading services
Personal website
FreedomFest