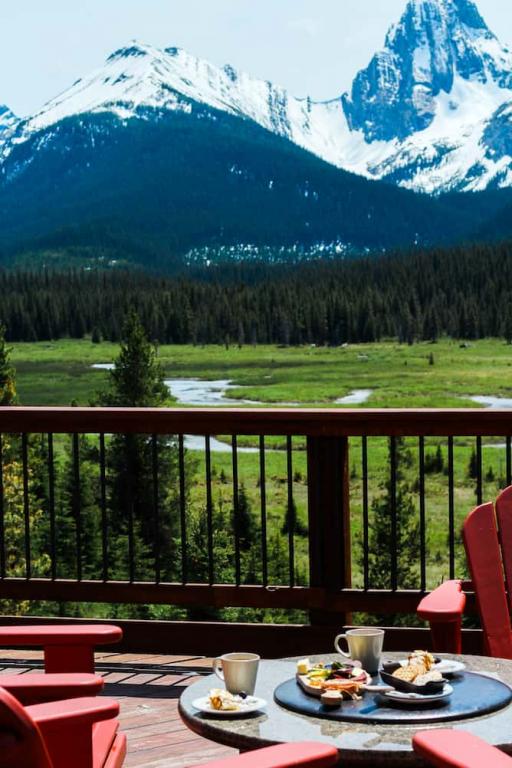 We dropped one of the couples that have been traveling with us off at the Calgary airport on Saturday night.  Today, we dropped the other couple off.
Our last day in Canmore was remarkable.  We did a long backcountry loop, often on very rough roads, through the Peter Lougheed Provincial Park and the Kananaskis Country, with occasional stops for hiking.
For quite a while, we watched a large bull moose grazing in a gorgeous meadow near the Mount Engadine Lodge., which is named after a nearby mountain that, in its turn, is named after the beautiful Engadin or Engadine Valley of Canton Graubünden in eastern Switzerland.  We were several hundred yards from the lodge but, after the moose took his leave, we went over to have a look at the place.  Wow.  Very nicely located.  I would love to stay there some time.  Actually, I would love to stay there for a couple of weeks, overlooking the meadow from the patio and writing.  But the per-night price is a bit steep even for a lavishly-paid apologist such as I.
We also came across a mother grizzly bear and her cub grazing in another meadow.  We watched them for easily fifteen minutes.  They were a safe distance off, but, even so, we were always mindful of how far away our car was — and one of us had a cannister of bear spray along.
Just a block or so from the place where we were staying, we saw a herd of female and young elk, grazing by the roadside.
And we saw innumerable bighorn sheep, including a group of four exceedingly stupid juveniles who insisted on licking something that they found absolutely fascinating along the double yellow line in the middle of the road.  They held up traffic for at least ten or fifteen minutes as we watched them.  Occasionally a motorcycle would frighten them off the road and up an embankment.  But within thirty to sixty seconds they would be right back down licking that center line. Their movements were darting and very unpredictable, and it was difficult for cars to get past them.  We watched them from a turn-off above the road, expecting at any moment to see one or more of them killed.  We thought of trying to drive them off ourselves, but we knew that they would just return yet again.  I wonder if they're still alive by now.
Posted from Calgary, Alberta, Canada