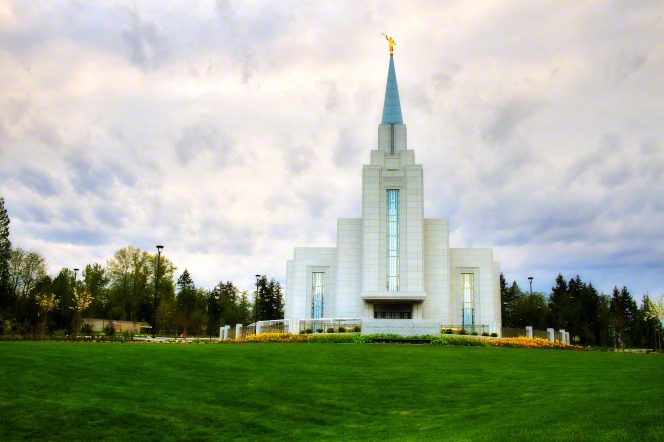 It's a bit late, perhaps, to post a link to this item in the wake of Pioneer Day, but I think that I'll do it anyhow.  I can't say that I always agree with Jana Riess.  Not even with absolutely everything that she has to say in this article.  But it's worth reading, nonetheless:
"All hail the Mormon pioneers!"
And I do very much agree that we still have pioneers in the Church today.  Here is a little item that I've loved since I first saw it quite a few years ago now.  I think it's very moving, and I hope that you'll watch it.  It's only six minutes long:
Saints from Cameroon journey to the Aba Nigeria Temple
And then let us resolve not to take for granted the temples that are so near to many of us!
"I know your lives are busy. I know that you have much to do. But I make you a promise that if you will go to the house of the Lord, you will be blessed; life will be better for you."  (President Gordon B. Hinckley)
***
Speaking of temples, here's another temple-related story that I've loved since I first heard it:
"The Mysterious Newspaper That Led to a Temple Miracle"
If it's accurately reported, I can think of absolutely no natural explanation for what happened.  But why would there be divine intervention in such a matter, when other cases seem more pressing and more grave?  I don't know.  Perhaps we simply need little reminders from time to time, non-coercive reminders that help us to recall that there is more to life than naturalism and the mundane.  (I've had a few, personally.)  Perhaps it was to provide a sign to those who received it and to those of us who read about it generations later, that the work of redeeming the dead is of supreme importance.  I can only speculate.  But, again, if the account is true, it's extraordinarily significant.
***
"As a result of the sacred ordinances performed in the holy house of God, no light need be permanently extinguished, no voice permanently stilled, no place in our heart permanently left vacant."  (President Thomas S. Monson)
Temples and the blessings that they make available are very much on my mind these days, as I continue to think about our long-time friend Arnie Green, who passed away last week and about whom I posted an entirely inadequate blog entry when I first heard the news:
His obituary has now appeared:
***
This new 3.5-minute video is clear, simple, and well suited for sharing on blogs and via Facebook.  I hope that it receives wide distribution:
"Watch: Church Video Explains What Latter-day Saints Believe About God"
Posted from Canmore, Alberta, Canada