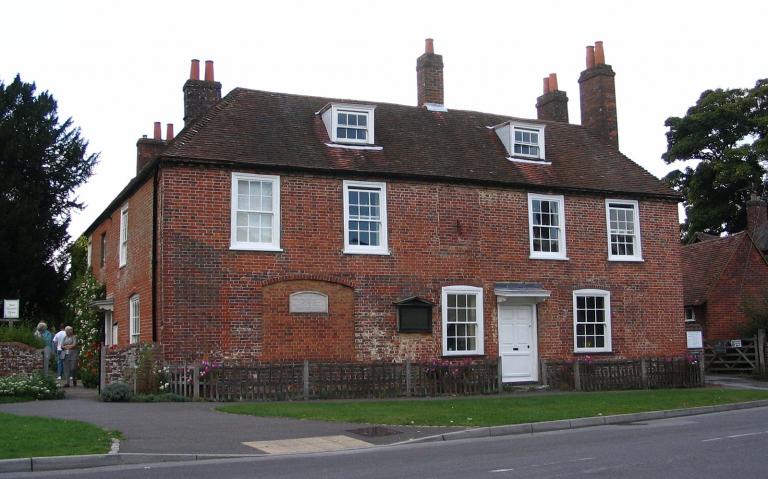 My wife and I have been on one of our periodic Jane Austen binges again. First, we re-watched the 1995 BBC Pride and Prejudice, with Jennifer Ehle and Colin Firth. Then, inspired, we watched the 1996 Emma again, starring Gwyneth Paltrow. Really getting into it by this point, we binge-watched the 2008 WGBH (Boston)/BBC Sense and Sensibility, with Hattie Morahan. It's not nearly as familiar to me as the 1995 film of Sense and Sensibility that features Emma Thompson, Kate Winslet, the much lamented Alan Rickman, and the ever-lamentable Hugh Grant. In fact, I'm not sure that I've actually seen the 2008 version before. But it's possible that I prefer it.
And then, tonight, we watched a curious 2007 BBC drama about Jane entitled Miss Austen Regrets. I'm still pondering whether I liked it or not.
Who knows where this will go next? There are still several Austen film yet to see, and then maybe it will be time to re-read the novels.
I've remarked before that I'm an unabashed Jane Austen fan, and that I sometimes worry that it might lead some to question my masculinity. (However, I can't cook anything more complex than grated cheese on a pre-cooked, store-bought flour tortilla, and perhaps that will help to shore up my manly bonafides.) So I was pleased on that score a few days ago when visiting with a friend whom I've long known to be an ardent Austen fan. He is career military (on track, very possibly, to be a general), and during one of his combat deployments overseas, he took with him the Jennifer Ehle and Colin Firth Pride and Prejudice. It turned out that one of the people he had to work with there was very reminiscent of David Bamber's excruciatingly memorable "Mr. Collins." So he finally persuaded another of his fellow officers who had to deal with modern "Collins" to watch the miniseries with him. But they had to watch it late at night in the privacy of their officer quarters lest anybody else find out.
Anyway, with all of that preface, here is a prayer that Jane wrote and that I like very, very much:
Father of Heaven! whose goodness has brought us in safety to the close of this day, dispose our hearts in fervent prayer. Another day is now gone, and added to those, for which we were before accountable.
Teach us almighty Father, to consider this solemn truth, as we should do, that we may feel the importance of every day, and every hour as it passes, and earnestly strive to make a better use of what thy goodness may yet bestow on us, than we have done of the time past.
Give us grace to endeavour after a truly Christian spirit to seek to attain that temper of forbearance and patience of which our blessed Saviour has set us the highest example; and which, while it prepares us for the spiritual happiness of the life to come, will secure to us the best enjoyment of what this world can give.
Incline us, O God, to think humbly of ourselves, to be severe only in the examination of our own conduct, to consider our fellow-creatures with kindness, and to judge of all they say and do with that charity which we would desire from them ourselves.
We thank thee with all our hearts for every gracious dispensation, for all the blessings that have attended our lives, for every hour of safety, health and peace, of domestic comfort and innocent enjoyment.
We feel that we have been blessed far beyond any thing that we have deserved; and though we cannot but pray for a continuance of all these mercies, we acknowledge our unworthiness of them and implore thee to pardon the presumption of our desires.
Keep us O Heavenly Father from evil this night. Bring us in safety to the beginning of another day and grant that we may rise again with every serious and religious feeling which now directs us.