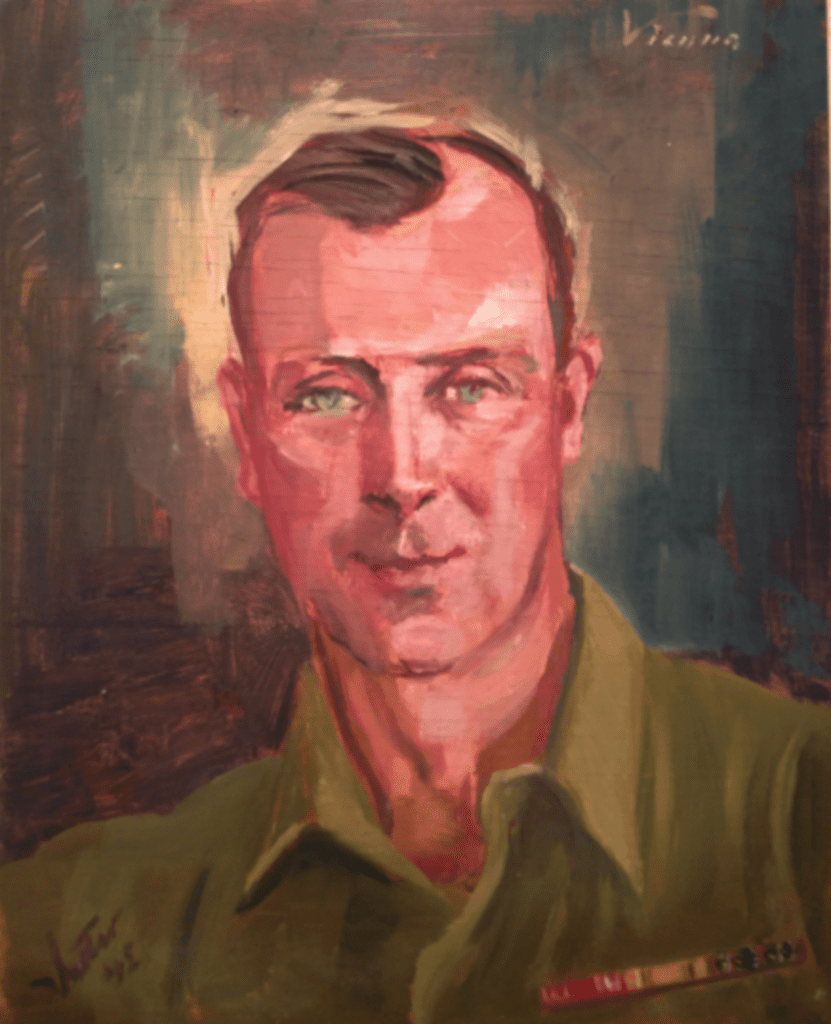 When Dad returned to the United States, having been released from the Army, he went to visit his parents on their farm in North Dakota. En route, he stopped to change trains in Minneapolis/St. Paul. Having a bit of time on his hands before his next train, he stopped in at a bar. There, he was accosted by some military-age German Americans who had not served, he recalled, because they were the sole support of aging parents. For reasons unknown, they began to mock and taunt him. The exchange turned to the idea of Nazi death camps. They denied the existence of such camps, which they pronounced mere American propaganda. My father, however, was still tormented by terrifying nightmares about what he had experienced as one of the liberators of the concentration camp at Mauthausen, Austria. He knew at first hand, directly, that the death camps were all too real. They were anything but propagandistic fictions. My father was nothing like the "loutish" thug that I am. (I read that description of me on the internet just this morning, so it must be true.) Later, telling me about his experience in the bar, he said that it was the closest he ever came to getting involved in a brawl.
Arriving home, he ended up staying with his sister because his parents had lost their farm and moved. His youngest brother, who would have a lifelong problem with alcohol, had stayed home precisely to support his aging parents, but had mismanaged things very badly. There was not much to be done, and my father returned to work in construction. During the war, perhaps led by the aeronautics industry, California's economy surged, and it continue to boom after the war, accompanied by a great in-migration from other states. In the end, the entire Peterson family would move to California, aging parents and all.
In 1948, my father and his brother, my uncle Ernie, established "E.C. Construction Company" in South El Monte, California. It took its name from their names, Ernest and Carl. It provided employment for a fairly large number of men (most of them Mexican-Americans), some of whom became almost extended family for me. Along with my Uncle Ernie, some of the employees were, in fact, family members. Some were there only in the very early years. My brother and I and at least one cousin worked for it at various times. One maternal uncle became a long-term employee, as did the paternal uncle who had lost that family farm. (My gentle, patient, and forgiving father and my Uncle Ernie never held a grudge against him, never spoke ill of him, always tried to help him.)
E. C. Construction Company still flourishes. When my father stepped away from it in the mid-70s, my brother took it over. (Dad had joined the Church of Jesus Christ of Latter-day Saints in 1972 — I baptized him and my brother confirmed him — and Uncle Ernie had died very suddenly in 1973.) When my brother unexpectedly died in 2012 — for me, on multiple levels, an annus horribilis — his son, my nephew, assumed leadership of the company.
Just a couple of days before his passing in 2003, my hospitalized father, whose memory had suddenly disappeared (whether as a result of a minor stroke or as a consequence of medications, I don't know), asked me repeatedly whether he had led a good life. He was very concerned about the question. I was pleased to be able to assure him that he had. One of the "exhibits" that I was able to provide for him was the work of the company that he and his brother had founded. In the course of its then more than half-century of existence, it had made a literally material contribution to the landscape of the greater Los Angeles area and beyond, and, much more importantly, to the lives of untold numbers of people. In that as in so many other respects, my father could pass into the next world satisfied with his legacy.