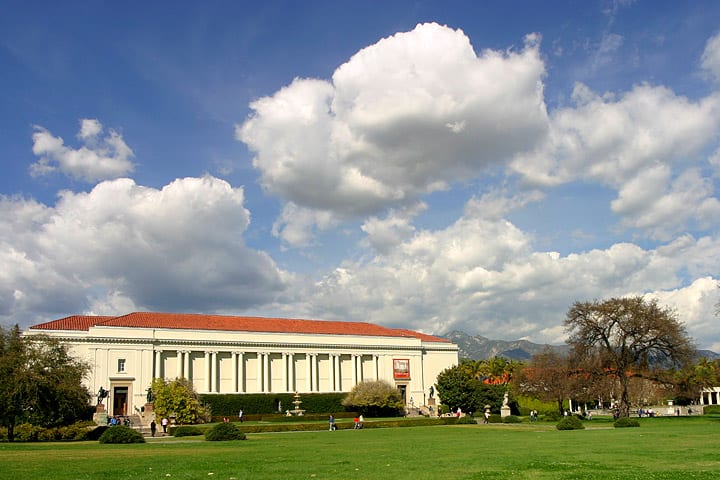 I'm quite fond of the Huntington Library, as we called it when I was a boy. It wasn't far from my home, and I visited its art museum and its botanical gardens in San Marino often — including many times as an unappreciative elementary school kid on field trips, chiefly happy just to be out of class. Rather later, I proposed to my wife on the Library grounds. (For whatever it's worth, too, my late brother served as the bishop of the San Marino Ward.) And, now, there's an interesting conference coming up:
The First Vision of Joseph Smith, Jr.: 200 Years On
DATE: Fri., Jan. 24, 2020 | 9 a.m.–5 p.m.
LOCATION: Rothenberg Hall
Rooted in The Huntington's substantial collection of Mormon history materials, this conference commemorates the 200th anniversary of Joseph Smith's proclaimed First Vision experience. Speakers analyze the various accounts of Smith's theophany and assess what it has come to mean both to the Latter-day Saints and to the larger religious community generally. The program also positions Smith's claim to visions and revelations within the larger context of American religious history; explores its historicity and theological ramifications; and illuminates what remains, even at two centuries' distance, a contested moment in American history.
Conference Schedule
FRIDAY, JAN. 24
8:30 a.m. – Registration & Coffee
9:30 a.m. – Welcome: Steve Hindle (The Huntington)
Remarks: Richard E. Bennett (Brigham Young University)
10 a.m. – Session 1: The Vision of All is Come Unto You (Isaiah): Implications and Documentation
Moderator: Richard E. Bennett (Brigham Young University)
LeGrand R. Curtis, Jr. (Church Historian, The Church of Jesus Christ of Latter-day Saints)
The First Vision and the Church of Jesus Christ of Latter-day Saints
Peter J. Blodgett (The Huntington)
The Visions of Zion: A Century of Documenting the Latter-day Saint Experience at the Huntington Library
12 p.m. – Lunch
1 p.m. – Session 2: In a Dream, In a Vision of the Night (Job): New Age and Old Revelation
Moderator: Richard J. Mouw (Fuller Theological University)
Richard L. Bushman (Columbia University)
Joseph Smith and the Beginnings of Modernism
George M. Marsden (University of Notre Dame)
New Age, Old Revelation: Reflections on the Postmillennial Context
3 p.m. – Break
3:15 p.m. – Session 3: I Will Come to Visions and Revelations (2 Cor.): Visions in Historical Context
Moderator: David F. Holland (Harvard University)
Rachel Cope (Brigham Young University)
Early American Visions of the Divine
John H. Wigger (University of Missouri)
Methodism as Context for Joseph Smith's First Vision
SATURDAY, JAN. 25
9 a.m. – Registration & Coffee
9:30 a.m. – Session 4: What Seest Thou? (Jeremiah): Interpreting the First Vision
Moderator: Peter Blodgett (The Huntington)
Steven Harper (Brigham Young University)
A Brief Reception History of Joseph Smith's First Vision
Richard E. Bennett (Brigham Young University)
Not the First, but the Second: Changing Latter-day Saint Emphases on Joseph Smith's First Vision
11:30 a.m. – Lunch
12:30 p.m. – Session 5: I Have Dreamed a Dream, or . . . I Have Seen a Vision (Book of Mormon): Controversies and Concerns
Moderator: Steven Harper (Brigham Young University)
Ann Taves (University of California, Santa Barbara)
First Vision Controversies: Implications for Accounts of Mormon Origins
Kathleen Flake (University of Virginia)
The Form and Power of Godliness as Joseph Smith's First and Abiding Concern
2:30 p.m. – Break
2:45 p.m. – Session 6: Where There is No Vision, the People Perish (Proverbs): Comparisons and
Considerations
Moderator: Rachel Cope (Brigham Young University)
David F. Holland (Harvard University)
Visionary Cultures in Comparison: Ellen White, Joseph Smith and the Varieties of Revelatory Experience
Richard J. Mouw (Fuller Theological Seminary)
Though We or an Angel from Heaven: Evangelicals and the First Vision
4:45 p.m. – General Reflections and Q&A
Moderator: Richard E. Bennett
Discussants: All participants