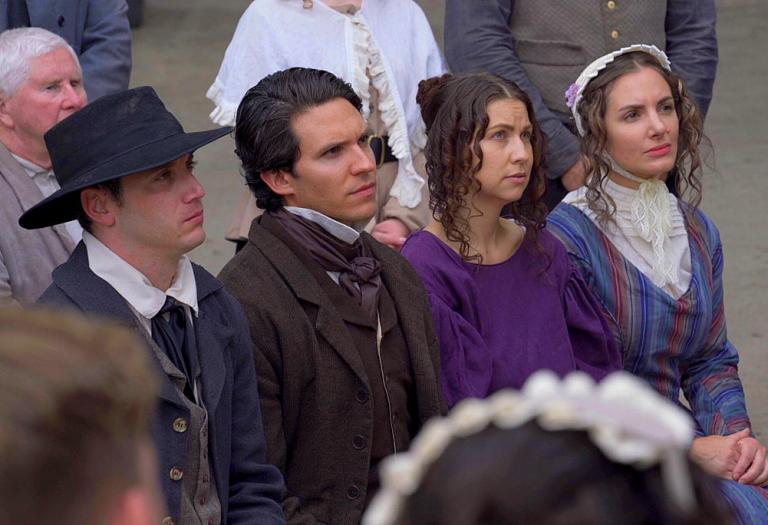 Here are a few more of my notes from Ronald E. Romig, Eighth Witness: The Biography of John Whitmer (Independence, MO: John Whitmer Books, 2014), 10-18:
The Whitmer family moved to Fayette, New York, in the Finger Lakes area — midway between the northern portions of Cayuga Lake and Seneca Lake — in 1809. The name Fayette had been given to the area only on 6 April 1808. Peter Sr. appears there in the 1810 census. Says Ron Romig:
Almost certainly the Whitmers fit comfortably into the new neighborhood, as Fayette's inhabitants were principally of German extraction from Pennsylvania. (10)
Peter Sr. enjoyed a local reputation as [in the words of their onetime pastor's son Diedrich Willers Jr.] "a worthy and industrious citizen," John's [John Whitmer's] brother David characterized their father as "a hard working, God-fearing man . . . a strict Presbyterian . . . [who] brought his children up with rigid sectarian discipline." Peter Sr. was elected overseer of district highways in 1826 and 1827 and also served as a trustee of the local school. (12-13)
By 1826 and 1827, the Whitmers are very close to becoming involved with Joseph Smith Jr. and the earliest events of the Restoration, so it's of interest to see that they remain respectable into that period.
For a while, Peter Sr. and at least some of his family were members of the German-speaking Christ's Church, a Reformed German congregation that met in Bearytown, in the neighborhood of Fayette. The leader of the congregation was Pastor Diedrich Willers Sr:
Willers described Peter Sr. as "a quiet, unpretending, and apparently honest, candid, and simple-minded man."* (13-14)
Very close to the organization of the Church in his home and very near to the time that five of his sons and a son-in-law became witnesses to the Book of Mormon, Peter Sr. was even entrusted by his community with solemn judgment on matters of life and death:
In the spring of 1829, the family was drawn into some unusual excitement for their area. Peter Sr. was selected to serve as a juror in a sensational trial in which George Chapman, a local citizen, was tried for murder and convicted. The trial concluded April 16, 1829, and Chapman was hanged six weeks later, on May 28, 1829, before a crowd estimated at between fifteen thousand and twenty thousand people. (17)
Of Christian Whitmer, one of the future Eight Witnesses to the Book of Mormon, Romig reports that
As a young man, Christian, being recognized as a natural leader, was commissioned as an officer in the 102nd New York Militia in 1825 and served as Fayette Township constable in 1828-29 when he would have been thirty or thirty one. (14)
And the fourth son, David, who became one of the Book of Mormon's Three Witnesses, seems likewise to have been a person of decent character and good reputation:
Like Christian, David also served in the military, becoming a sergeant in 1825 in Fayette's newly organized militia, the "Seneca Grenadiers." (15)
* I'm quite confident that simple-minded, as the natively German-speaking early-nineteenth-century Pastor Willers used the term here, was intended to convey simplicity, straightforwardness, and lack of guile rather than any modern sense of mental backwardness.