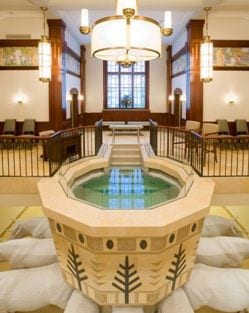 An article by Kevin L. Barney has just gone up on the website of the Interpreter Foundation. It will appear in Volume 39 of Interpreter: A Journal of Latter-day Saint Faith and Scholarship:
Abstract: This thorough treatment of the mention of baptism for the dead in 1 Corinthians 15:29 gives a meticulous analysis of Paul's Greek argument, and lays out the dozens (or perhaps hundreds) of theories that have been put forth with respect to its interpretation. Barney concludes that "the most natural reading" and the "majority contemporary scholarly reading" is that of "vicarious baptism." Therefore, "the Prophet Joseph Smith's reading of the passage to refer to such a practice was indeed correct."
[Editor's Note: Part of our book chapter reprint series, this article is reprinted here as a service to the LDS community. Original pagination and page numbers have necessarily changed, otherwise the reprint has the same content as the original.
See Kevin L. Barney, "Baptized for the Dead," in "To Seek the Law of the Lord": Essays in Honor of John W. Welch, ed. Paul Y. Hoskisson and Daniel C. Peterson (Orem, UT: The Interpreter Foundation, 2017), 9–58. Further information at https://interpreterfoundation.org/books/to-seek-the-law-of-the-lord-essays-in-honor-of-john-w-welch-2/.]
***
I've long liked this brief video explaining "Why Mormons Build Temples."
At about the 1:16 mark, the late Krister Stendahl — an eminent New Testament scholar, as well as a former bishop of Stockholm in the (Lutheran) Church of Sweden and a former dean of Harvard Divinity School — has some extraordinarily positive and appreciative things to say about the Latter-day Saint practice of baptism for the dead.
At a time when such vicarious baptisms are, from time to time, widely portrayed in the news media and ferociously denounced on the web as unbiblical, occultic, ghoulish, bizarre, shameful, vicious, exploitative, anti-Semitic, immoral, imperialistic, arrogant, hateful, and possibly illegal — at one point several years ago, to choose just one specific example, the odious MSNBC political commentator Keith Olbermann pronounced President Thomas S. Monson "one of the worst people in the world" (right up there, I suppose, with Vladimir Putin, Kim Jong-un of North Korea, and Syria's Bashar al-Assad) for presiding over the practice — it wouldn't be a bad thing if believing members of the Church and their friends gave this little video, and Professor Stendahl's wonderfully affirmative remarks, even wider circulation on the Web and via e-mail than they have already had.