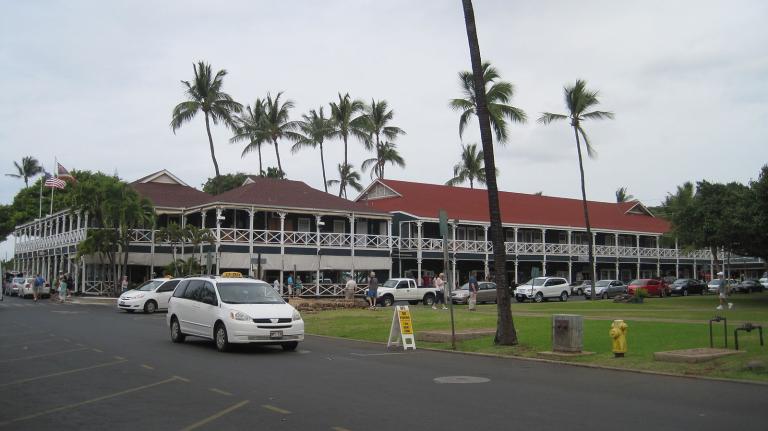 My wife and I have belonged for many years now to a regular monthly reading group that includes some of our favorite people. One of them is Lanny Britsch, an emeritus professor in the Department of History at Brigham Young University whose research and teaching have long focused on Asia and the Pacific. This month, we're reading R. Lanier Britsch, Moramona: The Mormons in Hawai'i, 2d ed., updated, revised, and enlarged (Laie, HI: The Jonathan Napela Center for Hawaiian and Pacific Islands Studies, Brigham Young University-Hawai'i, 2018). I'll mention one section of it (on pages 68-70) that particularly caught my attention for reasons that will be rather obvious:
In the summer of 1853, a terrible epidemic of smallpox hit the Hawaiian Islands. It probably began in May, when a Hawaiian laundry woman contracted it from infected clothing that had come over with a sailor from San Francisco. Very quickly, the contagion spread throughout Honolulu and then around the island of Oahu. During the period from May to December of 1853, 6,405 people in Hawai'i contracted smallpox and, of those, more than 5,000 died, most of them in Honolulu. At least 700 members of the Church of Jesus Christ of Latter-day Saints perished, including some of its most faithful and valued converts. Overall, during the years 1850-1853, the native population of Hawai'i dropped by slightly more than 11,000, from a reported 84,165 to 73,138. (This continued a horrific and deeply demoralizing longer-term trend: Ninety percent of the originally 500,000 Hawaiian people died, from various causes, between the 1770s and the 1850s.)
One Thomas Thrum reported of the smallpox epidemic that
The piteous wail of bereaved ones in the neighborhood, day after day, told the sad story of its steady progress. . . . The frequency of the 'death cart' on the streets to receive bodies, many of whom [were] simply wrapped in mats, called for heroic work by a force of the health authorities to prevent secret interment on the premises. (cited on page 68)
The Latter-day Saint missionaries serving in Hawai'i in 1853 spent a great deal of their time administering priesthood blessings to those who were sick. Vaccinations against smallpox had been available in Europe and America since 1798 and, accordingly, some of them were already immune to the disease. Others, however, were not. At least two of the elders themselves contracted mild cases of the illness, but, perhaps unaware that they risked spreading it, they continued to anoint and bless their Hawaiian friends.
Francis Asbury Hammond, who was serving at the time in Lahaina, on the island of Maui, recorded the following on 18 May 1853:
In the afternoo[n] held a meeting at my house [with] very few present. Talk[ed] upon the necessity of having faith enough to have power over dise[s]es, and not to be afraid of the scourges which the Lord will pour out upon the nations. We have heard that the "Small Pox" is in Honolulu, the saints whished to Know if they should go and get vaxinated, as all the people were doing so. I told them if their faith was weak and [they] dare not trust the Lord to go[,] but as for myself I should not go, and if I died all was well. (cited on page 69)
As Professor Britsch points out, Elder Hammond's attitude was not peculiar to himself nor to the Latter-day Saints. Nor was it shared by all of the members of the Church. Nevertheless, Hammond thereby endangered many of the Saints, including his own wife (who evidently did not agree with him on the issue) and his children. And, sadly, in that too he wasn't alone. Lanny Britsch's own comment on this matter is worthy of quotation:
The government asked everyone to be vaccinated, especially those who lived and worked close to the docks. Before long the government imposed a quarantine on travel between islands and even in and out of Honolulu by land. Unwisely, Elders Tanner and Karren broke the quarantine by traveling to the Big Island from O'ahu, not only breaking the law but putting other lives in danger. Fortunately, neither of them or any of the people with whom they associated died of the disease. Other elders broke quarantine by traveling from Honolulu to outer towns and villages on O'ahu and even to Kaua'i. (cited on page 69)
In the end, Elder Hammond gave in to pressure from his superior, Philip B. Lewis, who had been set apart by Elder Parley Pratt of the Council of the Twelve to preside over what was originally called the Sandwich Islands Mission. He had himself and all of his family vaccinated, and, given his example, most of the Saints on Maui who had not yet done so now elected to be inoculated against the disease.
***
An aside on the original name of the Hawaiian Mission: In 1778, Captain James Cook had given the name Sandwich Islands to what we now call Hawai'i in order to honor John Montagu, 4th Earl of Sandwich, who was the First Lord of the Admiralty and, thus, one of the sponsors of his voyage. This name was in common use until the 1840s, when the local name Hawai'i began to supplant it. This was the same Earl of Sandwich who gave his name to the food known as a sandwich. Two explanations are typically given for this: One says that he was so fond of playing cards, especially cribbage, that he ordered his valet to bring him, as a meal, meat placed between two pieces of bread. That way, he could continue to play without having to use a fork or get his cards greasy. The alternative story is quite opposite: John Montagu was deeply committed to the arts, and to politics and his work with the British navy; "sandwiches" were fast food that allowed him to continue to work at his desk without interruption. In either event, the "sandwich" soon became popular as a light-night meal among British aristocrats and then the fad percolated down into the middle and lower classes, eventually catching on even among the least fashionable, like me. Bottom line: It's amusing to think that the Hawaiian Islands and John Montagu's earldom were named after "sandwiches." But the truth is the other way around.)
***
"With record-breaking COVID-19 counts, Utah may need to implement 'crisis standards of care,' hospital leader says: Utah reports another 1,765 COVID-19 cases, death of someone between ages 15-24"
CNN: "Utah hospitals could start rationing health care at overwhelmed facilities, hospital association says"
"White House science office takes credit for 'ending' pandemic as infections mount"
"Boosting Utah's flu vaccination rate 'critical' this winter, infectious disease expert tells school board: New Zealand's, Australia's high compliance with mask wearing resulted in 'flu season that wasn't'"
My friend Tom Pittman called this interesting item to my notice. I don't imagine that it will please everybody, but I hope that they will distinguish between the message and the messenger:
"Not Wearing a Mask is Linked to Antisocial Traits, Study Finds: Those who don't comply with Covid-19 containment measures were found to be more callous, hostile and deceitful"