We had an enjoyable time last night with our monthly reading group (via Zoom, in our case from St. George), discussing R. Lanier Britsch, Moramona: The Mormons in Hawai'i, 2d ed., updated, revised, and enlarged (Laie, HI: The Jonathan Napela Center for Hawaiian and Pacific Islands Studies, Brigham Young University-Hawai'i, 2018), with its author, who is part of our little group. Here's a wonderful story, already familiar to some of you perhaps (as it was to me), that he tells on pages 266-267:
In 1920 and 1921, Elder David O. McKay, who had been serving as a member of the Quorum of the Twelve Apostles since 1906, undertook an assigned around-the-world tour on behalf of the Church of Jesus Christ of Latter-day Saints in company with Hugh J. Cannon. His experience on the tour would later serve Elder McKay well during his own tenure as president of the Church from 1951 until his death in 1970.
At one point, Elder McKay and his party were on the Hawaiian island of Maui. The group included not only Hugh Cannon (a son of the late George Q. Cannon, who had served as a counselor to four Church presidents), the Hawaiian mission president E. Wesley Smith (a son of Church president Joseph F. Smith, who had just died on 19 November 1918), Elder Samuel H. Hurst, and a Hawaiian elder named David Kailimai. George Q. Cannon had been one of the original Latter-day Saint missionaries in Hawaii, and, with Jonathan Napela, had translated the Book of Mormon into Hawaiian. Joseph F. Smith had also served as a young missionary in the earliest years of the Hawaiian mission. Both George Q. Cannon and Joseph F. Smith had learned fluent Hawaiian and become unusually close for their entire lives to the Hawaiian people.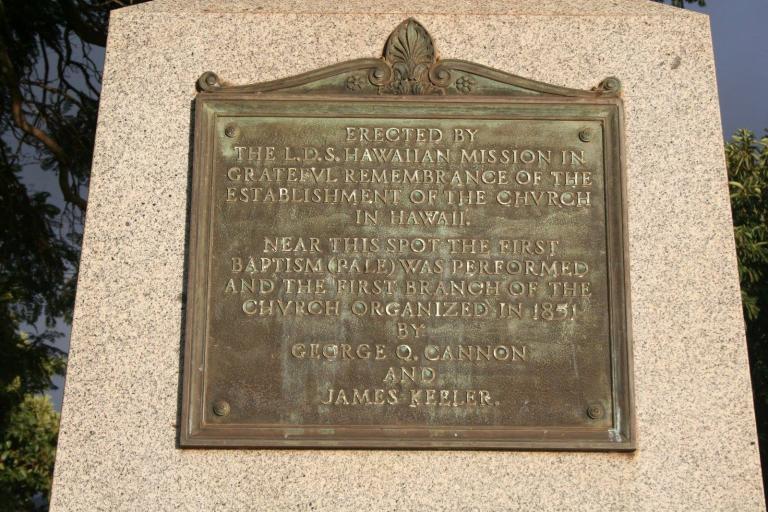 While on Maui, Elder McKay's group visited Pulehu, in the Kula district on the lower slope of the great volcano Haleakala, where, in 1851, George Q. Cannon had baptized his very first converts and organized the first Hawaiian branch of the Church. This was sacred ground to Elder McKay and the others — and, as one Latter-day Saint family told me one Sunday afternoon on the Pulehu chapel grounds, it remains sacred to many Church members there still today. (Some, I'm told, hope that a small temple will someday be built on Maui, and that, if so, it will be built at Pulehu. For various reasons, I don't expect that. But it would be very nice.)
E. Wesley Smith recalled an event at Pulehu as follows:
While there Elder McKay felt impressed with a desire to offer a prayer to the Lord in the spirit of thanksgiving for the privilege they had of being there, and for the many . . . who had embraced the Gospel. We bowed in prayer, Elder McKay being mouth. It was a moment never to be forgotten, for indeed the spot is sacred. Elder McKay said, "I feel certain that President Cannon and President Joseph F. Smith are near for the veil was very thin." Elder [Hugh J.] Cannon was deeply impressed, and with tears filling his eyes and in a choked voice said, "There was no veil."
The group told about their experience to a group of Latter-day Saints in the Wailuku chapel later that night, 8 February 1921. One of those in attendance in that meeting, J. Pia Cockett, recorded what he heard in a notebook:
While he [Elder McKay] was praying, the Hawaiian Elder [David Kailimai] was privileged to see in a vision two hands clasped in the form of greeting. He thought Cannon and Hurst were shaking hands. He opened his eyes and saw they were apart. He closed his eyes again and after the prayer he told what he had seen.
It was at that point that Elder McKay made the statement quoted above, about Presidents George Q. Cannon and Joseph F. Smith being near and the veil being very thin.
For many years, J. Pia Cockett was under the impression that the clasped hands that Elder Kailimai had seen in vision were those of George Q. Cannon and his son Hugh. In 1936, however, when President McKay — who, by that time, was second counselor in the First Presidency of the Church — was back in Hawai'i on a return visit, Brother Cockett recalled the story in President McKay's presence and President McKay corrected him, saying, "Those hands were the hands of the two fathers, George Q. Cannon and Joseph F. Smith, in the presence of the two sons, Hugh J. Cannon and E. Wesley Smith."
***
Driving with some friends early Sunday afternoon to visit some other friends in their new home in Washington, a suburb of St. George, my attention was caught by a large number of cars and trucks — as far as I could see, there may have been about two hundred of them, if not more — festooned with American flags and "Trump 2020" banners and cruising along on the frontage road that runs parallel and to the east of the I-15 freeway. It was, obviously, a "Trump train."
I confess to being more than a bit disappointed to see such a thing on the Sabbath here in St. George. And it has nothing to do with my particular political views; I would have been just as disheartened to see a Biden/Harris "train," if such things even exist, or — remarkable even to contemplate the hypothetical possibility of it — a Jorgensen/Cohen train.
Even during the days when I had political opinions, which extended up until just a few months ago, I made a very serious and largely successful effort not to post on politics here on Sundays. That's because, although I have/had strong political views, I regard other things as much more important and fundamental than politics. Civil behavior, charity, and respect are among those things. Cultural matters are among those things. So, too, is my religious faith. And a fundamental constituent of that faith is that the Sabbath is not to be like other days, and that there are loyalties that are above partisan politics. I keep going back to a statement from William Law (1686-1761) of which Elder Neal A. Maxwell was very fond: "If you have not chosen the kingdom of God first, it will in the end make no difference what you have chosen instead."
Posted from St. George, Utah