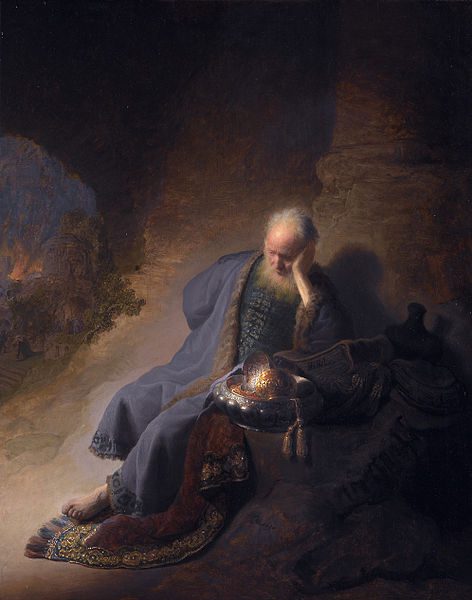 An article written by Dana M. Pike has now appeared in Interpreter: A Journal of Latter-day Saint Faith and Scholarship:
"Formed in and Called from the Womb"
Abstract: Drawing on his deep knowledge of biblical Hebrew, Dana Pike gives us a close reading of Jeremiah 1:5, the most important Old Testament verse relating to the Latter-day Saint understanding of premortal existence of human spirits and the foreordination of prophets to their appointed callings. He shows that the plain sense of this verse cannot be easily dismissed: first, and consistent with Latter-day Saint understanding, God knew Jeremiah before he was conceived and that afterward, in a second phase that transpired in the womb, he was, "according to the Israelite perspective preserved in the Bible," appointed to become a prophet.
[Editor's Note: Part of our book chapter reprint series, this article is reprinted here as a service to the LDS community. Original pagination and page numbers have necessarily changed, otherwise the reprint has the same content as the original.
See Dana M. Pike, "Formed in and Called from the Womb," in "To Seek the Law of the Lord": Essays in Honor of John W. Welch, ed. Paul Y. Hoskisson and Daniel C. Peterson (Orem, UT: The Interpreter Foundation, 2017), 317–32. Further information at https://interpreterfoundation.org/books/to-seek-the-law-of-the-lord-essays-in-honor-of-john-w-welch-2/.]
***
I've just finished reading the fourth and final installment of the "pre-prints" that Drs. Stanford Carmack and Royal Skousen have recently been providing to the Interpreter Foundation, and writing a brief introduction to it (very closely resembling the introductions for the first three installments). I'll shortly be sending it in for publication, and it should appear within a day or so.
I notice that a small handful of critics are chortling over what they claim to regard as the utter collapse and abandonment of the hypothesis that, at its roots, Book of Mormon English is primarily early modern in character. They are wrong. It has neither collapsed nor has it been abandoned. (Incidentally, several further articles on the topic are likely to appear over the next year or so in Interpreter: A Journal of Latter-day Saint Faith and Scholarship.) Moreover, since they affect to hold the false view that the Early Modern English or EModE hypothesis represents the sole motivation and the only significant result of the Book of Mormon Critical Text Project, rather than a striking and completely unexpected byproduct of it, some are claiming that the Project as a whole has been a failure, which it emphatically has not been.
With that as a background, I wrote last night to Drs. Carmack and Skousen for their reaction. From the exchange that ensued and with his kind permission, I share an email from Royal Skousen that I received this morning:
Stan and I are doing what we promised we would do in the introduction to The Nature of the Original Language [of the Book of Mormon], namely, to reconsider our findings as the databases got better (especially our access to the texts in ECCO). Here's the quote from page 10 of NOL:
"In some cases, it has been difficult to decide which category to place a write-up in, especially when the databases are still not as developed as we would wish. Over time, further advances in the size and variety of the databases may lead us to change the categorization for some of these write-ups."
So SOME of the items we thought were archaic (prior to 1740) are NOT, and we have identified these by citing examples. There is no reason to hide these findings. It should be pointed out that in the last of our four revised parts that many of these expressions were already identified as occurring in the 1700s and early 1800s, up to Joseph Smith's time. Those examples that we gave explicit citations to in NOL are listed here in part 4 with arrows (there are 9 of them). They were put in that section 7 (Archaic Expressions) to show that they were also archaic. So here is a summary of the shifts in our thinking:
Section 1, Archaic Vocabulary: 26 remain archaic, 10 persist into the 1700s or later, 4 are re-created words, and 1 is biblical usage
Section 3, Archaic Phrases: 14 remain archaic, 14 persist into the 1700s or later, and 1 is biblical usage
Section 4, Archaic Grammar: 2 remain archaic, 12 persist into the 1700s or later (2 were identified with citations in NOL), and 1 is biblical usage
Section 7, Archaic Expressions: 7 remain archaic, 27 persist into the 1700s or later (9 were identified with citations in NOL), and 3 are influenced by biblical usage
One should notice that the shorter the example (individual word meanings and short phrases) the greater the odds that our initial analysis was correct. Grammatical items typically involve singular or plural usage, with syntax playing a role, and the same for expressions.
So the archaic hypothesis still holds, with nearly 50 examples restricted to archaic usage (Early Modern English, 1540s to the 1740s). The databases are out there for others to check. The critics of the archaic hypothesis should still be worried.
***
I had a great time with Martin Tanner last night on the Interpreter Radio Show. We discussed the First Vision — which will be the focus of second lesson in next year's "Come, Follow Me" curriculum for the Sunday schools of the Church of Jesus Christ of Latter-day Saints — over the entire two hours of the program, not only for the portion of it dedicated to the Gospel Doctrine scripture roundtable. I don't know how Martin felt or how anybody else will feel about it, but I thought it was an exceptionally good and enjoyable conversation. It should be up fairly soon, in archived form, on the website of the Interpreter Foundation.
***
Finally, I call this important discussion in an important Latter-day Saint journal to your notice:
"Seven Ways Latter-day Saint Teachings about Sexuality Have Been Misrepresented: Much has been written in recent years about what "Latter-day Saints believe" about LGBT issues – only a fraction of which accurately represents our true convictions. Tragically, even today, many are only familiar with these widespread distortions."
Posted from Park City, Utah