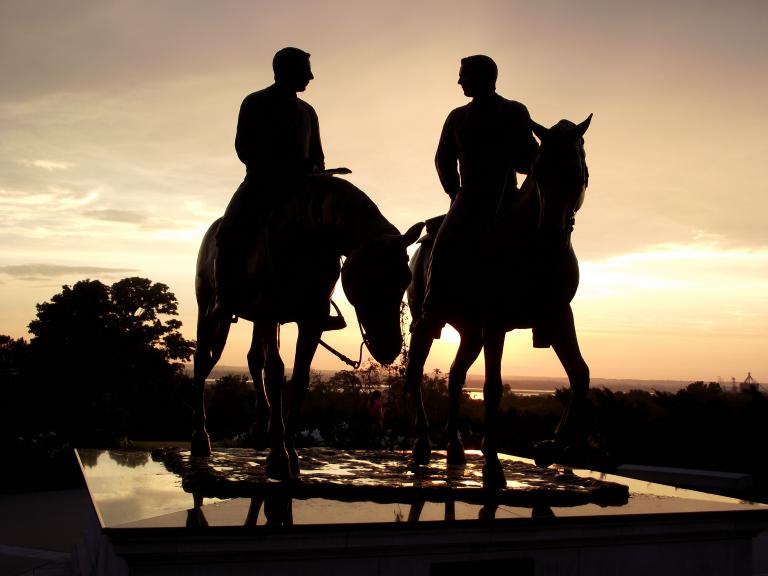 An article of mine of which I'm personally quite fond (and which I hope to pursue further and to expand in the future) has just gone up on the website of the Interpreter Foundation:
"Notes on Mormonism and the Trinity"
Abstract: With "awe, humility, and circumspection," Daniel C. Peterson provides a useful summary and discussion of Latter-day Saint beliefs as they relate to traditional Christian conceptions of the Trinity. In particular, his discussions reveals the many nuances of the questions raised, including the precise nature of the unity of the three persons of the Godhead and how the overall conception relates to doctrines of salvation and practical discipleship, which continued to be a controversial issue in both the Eastern and Western Churches for centuries. Peterson argues that the Latter-day Saint doctrine affirms both biblical precedents and, to a degree, some modern theological trends such as social theories of the Trinity.
[Editor's Note: Part of our book chapter reprint series, this article is reprinted here as a service to the LDS community. Original pagination and page numbers have necessarily changed, otherwise the reprint has the same content as the original.
See Daniel C. Peterson, "Notes on Mormonism and the Trinity," in "To Seek the Law of the Lord": Essays in Honor of John W. Welch, ed. Paul Y. Hoskisson and Daniel C. Peterson (Orem, UT: The Interpreter Foundation, 2017), 267–316. Further information at https://interpreterfoundation.org/books/to-seek-the-law-of-the-lord-essays-in-honor-of-john-w-welch-2/.]
I also want to call your attention to a fairly brief but very good interview with Kent Jackson ("From the Desk of Kurt Manwaring") that is connected to his recent article ("Some Notes on Joseph Smith
and Adam Clarke") in Interpreter: A Journal of Latter-day Saint Faith and Scholarship:
"10 Questions with Kent P. Jackson"
***
Yes, I'm grateful for the Prophet Joseph Smith, and for the Restoration that God began through him. #GiveThanks
Here are just a few of the notes on him that I've culled from Hyrum L. Andrus and Helen Mae Andrus, Personal Glimpses of the Prophet Joseph Smith (American Fork, Utah: Covenant Communications, 2009). I've already shared quite a few passages from Personal Glimpses. What follows is a miscellany of some that I had not yet featured here:
In an undated letter written to his wife Sarah Elizabeth Whiting somewhere between the dedication of the Manti Utah Temple in May 1888 and his own death in September 1896, and preserved now in the BYU Library, Warren Stone Snow related the following:
When I saw the persecution that Joseph had to undergo, my soul mourned, for I was brought in close connection to the many troubles he had to pass through by false brethren and wicked men. Wicked men hunted him like a wild doe on the mountains, for truly he had to flee before them and seek refuge in rocks and caverns and dens and holes in the earth, and be fed by the hands of his friends. (87)
I focus first on his character and personality.
In 1892, William Moore Allred recalled his first encounter with the Prophet for The Juvenile Instructor 27 (1 August 1892):
I first met the Prophet Joseph when I was fourteen years of age, as he was going to Zion's Camp. I thought he had a very noble appearance, very kind and affectionate. (81)
A letter written by William Henry Kimball to Emmeline B. Wells on 20 January 1907 (and preserved today in the LDS Archives) relates the following about Joseph Smith:
He was of fine stature and noble in appearance. . . . He was kind, delighted to be with the young, played with them and taught them. His appearance commanded respect from all but the enemies of the Gospel of Christ. He knew no fear of man or anything but to do a wrong. (97)
In Eliza Westover's letter to "Lew," written on 2 July 1916 and archived in the BYU Library, the 89-year-old woman recalled that
Brother Joseph was a great lover of children. I never met him but I had a bow and one of his sweet smiles. (141)
In a document to be found in the BYU Library under the title "Asenath E. Browning and Isaac Vanwagnor Carling, by their daughter, Ellen Carling Chamberlain," Asenath is quoted as saying that
One of my earliest memories was of the Prophet Joseph Smith coming to my childhood home. He picked me up and kissed me and said, "Whose pretty little girl is this?" (129)
Writing in the 1 January 1892 issue of The Juvenile Instructor 27, William Faucett remembered of Joseph Smith that
He was pleasant and kind. His character was unimpeachable among the Saints. They loved him, and he loved them. (155)
In January 1840, Joseph Smith visited the Brandywine Branch of the Church on his way from Philadelphia, and stayed and ate in the Whitesides home, where he then spoke to those who had gathered to hear him. Margaret Pierce Whitesides Young, by then a wife of Brigham Young, recorded her memories of that event on pages 76-77 of her journal, which now resides in the BYU Library:
I wish that I might describe my feelings at that meeting. Though they are fresh in my memory to-day, I cannot but fall short of expressing myself. So animated with loving kindness, so mild and gentle, yet big and powerful and majestic, was the Prophet, that to me, he seemed more than a man. I thought almost, that he was an angel.
We were all investigating; none of my people had yet entered the waters of baptism. However it was a great joy to us to entertain the Prophet Joseph Smith, and hear his wonderful words of wisdom. It was 2 o'clock in the morning when we permitted him to retire. We wanted to listen to him all night.
After he had gone from the room, my mother said, "I don't see how anyone can doubt that he is a Prophet of God. They can see it in his countenance, which is so full of intelligence."
Yes, truly," my father replied. "He is a Prophet of God."
The very next day, my mother was ready for baptism. The ice was six inches deep, but was cut, and the way was prepared . . . (89)
The "Autobiography of John Lowe Butler, 1808-1861," archived in the BYU Library, recounts a time when he and others had successfully managed to rescue the Prophet from the clutches of a mob:
Sister Emma had sent Joseph out some clean clothes, but Joseph's brethren were as dirty as he was, and he was not going to go clean and his brethren dirty. The dust on the road then was four or five inches deep. (102)
John D. Lee — a problematic person, I know, to say the least of him, but grinding no apparent axe here — recorded of Joseph Smith in his Mormonism Unveiled [1891] that
His countenance was that of a plain, honest man, full of benevolence and philanthropy, and void of deceit and hypocrisy. (112)
Now for a few items that are more or less connected to Joseph's reception of divine revelation:
Nancy N. Tracy was a member of the Nauvoo Relief Society. In "A Short Sketch of the Life and Travels of Nancy N. Tracy," which is conserved in the BYU Library, she recalls that Joseph Smith would sometimes visit its meetings:
Once in particular I remember Emma bringing him, and he prayed at the beginning of the meeting. He was full of the Spirit of God. His whole frame shook, and his face shone and looked almost transparent. (94)
In his early-1907 letter to Emmeline B. Wells, William Henry Kimball recalled that
In the house of Stephen Winchester, Mulholland Street, Nauvoo, Illinois, only weeks prior to their martyrdom, Joseph prophesied of the shedding of his and Hyrum's blood to seal their testimonies. Then and there, he mapped the life and acts of Brigham Young until death. I can assure you it never failed. (97)
In the "History of Return Jackson Redden — Utah Pioneer of 1847," written by his granddaughter Nita Redden Hampshire and held by the BYU Library, Return Redden is quoted as recalling that
One one occasion the Prophet Joseph sent me to get a warrant for his arrest. He told me that three men would be sleeping on the floor of a tavern, and that the arrest warrant would be under the saddle blanket of the man sleeping in the middle. The men would be guarded by a large, vicious dog. I was to go to the tavern after the men retired and remove the warrant and take it to him.
Joseph told me that neither the men nor the dog would wake up. I did as I was directed. The men and dog did not awaken. I took the warrant to the Prophet who said to me, "Never was a man so rightly named Return. No matter how difficult the task that I assign you, you do it and return safely." (152)
The "Journal of Truman O. Angell," who eventually became the principal architect of the Salt Lake Temple, is housed in the library at Brigham Young University. On pages 1-6, it relates the following two episodes relating to the construction of the Church's first temple, in Kirtland, Ohio, in the 1830s:
One day while I was working on the Temple, Frederick G. Williams, one of President Smith's counselors, came in, and the following dialogue took place in my presence. Carpenter Rolph asked, "Doctor, what do you think of the House?"
He answered, "It looks to me like the pattern precisely." He then related the following:
"Joseph received the word for him to take his two counselors, myself and Sidney Rigdon, and come before the Lord, and he would show us the plan or model of the House to be built. We went upon our knees, called on the Lord, and the Building appeared within viewing distance, I being the first to discover it. Then all of us viewed it together. After we had taken a good look at the exterior, the building seemed to come right over us, and the make up of this hall seemed to coincide with what I there saw to a minutia." . . .
On another occasion, Joseph came into the hall, and the leading mechanic, (by profession a carriage builder) wanted to seat the House contrary to what Joseph had proposed. Joseph assured him that he had seen the inside of every building that had been built unto the Lord upon the earth, and he hated to have to say so. (84, 85)
For some background on the episode related by Truman Angell, see my 2016 Deseret News column "The inspired plans for the Kirtland Temple."
For discussion of the extraordinary and significant fact that "Many of Prophet's revelations were shared experiences," see my early-2011 Deseret News column of that title.
#GiveThanks