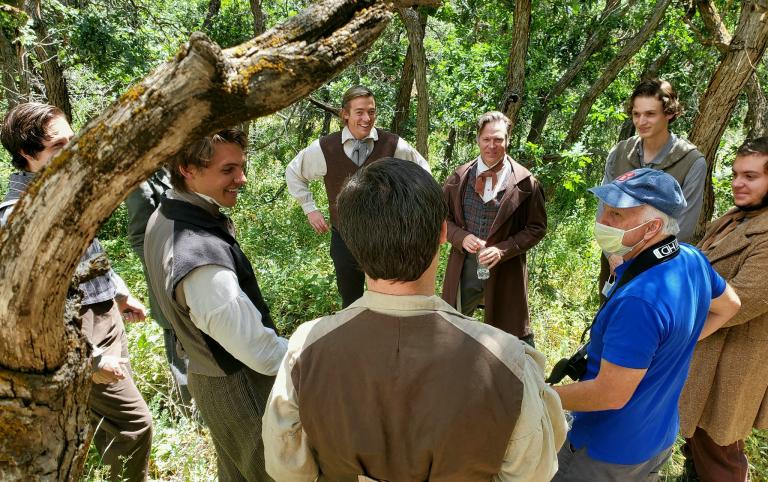 A few days ago, an attack on several organizations including the Interpreter Foundation was posted online. It focused on our finances, and it linked us far more closely together than is actually true. I'll let the other organizations respond (if they choose to do so) for themselves, but I want to say a few things here about the finances of the Interpreter Foundation — the only one of the groups in which I hold a leadership position and the only one of them for which I am in any sense responsible.
In one spectacularly disingenuous passage, the attack gave an impressively large figure for our combined annual incomes, suggesting that we're all very rich. (I have no idea whether the combined figure given is even remotely accurate.). But the four organizations are quite dissimilar and of very different sizes, and their finances are distinct. Mashing us all together and saying that we have a combined annual income of x is grossly misleading. It is grossly misleading in exactly the same way that it would mislead to pair your retired Uncle Bob, who lives on Social Security and a modest pension, with a number of other people, and to grandly announce, on that basis, that Uncle Bob is wealthy.
One element of the recent attack says that the Interpreter Foundation, in particular, has fully a million dollars in "extra" annual money, and then — as if the two facts are related — observes rather ominously that I've gone on cruises. In actual point of fact, the million dollars in question are probably those that we've raised and largely spent in order to complete the forthcoming Witnesses theatrical film. And my "cruises" — most often land tours of Israel and Egypt and Jordan, actually — have been entirely independent of the Interpreter Foundation. I've done them at the request of the Cruise Lady company and, although my expenses for them have been covered by that company, I make no actual profit from them.
Finally, the recent attack insinuates that the Church of Jesus Christ of Latter-day Saints was directly involved in the founding of the Interpreter Foundation and is a principal source of the Foundation's funding. Neither suggestion is even remotely true. Not even via stealth and indirection. It certainly would be nice, though, to have such significant and reliable funding!
Which brings me to the real purpose of this blog entry (which was not to whine about public misrepresentations).
The fact is that the Interpreter Foundation is, and has always been, dependent upon private donations. And that raising funds by means of such donations is, and has always been, a major obligation of mine. It is one of my principal responsibilities.
And fundraising is not something that I enjoy or like to do.
But it's essential.
As has happened with other organizations, the COVID-19 pandemic has affected our fundraising. Ed Snow (our official fundraiser) and I cannot go out in person these days to meet with potential donors and solicit funds. Moreover, many of our donors have seen their investments lose value over nearly a year of political and financial uncertainty, and many of them — I can scarcely fault them for this! — have directed some of their charitable giving toward the alleviation of basic human needs that have been exacerbated by the pandemic.
What does this mean, specifically, for Interpreter and its projects?
One of our explicit goals has been to create a rainy-day fund for the Foundation, effectively a "two-year supply." It's difficult to raise money for an endowment. Many potential donors feel, and rightly so, that they can do better with their own enterprises and investments than we would do with a (necessarily conservative) endowment fund. So we've decided not to go for an endowment, reassuring though that would be to us. Still, in order to protect against downturns and to be able to make long-term plans, we have to have at least some funding already in place for the future. Two years seems a prudent minimum for such a fund.
But COVID-19 has not only slowed our progress toward that goal, it has required us to burn up some of the money that we had already raised for the rainy-day fund.
On another issue: We have kept the funding for our Witnesses film project separate from the general funding for Interpreter proper. I made a solemn promise to my board that I would not allow the movie effort, or fundraising for it, to come at the expense of the basic Foundation itself. I intend to keep that promise. We've found, however, that it's easier in a way, "sexier," to raise big money for the movie project than for the relatively humdrum work of putting out weekly journal articles (with all of the source-checking and copy-editing and other work involved) or turning conferences into books.
Even so, it would still be very helpful to have some additional money for the Witnesses project. Permit me to explain why, partially by explaining where we currently stand.
The Witnesses theatrical film, which focuses on the Three Witnesses to the Book of Mormon and their interactions with Joseph Smith, is essentially finished. We're largely waiting for theaters to re-open. When last we spoke about a premiere date, we were looking at the first week in July. We'll see if that holds — though, given recent vaccine breakthroughs, I'm optimistic that the film will be out around that time.
We are now working on a documentary that we hope will be aired near the time of the dramatic theatrical film. It will combine interviews of noted Latter-day Saint and non-Latter-day Saint scholars with footage drawn from the theatrical film as well as some footage created specifically for the documentary itself. It will also expand the coverage beyond the Three Witnesses to the Eight Witnesses, and beyond them to the extremely important unofficial or informal witnesses (several of whom were women).
Along the way, we're also hoping to include what we've called "snippets," 3-5-minute online short features aimed at a youngish audience. If we're able to do with them what we want to do, they will deal with every significant issue, every serious objection, connected with the testimonies of the official and unofficial witnesses to the Book of Mormon. I have long regarded this as a hugely important component of the overall Witnesses project.
To accompany the theatrical film, the documentary film, and the "snippets," we also hope to put up a dedicated website that (as currently envisioned) will include, among other things, answers to frequently asked questions as well as all of the extant statements and interviews from the witnesses (perhaps with actual photos of the documents to accompany the transcriptions), biographies of the witnesses, a bibliography of suggested readings, and so forth.
As I say, the theatrical film is pretty much finished. And the documentary should come in roughly on time. But we're having some difficulty raising support for the "snippets," which I see as so crucial and which are specifically aimed at people in the range of 20-35 years old — a demographic that, as many of us are painfully aware, is especially vulnerable to social-media disinformation from critics of the Restoration.
And then there is the matter of the distribution of the theatrical film. We expect to have it in numerous theaters in Utah and perhaps a few in states adjacent to Utah. We already included a substantial amount in our initial budget for distribution.
However, our distributor, Brandon Purdie, having watched the development of the Witnesses theatrical film for some time now, feels that our wonderful and dedicated filmmakers have created an exceptionally significant movie, and that we may be limiting the success that it will achieve and the impact that it will have if we don't spend additional money on advertising.
A couple of months ago, he gave a lengthy, simply stunning, and, to me, entirely convincing presentation to our producer and director and to me on the need for an expanded advertising budget for Witnesses. Theater owners simply won't take the risk of turning screens in their theaters over to films that, in their judgment, are unlikely to draw significant ticket-buying audiences. He gave us specific examples of LDS-oriented films that, in his expert judgment, had fallen short of the market that they could have achieved because their producers' investment in advertising was incommensurate with the investment in the films themselves. He recommended a substantial additional investment–roughly $200K. If we want to get beyond the "Mormon corridor" at all, we're going to need something like that amount. And fairly soon.
But, thus far, we don't have that additional money. And I agonize over that. If Brandon Purdie is right — and he is, by universal consent, the expert on the distribution of LDS-oriented theatrical films — we may underachieve even with a very good film. And the thing we want most, once the film is done, is for it to have as wide a positive impact as it can possibly have.
That's why I'm posting this. I haven't discussed writing this blog entry with anybody. Not with my wife, not with the producer or the director, not with Ed Snow, not with Brandon Purdie, not with my board.
I worry. It's my (unpaid) job to worry.
So I'm making a frank public appeal:
According to one source that I've checked, 31% of annual giving by Americans occurs in the month of December. 12% of annual giving occurs on the last 3 days of the year. So my timing is both urgent and very deliberate.
Interpreter and its Witnesses film efforts have become what they are because of remarkable donations from generous, faithful, committed people. I am more grateful and appreciative for these contributions than I can possibly say. I hate, though, to keep returning over and over and over again to the same kind donors. I dislike fundraising under the best of conditions; I don't want longtime friends to begin to dread seeing me and, when the pandemic goes away, to avoid me at social functions.
However, in order to rise to its full potential, the Witnesses film project needs more money than we currently have. Substantially — though not infinitely! — more. And Interpreter itself needs to become more secure. We have great things on the horizon.
So I'm candidly asking: If you are someone who is capable of giving a substantial amount, would you consider doing so? Not necessarily the entire sum (though that would be nice!), but some fraction of it. If you know somebody who might be in a position to help, could you perhaps approach them and/or bring them to our notice? Could you even just share this blog entry with them? Ed Snow and I are happily willing — well, I'm willing, anyway — to make the pitch, to prepare and share a formal proposal, to discuss possibilities, to meet via Zoom! or to talk on the telephone. We're more than willing to discuss financial details with potentially serious donors.
Please contact me at daniel_peterson@byu.edu.
I believe in these projects. I'm firmly convinced that they're worthy of your support. If I didn't think so, I wouldn't be devoting my own time and energy to them.
In any case, I wish you and yours a wonderful Christmas season and the very best of new years. There is light at the end of the coronavirus tunnel!