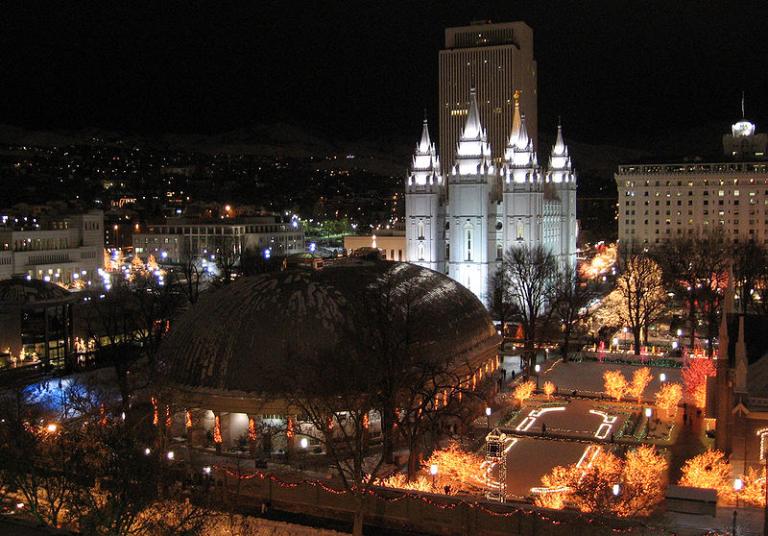 Two new articles appeared today in Interpreter: A Journal of Latter-day Saint Faith and Scholarship.
The first of the two is by Brant A. Gardner:
"Joseph Smith's Translation Projects under a Microscope"
Review of Producing Ancient Scripture: Joseph Smith's Translation Projects in the Development of Mormon Christianity, edited by Michael Hubbard MacKay, Mark Ashurst-McGee, and Brian M. Hauglid (Salt Lake City: University of Utah Press, 2020). 544 pages with index. Hardback, $70. Paperback $45, eBook $40.
Abstract: Producing Ancient Scripture is a collection of sixteen detailed essays with an introduction by the editors. This is the first such collection that examines the greater range of Joseph Smith's translation projects. As such, it is uniquely positioned to begin more sophisticated answers about the relationship between Joseph Smith and both the concept of translation and the specific translation works he produced.
The second is by Matthew L. Bowen:
""I Will Deliver Thy Sons":An Onomastic Approach to Three Iterations of an Oracle to Mosiah II (Mosiah 28:7; Alma 17:35, 19:23)"
Abstract: Three times in his narrative Mormon recounts the Lord's oracle (revelation) to Mosiah II regarding his sons undertaking a mission among the Lamanites (Mosiah 28:7, Alma 17:35, and Alma 19:23). In all three instances, the Lord's promises of deliverance revolve around the meaning of the name Mosiah ("Yahweh is Deliverer" or "Yahweh is Savior"), emphasizing that the Lord (Hebrew yhwh) himself would act in his covenant role as môšîaʿ in delivering Mosiah's sons, and sparing Ammon in particular. In two of the iterations of the oracle, Mosiah 28:7 and Alma 19:23, we find additional wordplay on the name Ammon ("faithful") in terms of "many shall believe" (Hebrew yaʾămînû) in the first instance and ʾĕmûnâ ("faith," "faithfulness") in the latter. In Alma 19:23 the Lord also employs an additional wordplay on his own name, Yahweh (Jehovah), to emphasize his ability to bring to pass his promises to Mosiah regarding Ammon.
***
I'm going to give you an unsolicited book recommendation for Christmas:
I've lately been reading, and thoroughly enjoying, Sheri Dew, Insights from a Prophet's Life: Russell M. Nelson (Salt Lake City, Deseret Book, 2019). If you aren't already convinced that the current president of the Church of Jesus Christ of Latter-day Saints is a truly remarkable man, this book should convince you of that fact: Holder of both an M.D. and a Ph.D., pioneering heart surgeon, professor, stake president, waterskier, snow skier, student of languages, general Church Sunday School president, pianist, organist, father of ten children, apostle . . . I find the book both astonishing and inspiring, on the one hand, and deeply humbling. I read about President Nelson and feel myself profoundly inferior. There are plenty of people, of course, whose achievements and abilities put mine in the shade. But President Nelson is in a class almost by himself in that regard. Two others — both of them quite dramatically unaffiliated with the Church — come to mind: Pope St. John Paul II, linguist, philosopher, playwright, poet, ecclesiastical leader, internationally significant statesman, skier, musician; and Albert Schweitzer, New Testament scholar (author of, among other things, the still important 1906 book Geschichte der Leben-Jesu-Forschung, which appeared in English as The Quest for the Historical Jesus), pastor, organ virtuoso (and principal contributor to the revival of interest in the once almost forgotten work of Johann Sebastian Bach), physician and medical missionary in Africa, winner of the Nobel Peace Prize.
***
"How to motivate millions of Americans to get vaccinated? Let faith help. With thousands of lives on the line, America's diverse religious communities are uniquely prepared to unite to meet this moment."
"With vaccines on the horizon, faith leaders could play a crucial role in promoting their use: Asked about his participation in the Moderna vaccine trial, Rabbi Shmuel Herzfeld replied, 'It's the most important sermon I've ever given — by far.'"
***
And here is an item from the Christopher Hitchens Memorial "How Religion Poisons Everything" File:
"Latter-day Saints Around the World: Country Newsroom Websites, December 17, 2020: Newsroom features stories from its dozens of websites around the world to show what members and leaders of The Church of Jesus Christ of Latter-day Saints are doing to serve their communities. Today we feature news from Panama, Brazil, Bolivia, Vanuatu and the United States."
And this one might also belong in the Hitchens File. It's a very nice example — excuse me, it's a terrifying and horrific example — of interfaith cooperation in a good cause:
"Drive-thru Nativity: One community's way of celebrating Christmas during the pandemic"
***
Finally, it seems to be time yet again to share one of my favorite poems for this season of the year. This one is by Sir John Betjeman (1906-1984), who served as Poet Laureate of England from 1972 until his death:
"Christmas"
The bells of waiting Advent ring,
The Tortoise stove is lit again
And lamp-oil light across the night
Has caught the streaks of winter rain
In many a stained-glass window sheen
From Crimson Lake to Hookers Green.
The holly in the windy hedge
And round the Manor House the yew
Will soon be stripped to deck the ledge,
The altar, font and arch and pew,
So that the villagers can say
'The church looks nice' on Christmas Day.
Provincial Public Houses blaze,
Corporation tramcars clang,
On lighted tenements I gaze,
Where paper decorations hang,
And bunting in the red Town Hall
Says 'Merry Christmas to you all'.
And London shops on Christmas Eve
Are strung with silver bells and flowers
As hurrying clerks the City leave
To pigeon-haunted classic towers,
And marbled clouds go scudding by
The many-steepled London sky.
And girls in slacks remember Dad,
And oafish louts remember Mum,
And sleepless children's hearts are glad.
And Christmas-morning bells say 'Come!'
Even to shining ones who dwell
Safe in the Dorchester Hotel.
And is it true,
This most tremendous tale of all,
Seen in a stained-glass window's hue,
A Baby in an ox's stall ?
The Maker of the stars and sea
Become a Child on earth for me ?
And is it true ? For if it is,
No loving fingers tying strings
Around those tissued fripperies,
The sweet and silly Christmas things,
Bath salts and inexpensive scent
And hideous tie so kindly meant,
No love that in a family dwells,
No carolling in frosty air,
Nor all the steeple-shaking bells
Can with this single Truth compare –
That God was man in Palestine
And lives today in Bread and Wine.