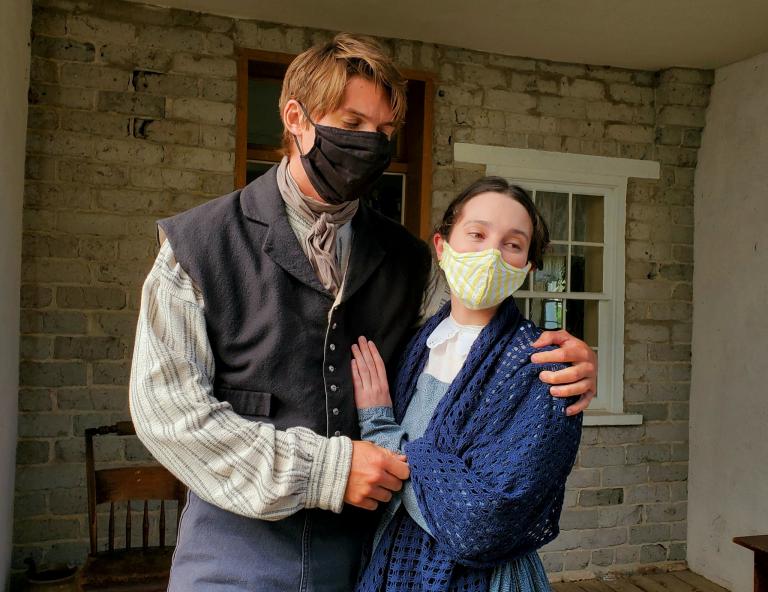 ***
On Facebook: "Heartfelt thanks from Caleb Josiah Spivak aka Oliver Cowdery for a SOLD OUT audience at LDS Film Festival! Summer 2021!"
Beginning at roughly 26:00 in this KSL-Radio interview and continuing until approximately 33:45, Doug Wright talks about the 2021 LDS Film Festival, which runs from Wednesday night through Saturday night, with the festival's director, Kels Goodman. For the first minute or two, the focus is on the Interpreter Foundation's forthcoming theatrical film, Witnesses:
***
From the Christopher Hitchens Memorial "How Religion Poisons Everything" File(©:
"Church Donates over $200,000 Worth of Covid-19 Supplies in Botswana: Members match it with 8,000 hand-made masks"
"Latter-day Saints Around the World: Country Newsroom Websites, February 18, 2021": Newsroom features stories from its dozens of websites around the world to show what members and leaders of The Church of Jesus Christ of Latter-day Saints are doing to serve their communities. Today we feature news from the Pacific, Brazil, Peru, Canada and the United States.
"Local Church Leaders Offering Initial Relief in Storm-Staggered Texas, Oklahoma: Millions across several US regions have endured several days of freezing temperatures, many without electricity and water"
"Missionaries in Arizona Partner with Local Groups to Answer the Call to 'Feed My Sheep': Food initiative relies on charity-minded people who deliver life-sustaining sustenance to many vulnerable families"
***
Here are the results of an important research study, as reported in the Babylon Bee:
"People More Likely To Believe In Hell After Shopping At Walmart"
***
As I write, it has been very nearly thirty hours since I went over to the dark side, permitting myself to be injected with the Gates-Fauci scamdemic mind-control vaccine. Thus far, I've felt no urge to become gay or transsexual, sensed no alteration in my DNA (although the third eye that's begun to appear in my forehead is admittedly troubling), and can detect no microchip under my skin:
"The Utter Familiarity of Even the Strangest Vaccine Conspiracy Theories: Disease narratives maintain certain features over time, even as specific details vary to fit a new epidemic or context"
"Anatomy Of A COVID-19 Conspiracy Theory"
In fact, I'm feeling perfectly fine. (I'm told that a week or two must elapse before Bill Gates and Dr. Fauci can take control of newly vaccinated bodies.). If I really work on it, I can possibly feel a slight degree of sensitivity at and around the site of the injection. But I'm not sure even of that.