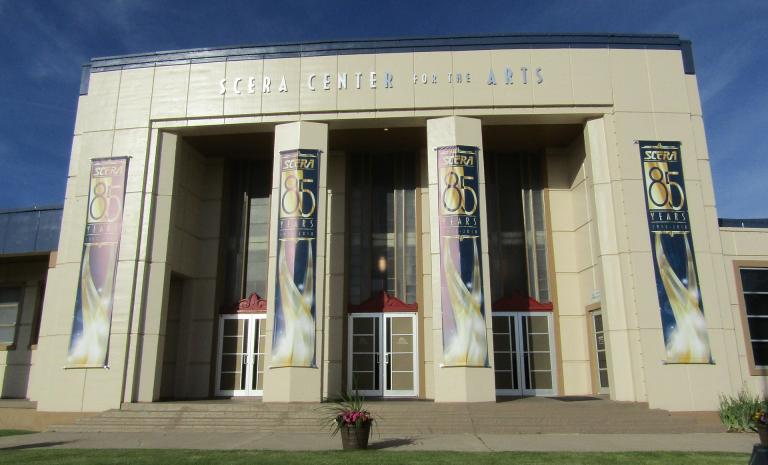 My wife and I will be back at the LDS Film Festival this afternoon. At 4 PM, in Room 201, Russell Richins (the producer of Witnesses) and Mark Goodman (the film's director) will speak and entertain questions on the theme "From Plates of Gold to Big Screens of Silver: Witnesses releasing Summer 2021." (Incidentally, at the Festival screening of Witnesses on Wednesday night, our distributor, Brandon Purdie, revealed that the opening date for the film has now been specifically set at Friday, 4 June 2021, just three months away.)
Obviously, I feel obliged to be there in Room 201 for that discussion. My wife, however, may sneak over to Showhouse II, where there will be a tribute to Lyman Dayton and a showing of his 1975 film Against a Crooked Sky. (Brother Dayton was the producer for the film, which was shot in Utah.). Although there is nothing peculiarly Latter-day Saint about Against a Crooked Sky, it certainly reflected Latter-day Saint values and "family values," and Lyman Dayton can be considered a major pioneer in Utah-based filmmaking and, therefore, an important pathbreaker on the road toward an "indigenous" Latter-day Saint cinema. Besides, he's a close relative of very good friends in our ward and neighborhood.
At 8 PM, we'll be in our seats in Showhouse II for the Festival's awards show. I'm told that attendance at it is open and free.
***
Newly published on the website of the Interpreter Foundation:
Book of Moses Essays #43: Moses 1: A Literary Masterpiece. Hebrew Literary Features of Moses 1 (Moses 1)
***
I want to call your attention to a rapidly approaching event:
"Video Conference on the Epistle to the Hebrews: Radiating the Great Principles of the Restored Gospel"
Mark your calendar for 6 March 2021 — that's next Saturday — for this free and open public conference.
***
And here is a new item from the important Neville-Neville Land blog:
"Jonathan Neville maligns the Church's Come, Follow Me manual"
***
I'm happy, now, to offer a few additional materials from the Christopher Hitchens Memorial "How Religion Poisons Everything" File©:
"Latter-day Saint Charities Commits US$20 Million in Support of UNICEF's Global COVID-19 Response: Latter-day Saint Charities becomes the single largest private sector donor to date to support UNICEF's ACT Accelerator and COVAX work"
"Latter-day Saint Charities donates $20 million to global COVID-19 vaccine campaign: Church's grant is biggest private sector donation to 'largest immunization campaign in history'"
"Church Donates over $200,000 Worth of Covid-19 Supplies in Botswana: Members match it with 8,000 hand-made masks"
"Texans Receive Aid Following Record Winter Storm: Church provides more than 17,000 cases of water and nearly 800,000 pounds of food for relief"
A sad one: "A Latter-day Saint congregation's search for a missing girl"
***
These next items are simply good stories. Whether there's a religious dimension to them or not, I don't know. But I can tell you — as a person who, according to certain anonymous online critics of mine, is perpetually seething with rage and resentment — that it pains me beyond words, makes me gnash my teeth with almost uncontrollably indignant wrath, to see such stories:
"Strangers Shelter Stranded Delivery Driver for 5 Days During Texas Cold Snap–Now She's 'Part of the Family'"
"Tex-Mex Restaurant Owner Spends $2,000 of His Own Money to Promote Competitors Who Are Struggling"
"Two Colleges in Ohio See How Much They Can Out-Tip One Another at Restaurants—Raising $34,000 for Workers"
***
Finally, what will seem (and what obviously is) in many ways an explicitly and therefore, for me, an uncharacteristically commercial note:
For quite a while now, the sponsor for the weekly Interpreter Radio Show has been Cruise Lady: Latter-day Adventures. Given the devastating effects of the COVID-19 pandemic on the travel and cruise industry, though, Cruise Lady has finally decided to back away from that sponsorship. Candidly, I'm surprised that their generous and much-appreciated support continued as long as it did. Everything has been essentially shut down since mid-March of last year. There wasn't really any point in advertising when all tours were cancelled. However, I hope that things will soon pick up again for them. Perhaps they'll even someday return to advertising on our show.
Commencing tomorrow evening, however, my friend Bob Lavender (a retired jet pilot for FedEx, by the way) has stepped forward to sponsor the Interpreter Radio Show for three months. I have no doubt that, as he's told me, his primary motivation is his desire to support the Interpreter Foundation. He's a personal friend, and he has been supportive of Interpreter for a long time. I don't think that he really expects much additional business because of his sponsorship.
But, if it's at all possible, I would like to see his kind support generate some tangible benefits for him. (Bob didn't ask me to do this, and he isn't aware that I am doing it.) So please permit me to say something about his company.
LDSAgents.com is a network of more than 3,000 Latter-day Saint real estate people. For over twenty years, the company has been working with both home buyers and sellers in a bid to facilitate the process and to reduce their stress. Like other real estate agents, they're there to help home buyers in finding a good, suitable place to live in a safe neighborhood. Beyond that, though, knowing the specific needs and interests of Latter-day Saints and Latter-day Saint families, they can help with information about such things as youth sporting programs, good schools (including schools for special needs children), and, of course, nearby wards and branches of the Church. Moreover, by putting Latter-day Saint home buyers and sellers in contact with Latter-day Saint and LDS-friendly realtors, LDSAgents.com performs a real service for those agents, as well.
So I hope that, if you're considering a move, or if you know someone who is considering a move — frankly, the idea of moving makes me shudder, but I'm aware that there are folks who do such things — you'll consider LDSAgents.com.
(And here's a note for the small coven of obsessive critics who scour this blog daily for evidence of my depravity, cruelty, unceasing rage, and greed: No animals were harmed in the composition of the immediately previous 400 words, I'm not financially or in any other way involved with Bob Lavender's company, and I won't derive so much as a penny from the transaction even if several of my readers choose to sell their 40,000+ square foot homes through LDSAgents.com or opt to buy up the entire city of Gilbert, Arizona.)