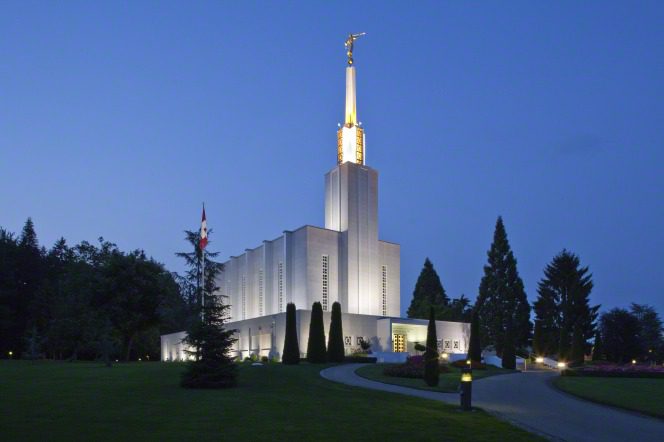 ***
I spent part of this morning and this afternoon involved in the funeral for a French sister (born in Marseilles, in January 1928). Having converted to the Church of Jesus Christ of Latter-day Saints in immediately postwar France at the age of nineteen — she was baptized during the month of December, in the Mediterranean Sea — she came to the United States in 1952, where she met her husband in California. She was a member of our ward for many years.
Her funeral was a simple graveside service, but I was privileged to act as one of the pallbearers and to dedicate her grave.
The musical pieces that were offered at the service were, as it happens, a pair that I would really like to have performed at my own funeral.
The first was an instrumental version of "Going Home." a melody drawn from Antonin Dvořák's Symphony No. 9 (From the New World) that is often graced with lyrics that I love deeply:
Going home, going home
I am going home
Quiet like, some still day
I am going home
It's not far, just close by
Through an open door
Work all done, care laid by
Never fear no more
Mother's there expecting me
Father's waiting too
Lots of faces gathered there
All the friends I knew
No more fear, no more pain
No more stumbling by the way
No more longing for the day
Going to run no more
Morning star light the way
Restless dreams all gone
Shadows gone, break of day
Real life has begun
There's no break, there's no end
Just living on
Wide awake, with a smile
Going on and on, going on and on
Going home, going home
I am going home
Shadows gone, break of day
Real life has begun
The Norwegian singer Sissel (Sissel Kyrkjebø) has a very nice recording of "Going Home" here:
https://www.youtube.com/watch?v=tZ_2Xbvb0rQ
The second was a vocal rendition of "Be Still, My Soul," with words by the Scottish lyricist Jane Borthwick (1813-1897), inspired by those of the German hymn writer Katharina von Schlegel (b. 1697) and set to music by the great Finnish composer Jean Sibelius (1865-1957). (The a capella boys' choir Libera performs it beautifully here; please listen through to the end.) These are the lyrics as they are given in the Latter-day Saint hymnal and as they were sung today at the cemetery:
Be still, my soul: The Lord is on thy side;

With patience bear thy cross of grief or pain.

Leave to thy God to order and provide;

In ev'ry change he faithful will remain.

Be still, my soul: Thy best, thy heav'nly Friend

Thru thorny ways leads to a joyful end.

Be still, my soul: Thy God doth undertake

To guide the future as he has the past.

Thy hope, thy confidence let nothing shake;

All now mysterious shall be bright at last.

Be still, my soul: The waves and winds still know

His voice who ruled them while he dwelt below.

Be still, my soul: The hour is hast'ning on

When we shall be forever with the Lord,

When disappointment, grief, and fear are gone,

Sorrow forgot, love's purest joys restored.

Be still, my soul: When change and tears are past,

All safe and blessed we shall meet at last.
My wife also delivered some brief remarks, and one of the stories that she told from our friend's handwritten autobiography struck me so much that I'm going to share it here:
When she first heard of the "Mormons," the very first thing that Jeanne was told about them was polygamy. She was appalled. But something about them intrigued her nonetheless when she saw the missionaries. So, although neither she nor her friends at the time were particularly religious, they invited the elders to teach them a lesson. But she wasn't very impressed at the beginning, because the missionaries hadn't come to what she calls in her memoir "their 'special' belief."
Then something strange happened. As the missionaries unfolded "The Plan of Salvation," I told myself, "I have heard that before!" and yet I knew it could not be. . . . I searched and I searched in my mind. . . . While the missionaries were talking to the other girls, I thought with all my strength and then the truth exploded in my mind. "You heard that hundreds of years ago, in the pre-existence!" The absolute truth of this statement made me want to jump up for joy! But of course, of course, that's where it was! I had to hold onto the arms of the chair to stop myself from shouting, "But it's true, it's TRUE!" Then another strange and wonderful thing happened. My spirit left my body and I found myself in a very large room, like the veil room in the Los Angeles Temple, all white, white carpet, white walls, and two steps before me leading to the largest veil I had ever seen. The cloth of the veil was very thin. I could sense a light behind it. I was wondering where I was and what was I doing there when suddenly I heard the rending of the cloth as if the veil was torn by an invisible hand and as the veil flew open I saw an immense ocean of high waves rolling towards me, except that the waves were not made of water, but were made of lights of different intensities. Instinctively I raised my arms above my head, not because of fear, but more because of awe. All this was so strange and so unexpected and when the waves engulfed me, the joy I felt was so exquisite that it cannot be described because it was not of this earth. And at that moment it was made clear to me that God lived and the Church was true. Many people search for years for the truth and it was all given to me in one night.
***
On a discordant but necessary note:
I've just been alerted to a claim being made online that, as a result of a pair of critical reviews of The Joseph Smith Papers, Revelations and Translations, Volume 4: Book of Abraham and Related Manuscripts, eds. Robin Scott Jensen and Brian M. Hauglid (Salt Lake City: Church Historian's Press, 2018) that were published by the Interpreter Foundation back in 2019– the two reviews in question are Jeff Lindsay's "A Precious Resource with Some Gaps" and John Gee's "The Joseph Smith Papers Project Stumbles" — John Gee and I were summoned to the Church Office Building in Salt Lake City, where unidentified Church leaders "yelled" at us because of our offense.
This claim is misleading in important ways.
It is true that certain people connected with the Historical Department of the Church were not happy about those two critical reviews — who loves to be negatively reviewed? — and it is true that John Gee and I met (entirely willingly) with a couple of the principal figures in the Joseph Smith Papers project to talk about the reviews.
But the meeting took place in the Church Historical Library, not in the Church Office Building. No leaders of the Church were involved (assuming that, by "Church leaders," General Authorities of the Church are intended). And there was absolutely no "yelling." It was an entirely civil conversation, conducted entirely in conversational tones of voice. One misunderstanding that needed to be clarified was that the criticisms in the two reviews were directed solely at certain aspects of that fourth volume, not at the entire volume, and certainly not at the Joseph Smith Papers project as a whole (let alone at the Church or at its leaders).
In the wake of the misleading account to which I've just responded, my Malevolent Stalker has come forward (anonymously, of course) to volunteer the supposed fact that this isn't the first time that I've been rebuked by the Brethren.
However, as a matter of fact, I have never been rebuked or chastised by any General Authority of the Church, nor by any combination of General Authorities. Never.
I hope that's clear enough.