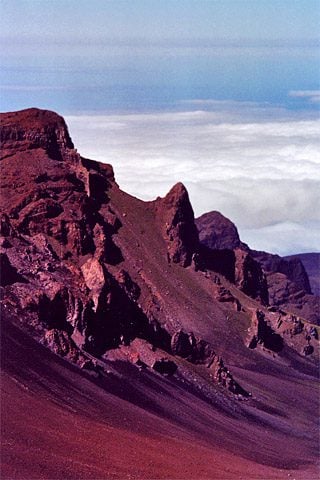 ***
After a leisurely morning that included partaking of the sacrament, we drove over to the Kula district — where, by the way, most of the famous Maui onions are grown — on the western slope of the massive volcano Haleakalā. We had a specific reason for going there: We wanted to see the historic little Pulehu Chapel once again. My next column for Meridian Magazine will probably center, to at least some degree, on Pulehu. We were disappointed to see the chapel fenced off and locked up this time. It seems that maybe some construction or restoration might be going on there. If so, that would offer some consolation. During our previous visit, we met a picnicking Polynesian Latter-day Saint family on the grounds, had a great conversation with them about the sacredness and the historical importance of the site, and actually went inside the humble little building. Alas, not so this time.
Leaving Pulehu, we drove to the summit of the mighty and magnificent Haleakalā, which rises to 10,023 feet (3,055 meters) above sea level. As before, we had to drive through dispiriting cloud and fog, wondering whether we would be able to see anything from atop the mountain. Also as before, the sun appeared suddenly, the clouds fell away beneath us, and the air was perfectly clear. To the southeast, we could see the Big Island of Hawai'i, including its two great peaks of Mauna Loa and Mauna Kea. There was more low-level cloud cover than on our previous visit, but we were also still able to make Moloka'i out to the distant northwest. And Haleakalā's vast crater, with its inner moonscape, is breathtaking. Photos don't do it justice.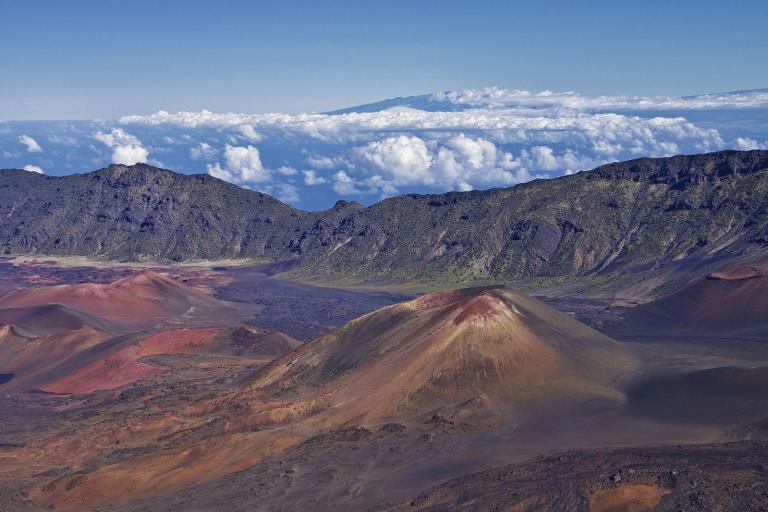 There's probably a good illustration for a talk in sacrament meeting in the climb up Haleakalā. Maybe material for a parable about mortality and what awaits us on the other side, or about striving to become more like our Heavenly Parents: You find yourself lazing around down at sea level. It's comfortable, and you see no real need to leave. After all, as the shirts and signs remind us, life's a beach, The breezes are gentle, the landscape soft and green, the temperatures are moderate both night and day, the air is slightly blurred with hanging humidity. But something calls to you, beckons you, to climb higher. It's hard, and you're tempted to give up. As you struggle slowly up the mountain's enormous flank, the landscape is less lush and friendly. It grows sere, barren, rough, harsh, even hostile. But you keep on going. Then come the clouds and the fog that almost always encircle the mountain. It's surprisingly dark. You can scarcely see. You wonder whether you shouldn't have stayed in the warm and gentle sunlight below. Nonetheless, you continue to climb. But you can't really imagine ever coming out of the fog. Suddenly, though, you do. Spectacularly. The air is rarified, but it's as clear as you've ever seen. You're looking down on the clouds. From above, they're even quite beautiful, nothing like the dark obscurity that they represented when you were actually in them. And the sheer grandeur of the vista is beyond description. You seem to be able to see forever. The complexities of the terrain below you are suddenly clear when seen from above.
***
On another note: Today has been Mother's Day. Not only in the United States of America but in other countries, as well — from Anguilla via Antigua and Barbuda to Venezuela and Vietnam and Zambia and Zimbabwe. I confess that, when I was growing up, I didn't think too terribly much about the holiday. Further, over the years I've thought that it was (a) too commercialized and (b) often too sentimentalized. I've changed my mind, to a large extent, about the second of those complaints.
So, now, a word about what I've come to recognize about the mother of my children and about my own mother:
I marvel at the selflessness with which my mother cared for me and my late brother, for her brothers and sisters and nieces and nephews, for her grandchildren, and for many others — until, finally, she was unable to do it any more. And I'm continually stunned at my wife's thoughtfulness, at her concern and solicitude for her children, her grandchildren, her parents (now her widowed father), and her siblings, as well as our neighbors and our friends. Even when I'm somewhat involved, she keeps at it long after I've grown tired. I'm astonished at all that she does for me. Willingly. Of her own gracious, overflowing kindness and love.
I'll put it context with some words about, well, about me: I am, simply, not the callous and cold-hearted monster that certain of my most obsessive critics have labored to portray me as over the years. I'm just not. And I think that few if any of those who actually know me personally would say otherwise. That said, though, I'm plainly and undeniably and consistently inferior to my mother and to my wife in the vitally important area of caring selflessly, tirelessly for others. This isn't sentimentality. I'm not putting them on unrealistic pedestals. It's the cold and clear-eyed truth. I'm unworthy of the love and care of these two women for me.
I admire them more than I can say, and I want to pay tribute to them at the end of this Mother's Day 2021.
***
I liked these two Mother's Day items from the Church of Jesus Christ of Latter-day Saints:
"You Are the Women He Foresaw"
"Leaders Celebrate Mother's Day with a Mother's Wisdom More Helpful Than Google"
Posted from Kihei, Maui, Hawai'i