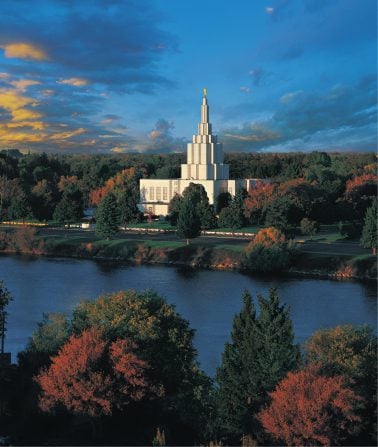 ***
I'm pleased to note that the Interpreter Foundation's dramatic film Witnesses will be opening in three theaters this weekend where I suspect that I may have a reader or two:
In Idaho Falls, Idaho, at the Centre
In Logan, Utah, at the Cine Four
In Panguitch, Utah, at the Gem Theatre.
I also understand that the Latter-day Saint author Jason F. Wright has organized a showing of Witnesses at the Alamo Drafthouse Winchester theater in Winchester, Virginia.  That's in northern Virginia, pretty much due west of  Washington DC .  The theater is located on 181 Kernstown Commons Boulevard.
For other locations, as well as to buy tickets and to sponsor a private showing in a theater, please go to witnessesfilm.com.
And, while we're on the subject of the witnesses to the Book of Mormon, permit me to mention this interesting short article:
"Why Did William E. McLellin Call the Book of Mormon the "Apple of My Eye"?"
And, also, please allow me to remind you of this still-developing website, which is a part of the overall "Witnesses" project:
Witnesses of the Book of Mormon
And I want to remind you of the forthcoming two-part documentary or docudrama on which we've been working:
"Undaunted: Witnesses of the Book of Mormon"
***
Here are some new items on the blog of the Interpreter Foundation that you might enjoy or find helpful:
"Estimating the Evidence Episode 1: On Ages and Pages"
Technically, this is actually the second installment of Dr. Kyler Rasmussen's projected series of blog entries on probability and the claims of the Book of Mormon..
Audio Roundtable: Come, Follow Me Doctrine and Covenants Lesson 29 "I Will Lead You Along": D&C 77-80
The Interpreter Radio Roundtable for Come, Follow Me Doctrine and Covenants Lesson 29, "I Will Lead You Along" on D&C 77-80, has been extracted from the 6 June 2021 broadcast of the Interpreter Radio Show.  It features Neal Rappleye, Jasmine Rappleye, and Hales Swift.  The complete show can be heard at https://interpreterfoundation.org/interpreter-radio-show-june-6-2021/. The weekly Interpreter Radio Show can be heard on Sunday evenings from 7 to 9 PM (MDT), on K-TALK, AM 1640, or you can listen live on the Internet at ktalkmedia.com.
Come, Follow Me — D&C Study and Teaching Helps: Lesson 29, July 12–18: D&C 77–80 — "I Will Lead You Along"
These notes were kindly supplied by by Jonn Claybaugh and Joshua Gregg. 
***
And, finally, I want to remind you of FreedomFest 2021, in which I'll be participating.  Heretofore, it's always been in Las Vegas.  This year, for the first time, it will be in Rapid City, South Dakota.  Perhaps one or two of you will be there?