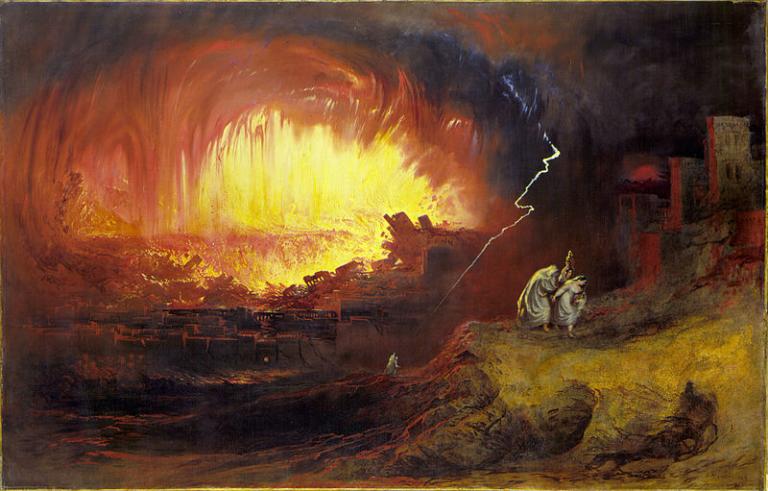 ***
A version of the text of Stephen Smoot's Thursday presentation at the 2021 FAIR Conference has already been published online in Public Square Magazine:
"Abraham and the Stranger at Sodom and Gomorrah: Why were Sodom and Gomorrah destroyed? The answer provides a path that may help heal our relationships and our nation."
***
Carl R. Trueman, "Dogma Drives the Christian Life"
Carl Trueman, an ordained Presbyterian minister and a noted academic, delivered a very good address at the just-concluded 2021 FAIR Conference.
***
Here, to help you survive the inevitable letdown after the FAIR Conference, are a few links to articles that have been previously published in Interpreter: A Journal of Latter-day Saint Faith and Scholarship:
Louis C. Midgley, "The Māori Latter-day Saint Historical Narrative:Additions and Amendments"
Abstract: Selwyn Kātene has again assembled twelve essays written by the descendants of famous Māori Latter-day Saints. This volume flows from a revival of interest in the ground and content of the faith of early Māori Saints that began in the late 1990s. In various ways the essays in this volume add to and amend what has previously been known about what began unexpectedly on Christmas Day in 1882, when the first group of Māori joined the Church of Jesus Christ. Not only did the Māori have Seers who opened the way, some of those elite Māori men, who had been initiated into Māori esoteric knowledge of divine things, also found that their temple endowment fit rather snugly with their previous initiation ceremonies. Unlike other Christian missionaries, Latter-day Saint missionaries did not see the Māori as primitive heathens, and Māori saw in the restored gospel crucial elements of their own deeper understanding of divine things. Latter-day Saint missionaries were seeking to liberate Māori from the soul-destroying vices brought to them or enhanced by British colonization, while relishing the most noble elements in the Māori world.
Review of Selwyn Kātene, ed., By Their Fruits You Will Know Them: Early Maori Leaders in the Mormon Church, vol. 2 (Wellington, New Zealand: Steele Roberts Publishers, 2017). 295 pp. N.Z. $39.99 (hardback).
Duane Boyce, "D&C 21, George Albert Smith, and Hugh B. Brown: A Fresh Look at Three Incidents in Church History"
Abstract. When discussions arise about the relationship between Church members and the prophets who lead them, certain episodes in Church history often appear. These include the Lord's words about "all patience and faith" in Doctrine and Covenants 21:4–5, as well as incidents involving George Albert Smith and Hugh B. Brown. On the surface, such episodes might seem to raise doubts about the reliability of the presiding Brethren in representing the Lord or to minimize the importance of Church orthodoxy itself. A closer look shows such interpretations to be a mistake, however. When we clarify the record, we see that these episodes do not support the conclusions that are sometimes drawn from them. Examining these incidents also permits making a point about so-called "blind obedience."
Taylor Halverson, "The Lives of Abraham: Seeing Abraham through the Eyes of Second-Temple Jews"
Abstract: During the Second-Temple Period, Jews remembered and reimagined the story of Abraham to address their own immediate historical and cultural concerns. By exploring these reimaginations, we learn more about the faith and interests of later Jews who looked to their forefather for inspiration and guidance on how to live in a world of change, opportunity, and challenge. Second Temple Jewish writers included in this article are Artapanus, the author of Jubilees; Pseudo-Eupolemus, the author of Genesis Apocryphon; Philo, and Josephus. Abraham was resurrected in these texts, but with the body and soul of the later author, Josephus; these authors live on in the guise of Abraham.
Duane Boyce, ""Yes, It's True, But I Don't Think They Like to Hear it Quite That Way": What Spencer W. Kimball Told Elaine Cannon"
Abstract: Elaine Cannon, who was general president of the Young Women some four decades ago, had an interesting conversation with President Spencer W. Kimball in 1978. According to Sister Cannon's firsthand account, President Kimball revealed important insight into how he thought about himself as the prophet as well as how he thought leaders should talk to the general membership about that topic. Sister Cannon's report is thus a valuable part of the historical record regarding both Spencer W. Kimball and prophets generally.
Kerry Muhlestein, "Prospering in the Land: A Comparison of Covenant Promises in Leviticus and First Nephi 2"
Abstract: A careful examination of the Abrahamic covenant, as contained in Leviticus 26, and the covenant established with the Lehites during their exodus to the New World, found in 1 Nephi 2, shows deliberate similarities. These similarities are important to understand, as the role of covenant is central in both ancient Israelite practice and current Latter-day Saint theology.
Matthew L. Bowen, ""And They Shall Be Had Again": Onomastic Allusions to Joseph in Moses 1:41 in View of the So-called Canon Formula"
Abstract: Moses 1:41 echoes or plays on the etymological meaning of the name Joseph — "may he [Yahweh] add," as the Lord foretells to Moses the raising up of a future figure through whom the Lord's words, after having been "taken" (away) from the book that Moses would write, "shall be had again among the children of men." Moses 1:41 anticipates and employs language reminiscent of the so-called biblical canon formulas, possible additions to biblical texts meant to ensure the texts' stability by warning against "adding" or "diminishing" (i.e., "taking away") from them (e.g., Deuteronomy 4:2; 5:22 [MT 5:18]; 12:32 [MT 13:1]; cf. Revelation 22:18– 19). This article presupposes that the vision of Moses presents restored text that was at some point recorded in Hebrew.
Morgan Deane, "A Nourishing and Accessible Read"
Review of Michaela Stephens, To Defend Them By Stratagem: Fortify Yourself with Book of Mormon War Tactics (Gilbert, AZ: Lion's Whelp Publications, 2018). 246 pp. $12.99 (paperback).
Abstract: Sometimes it is easy to overlook, disregard, or discount the "war chapters" in the Book of Mormon. Michaela Stephens' new book about these chapters deserves wider attention, as it is an excellent study resource that provides valuable devotional and academic insights while remaining accessible to lay readers.
***
"Thou shalt not kill," says the Lord at Exodus 20:13.
So get your anti-COVID vaccination!