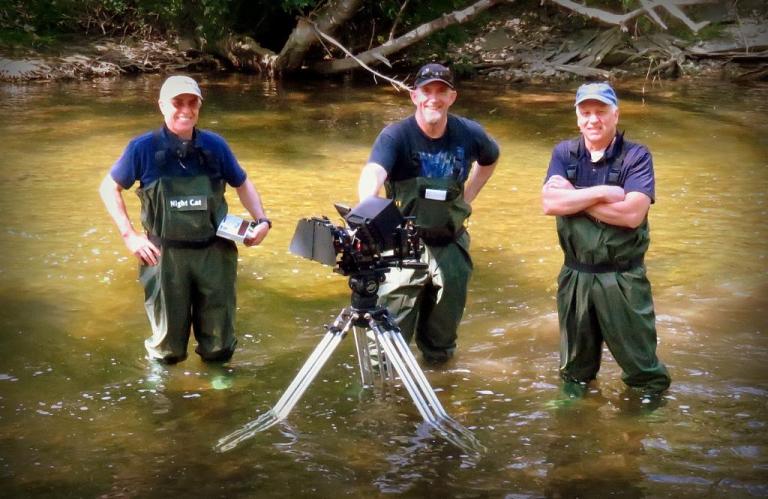 Excellent news just in from our distributor, Brandon Purdie:
Good news! Big EdWeek update: As of this morning all four of these Provo/Orem locations have confirmed that they will play Witnesses during Education Week.

• AMC I will start the film on Friday August 13 and run it through the 19th. A full week.

• Megaplex will start the film on Friday the 13th also and run it through Thursday the 19th. A full week.

• Cinemark at both the University Mall and the Provo Towne Centre Mall locations will play the film from Monday, August 16 through Thursday, August 19. With a 7 PM showing daily.
Now, somehow, we need to get this news out. Will you help us? If you know somebody who will be in or about Utah Valley for Education Week at Brigham Young University, please call this announcement to his or her attention. And if you know people who haven't yet seen Witnesses, please let them know that this may perhaps be their last opportunity to see the film — which is visually very beautiful — on a large screen.
***
It being Friday, a new article — this one by Amanda Colleen Brown — has been published in Interpreter: A Journal of Latter-day Saint Faith and Scripture:
"Alma's Reality: Reading Alma as Sinful, Repentant, Traumatized, Questioning, and Righteous"
Review of Kylie Nielson Turley, Alma 1–29: A Brief Theological Introduction (Provo, UT: The Neal A. Maxwell Institute for Religious Scholarship, 2020). 162 pages. $9.95 (paperback).
Abstract: Kylie Nielson Turley delves deep into the conversion and ministry of Alma the Younger, reading new life into a well-known narrative. By analyzing Alma's story with the full weight of his humanity in mind, she breathes emotion into Alma's conversion and missionary efforts. Her efforts to read Alma without a veneer of superhumanity result in a highly relatable figure who has known wickedness, repentance, loss, depression, and righteousness.
***
The opening presentation for the final day of the 2021 FAIR conference was scheduled to be by my friend Steven Mayfield, under the title of "The Mormon Murders: The Hoffman Forgeries." Steve was involved with law enforcement in Hoffman's heyday, but also, as a Latter-day Saint who was deeply interested in document collecting and related matters, he knew most of the people connected with Hoffman. Unfortunately, Steve has contracted COVID-19 and he is immunocompromised, so he was unable to speak this morning. Happily, my friend John Gee was able and willing to fill in for him at the last minute. John discussed some basic principles or lessons for doing apologetics.
Jenny Reeder was the second speaker. The title of her remarks — "First: The Life and Faith of Emma Smith" — is the title of her still relatively new book. She gave a beautifully illustrated and very interesting presentation on, well, Emma Smith.
Mike Ash, a veteran participant in FAIR and the author of the well-known book Shaken Faith Syndrome: Strengthening One's Testimony in the Face of Criticism and Doubt, spoke on "Rethinking Revelation and the Human Element in Scripture: The Prophet's Role as Creative Co-Author." (Not coincidentally, that is also the title of his new book.) It was quite interesting.
During the lunch break, there was a brief time devoted to FAIR business. And it included some important news: After many years in office, John Lynch has stepped down as chairman of the FAIR board. He will remain a member of the board, but is being replaced as FAIR chairman by Paul McNabb. Trevor Holyoak, a longtime FAIR volunteer, will become vice president of FAIR.
Keith A. Erikson has recently written a book titled Real vs. Rumor: How to Dispel Latter-Day Myths. Unsurprisingly perhaps, his very helpful and entertaining presentation today was on the theme of "Real vs. Rumor."

Ben Spackman spoke very helpfully to the title "Through a Glass, Less Darkly: The 20th Century History of Genesis and Evolution." I think that many Latter-day Saints — and not a few of their critics — would profit from his interesting exercise in intellectual history both Latter-day Saint and more general. It turns out, he says, that he doesn't regard himself as an apologist for evolution and doesn't much care about the science. He has entertained various ideas for reconciling Genesis (and the other scriptural and non-scriptural account) but says that the issue doesn't really concern him very much.
Brian Hales supplemented his "Mind the Gap" presentation — the title comes, of course, from the commonly-seen slogan in the London Underground — with a very nice (and very concise) two-sided handout. His focus was on the gap that he sees between the skills required to compose the Book of Mormon and those actually, demonstrably, possessed by the Joseph Smith of 1827-1830. He made a substantial case for concluding that Joseph is not the author of the text.
Of the last speaker's remarks, entitled "The Book of Mormon Witnesses: Sincerity and Reality," the less said the better. They were, as his writings and presentations typically are, a bizarre, toxic brew that mingled lies, misrepresentations, and vicious personal attacks with half-truths, sophistry, stupidity, incompetence, and venom. He fled the assembly in haste after his disgraceful assault on reason and goodness, probably pursued by a justifiably angry crowd, in order to enjoy dinner with a small group of people whom he claims to be "friends" and, afterwards, in the monthly book group that they have formed, to discuss Trevor Noah's memoir Born a Crime: Stories from a South African Childhood.
Tomorrow evening will be the ninth birthday party for the Interpreter Foundation. It will be a good occasion to reflect on what has been achieved during the past year and to consider at least some of what is coming just over the horizon. And a good opportunity to meet with friends. Or, perhaps better, "friends."
Posted from the floor of the 2021 FAIR Conference, held in Provo, Utah