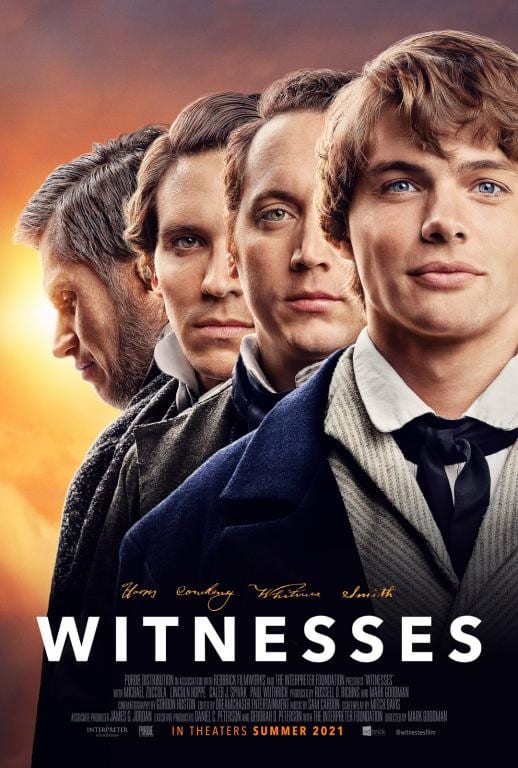 I have some news that pleases me very much. As you know, Witnesses, the Interpreter Foundation's dramatic feature film, has been slowly winding down after a pretty good theatrical run. (See "Get Tickets, at witnessesfilm.com, for a listing of theaters where Witnesses is still playing.)
Curiously, though, some people are only just now hearing about Witnesses . And, of course, many people live in areas where Witnesses didn't screen, or where it was only shown in theaters that were at a prohibitive distance from them.
Moreover, theaters are very full right now with big studio films. It's a very competitive time in cinemas. There are, in a sense, more films than screens. Which means, of course, that Witnesses is likely to finish its theatrical run fairly soon.
But another option is on the horizon for people who might like to see Witnesses:
BYU-Provo's Education Week runs, this year, from Monday, 16 August, through Friday, 20 August. With that in mind, and thanks to the expertise and the valiant efforts of our distributor, Brandon Purdie, Witnesses will be screened at the AMC Provo 12 theater at the Riverwoods Mall — 4925 N. Edgewood Dr, Provo, UT — starting on Friday, 13 August, and running through Thursday, 19 August. That is confirmed. There is also a chance that Cinemark will rebook and/or add showtimes at both of its Provo/Orem locations, University Mall and Provo Towne Centre, for 13 August through 20 August. We'll probably know by sometime this coming Monday. We'll also know by Monday whether Megaplex will rebook Witnesses back at their Geneva location in Orem/Vineyard for the period of Education Week.
And, of course, Witnesses will be opening at Movie Mill Lethbridge this coming Friday, 13 August, up in Alberta, Canada. The theater is located at 1710 Mayor Magrath Dr S, Lethbridge AB T1K 2R5.
If you haven't yet seen Witnesses or want to see it again on a big screen, please avail yourself of the opportunity if you can. If you know people that you think ought to see it or that you think might like it, please call it to their attention. Perhaps, indeed, you could even take them.
***
And now for another matter: The Prophet Joseph is often (though falsely) reported to have said something to this effect: "The telestial kingdom is so glorious that, if people knew what it was like, they would kill themselves to get there."
Wilford Woodruff evidently once recounted a comment by the Prophet that may be the basis for that oft-repeated apocryphal story. According to Charles Lowell Walker, Wilford Woodruff "referred to a saying of Joseph Smith, which he heard him utter (like this), That if the People knew what was behind the vail, they would try by every means to commit suicide that they might get there, but the Lord in his wisdom had implanted the fear of death in every person that they might cling to life and thus accomplish the designs of their creator." (See Richard Neitzel Holzapfel, "Eternity Sketch'd in a Vision," The Heavens Are Open: 1992 Sperry Symposium [Deseret Book, 1993], 155.)
Anyway, the bottom line is that the Prophet did not endorse suicide.
So get vaccinated!