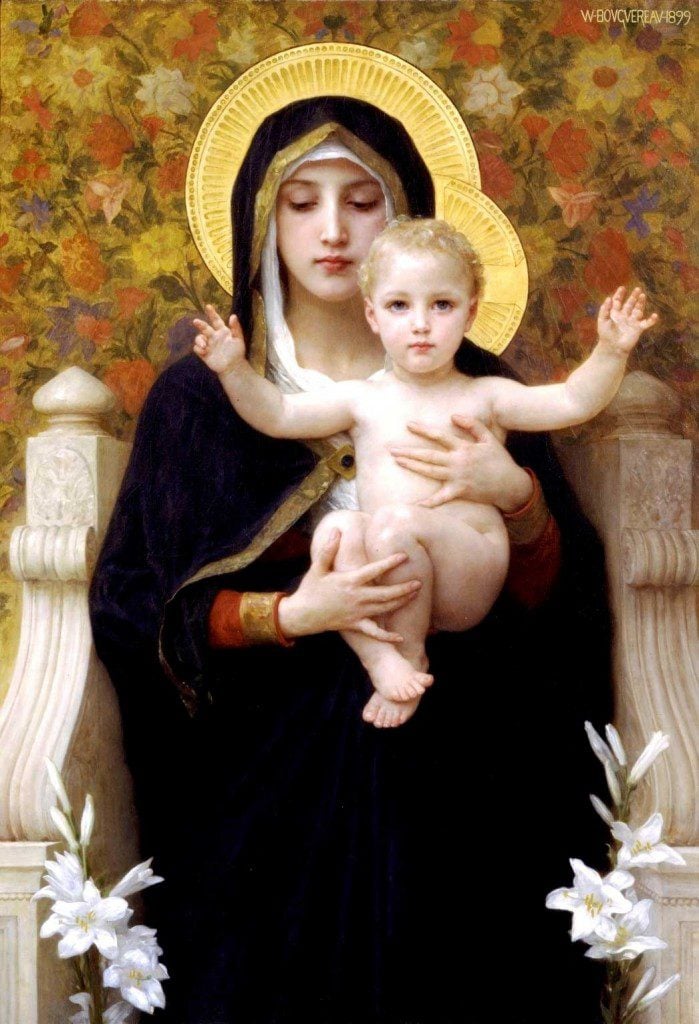 ***
And behold, he shall be born of Mary, at Jerusalem which is the land of our forefathers, she being a virgin, a precious and chosen vessel, who shall be overshadowed and conceive by the power of the Holy Ghost, and bring forth a son, yea, even the Son of God.
And he shall go forth, suffering pains and afflictions and temptations of every kind; and this that the word might be fulfilled which saith he will take upon him the pains and the sicknesses of his people.
And he will take upon him death, that he may loose the bands of death which bind his people; and he will take upon him their infirmities, that his bowels may be filled with mercy, according to the flesh, that he may know according to the flesh how to succor his people according to their infirmities.
Now the Spirit knoweth all things; nevertheless the Son of God suffereth according to the flesh that he might take upon him the sins of his people, that he might blot out their transgressions according to the power of his deliverance; and now behold, this is the testimony which is in me.  (Alma 7:10-13)
***
Since relatively soon after the establishment of the Interpreter Foundation and the launch of Interpreter: A Journal of Latter-day Saint Faith and Scholarship in August of 2012, it has been our practice to publish invited essays of a more devotional character on the Fridays closest to Christmas and Easter.  Here are the Christmas essays that have been published to date:
Orson Scott Card wrote our first, for Christmas 2014:
The late Clayton Christensen wrote our Christmas message for 2015:
Sharon Eubank wrote the Christmas message for 2016:
Our Christmas 2017 essay came from Jenny Oaks Baker:
Elder Spencer J. Condie provided the 2018 Christmas piece:
The Christmas essay for 2019 came from Kristine Wardle Frederickson:
Cherry Bushman Silver contributed the 2020 Christmas essay:
I hope that you'll take a look at one or two of them.
Whether you do or don't, though, I want to wish you a very merry Christmas and a wonderful 2022.
Posted from Williamsburg, Virginia