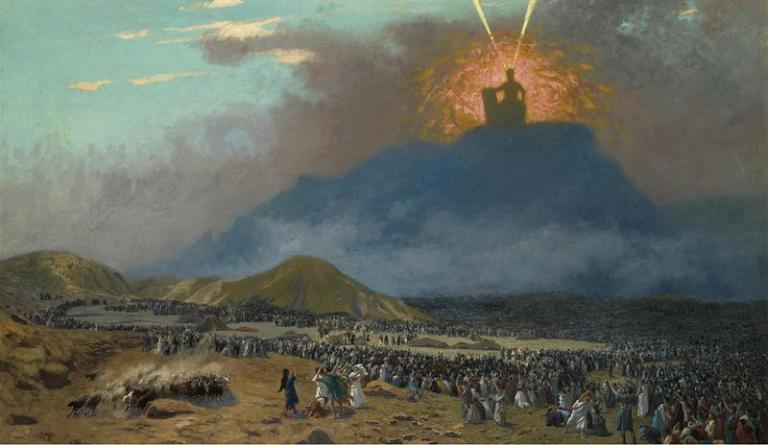 ***
I failed to mention that some new pieces went up yesterday on the website of the Interpreter Foundation.  Here they are:
Nibley Lectures: Come, Follow Me Old Testament Lesson 1 "This Is My Work and My Glory": Moses 1; Abraham 3
During the Winter Semester of 1986 at Brigham Young University, Dr. Hugh W. Nibley, a professor emeritus of ancient scripture at BYU, presented a series of twenty-six lectures to an Honors class on The Pearl of Great Price. This class was videotaped in the Maeser Building and made available by FARMS in both video and audio recordings. The text was then transcribed and included in Ancient Documents and the Pearl of Great Price, published by Deseret Book.
Come, Follow Me — Old Testament Study and Teaching Helps: Lesson 1, December 27 – January 2: Moses 1; Abraham 3 — "This Is My Work and My Glory"
Jonn Claybaugh generously begins a new year's series with a note on the Old Testament and the Books of Moses and Abraham.
Audio Roundtable: Come, Follow Me Old Testament Lesson 1 "This Is My Work and My Glory": Moses 1; Abraham 3
The Interpreter Radio Roundtable for Come, Follow Me Doctrine and Covenants Lesson 1, "This Is My Work and My Glory," on Moses 1 and Abraham 3, featured Bruce Webster, Kris Frederickson, and Mike Parker.  This roundtable has now been freed of commercial and other interruptions and has been extracted from the 21 November 2021 broadcast of the Interpreter Radio Show for your delectation and edificatioin. The complete, unexpurgated program is available at https://interpreterfoundation.org/interpreter-radio-show-November-21-2021/. The Interpreter Radio Show can be heard live in Salt Lake Valley on Sunday evenings from 7 to 9 PM (MDT), on K-TALK, AM 1640 or, just about anywhere else, on your personal computer via the Internet at ktalkmedia.com.
***
A few days ago, I mentioned that I am now a recognized international Candy Land© grand master.  I'm obliged to confess now, though, that I'm extremely unlikely to attain a similar rank in competitive Mario Kart©.  I've finished in last place every single time that I've played.  I suspect my performance may perhaps be related to the fact that I have absolutely no idea what the rules of the game are, and not the slightest notion of what I'm doing.  (Nor, I must admit, much real curiosity.). It could also, of course, be the result of extreme incompetence.  In fact, I'm sure that the latter plays a significant role.
Posted from Richmond, Virginia