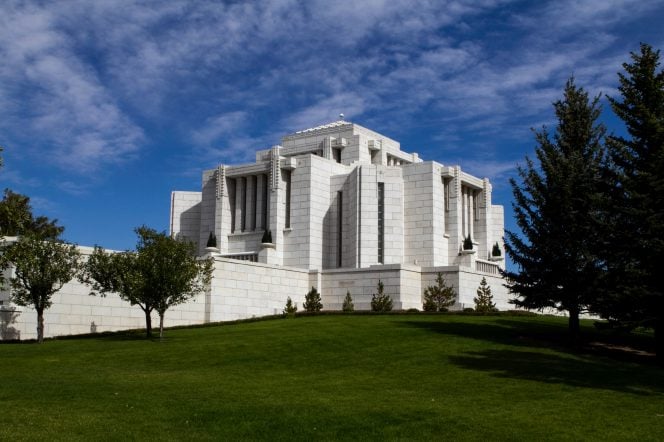 ***
I was a little bit surprised — but not at all displeased — to learn that the Interpreter Foundation's dramatic film, Witnesses, is now streaming on Living Scriptures as well as on Deseret Video+.  It's also available on DVD and Blu-Ray through Deseret Book (and possibly elsewhere).
We hope that you'll share this information with anybody that you think might be interested.
And please stay alert for the release of the docudrama sequel Undaunted: Witnesses of the Book of Mormon, which is slated to appear less than two months from now, on 24 May 2022.  (Watch, too, for the television ads for Undaunted that should appear in connection with this weekend's annual General Conference of the Church of Jesus Christ of Latter-day Saints.)
***
I had a really good time last night in the still relatively new broadcast location for the weekly Interpreter Radio Show.  Steve Densley and Mark Johnson were in the studio, as was I.  Professor Matthew Bowen of the Brigham Young University campus in Hawaii joined us by telephone from Laie.  In the second hour, we discussed the construction of the Israelite tabernacle or "tent of meeting" that is described in Exodus 35-50, which has unmistakable connections to the Genesis creation narrative and to the construction and character of temples.  During the first hour, we focused on Undaunted and on the pending Interpreter Foundation film project, Six Days in August, as well as on my own recent introduction to the fiftieth (!) volume of  Interpreter: A Journal of Latter-day Saint Faith and Scholarship:
https://journal.interpreterfoundation.org/an-unexpected-case-for-an-anthropomorphic-god/
***
Unfortunately, we lost Lewis Thomas quite a number of years ago, in 1993, at the age of eighty.  Not only did he have a distinguished medical career (graduating from Princeton and from Harvard Medical School, then serving as dean of Yale Medical School and the New York University School of Medicine before assuming the presidency of the Memorial Sloan-Kettering Cancer Center), but he was a fine writer.  Specifically, he was a first-rate essayist.  Author of such books as Late Night Thoughts on Listening to Mahler's Ninth Symphony, he won the National Book Award three times (twice, in Arts and Letters and in The Sciences, for The Lives of a Cell: Notes of a Biology Watcher, and a third time, in The Sciences, for The Medusa and the Snail.)
Lewis Thomas is still worth reading.  And, in his honor, each year The Rockefeller University awards its Lewis Thomas Prize for artistic achievement by a scientist.
Here are a couple of passages from his collection of essays titled The Fragile Species (1992):
"I . . . have troubles of my own with evolutionary biology.  Not first principles, mind you, not the big picture, mostly just the details.  I understand about randomness and chance, and selection, and adaptation, and all that, and I now know better than to talk, ever, about progress in evolution, never mind purpose.  My problems come when I think about the earliest form of known life, those indisputable bacterial cells in rocks 3.7 billion years old, our Ur-grandparents for sure, then nothing but bacteria for the next two and one-half billion years, and now the chestnut tree in my backyard, my Abyssinian cat Jeoffry, the almost-but-not-quite free-living microbes living in our cells disguised as mitochondria, and, just by the way, our marvelous, still-immature, dangerous selves, brainy enough to menace all nature unless distracted by music.  We need a better word than chance, even pure chance, for that succession of events, while still evading any notion of progress.  But to go all the way from a clone of archaebacteria, in just 3.7 billion years, to the B-Minor Mass and the Late Quartets, deserves a better technical term for the record than randomness."  (4-5)
"Francis Crick suggests that the improbability of life forming itself here on earth is so high that we must suppose it drifted in from outer space, shifting the problem to scientists in some other part of the galaxy or beyond."  (20)
***
Another voice that I've always liked:  When I was growing up and beginning to become somewhat aware of the Church — I was born to a part-member family, with a mother who was semi-active — Hugh B. Brown (1883-1975) was the first counselor in the First Presidency of the Church of Jesus Christ of Latter-day Saints.  And, since President David O. McKay was, by that point, in declining health, it was President Brown who was, to me, the most visible and most authoritative of Church leaders.  I found him very, very impressive.  And I still do.
His parable of the currant bush is a classic, as is his marvelous Profile of a Prophet — which I actually know better in German as Das Wesen eines Propheten than I know it in English.  (I'm not sure that I'd heard it in English before I played it multiple times for investigators on my German-speaking mission.)
President Brown is, for obvious reasons, not as well known today as he was then.  So I would like to share a few passages from him here:
"Even as water carves monuments of stone, so do our thoughts shape our character."
"Revealed insights should leave us stricken with the knowledge of how little we really know. It should never lead to an emotional arrogance based upon a false assumption that we somehow have all the answers — that we in fact have a corner on truth. For we do not."
"No matter what your past has been, your future is spotless."
"Seek the truth in all fields, and in that search you will need at least three virtues: courage, zest and modesty. The ancients put that thought in the form of a prayer. They said, 'From the cowardice that shrinks from new truth, from the laziness that is content with half truth, from the arrogance that thinks it has all truth – O God of truth, deliver us.'"
"Every man is a diary in which he writes one story while intending to write another. His humblest moment is when he compares the two."
"Sometimes during solitude I hear truth spoken with clarity and freshness; uncolored and untranslated it speaks from within myself in a language original but inarticulate, heard only with the soul, and I realize I brought it with me, was never taught it nor can I efficiently teach it to another."
"Night never had the last word. The dawn is always invincible."