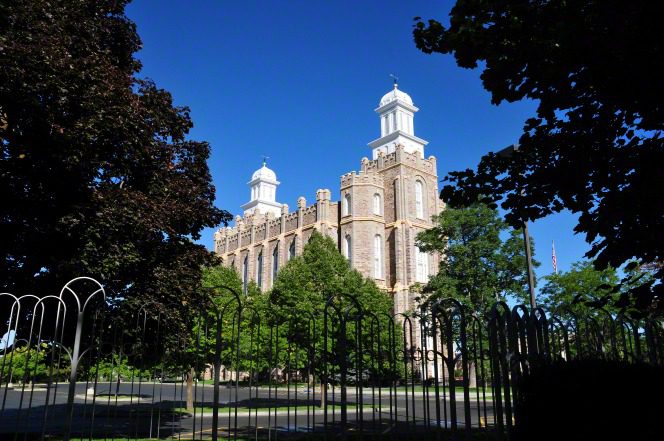 ***
The Church of Jesus Christ of Latter-day Saints is being held up right now more or less as a foreign object of horror and ridicule in the Hulu/FX miniseries Under the Banner of Heaven.  Not for the first time — think of such cultural monuments as Sir Arthur Conan Doyle's A Study in Scarlet and Zane Grey's Riders of the Purple Sage and the 1911 Danish silent film A Victim of the Mormons — and certainly not for the last.  "If the Mormon church is unhappy with me for doing this," says Dustin Lance Black, a disaffected ex-member of the Church who was a writer and co-producer for the HBO television series Big Love and who wrote and co-produced Under the Banner of Heaven — "they have themselves to blame."
And it seems that we continue to invite such treatment, and to bring it on ourselves:
"Freddie Highmore, Maisie Williams Unite for 'Manacled Mormon Case' Adaptation 'Sinner V. Saints'"
I've been struck by some of the language characterizing this prospective new effort by London-based WestEnd Films:  "sure to entertain," "a pleasure," "a riotous journey," a "witty script," "this crazy, colorful film will surprise and delight audiences worldwide."
Please note, too, the frequent appearance of the word comedy in articles about the new venture:
The Hollywood Reporter:  "Cannes: Maisie Williams, Freddie Highmore to Lead Manacled Mormon Comedy 'Sinner v. Saints': From 'Fleabag' director Tim Kirkby, the film is based on the real-life story of an eccentric MENSA beauty queen who abducted a Mormon missionary in the 1970s."
Deadline:  "WestEnd Films Boards Maisie Williams & Freddie Highmore Comedy 'Sinner V. Saints' – Cannes"
Bollywood Hungama:  "Game Of Thrones star Maisie Williams and The Good Doctor actor Freddie Highmore to lead true crime comedy Sinner V. Saints"
Winter is Coming:  "Maisie Williams to star in new comedy and Apple TV+ thriller series"
"According to Deadline, Williams' project with Highmore is a comedy series called Saints V. Sinners. It doesn't sound like a comedy, does it?  Well, it is; it's based on the true story of the "manacled Mormon" sex scandal from the 1970s. Deadline describes the show thusly: "An eccentric MENSA beauty queen goes to extreme lengths to stop the Mormon church from stealing away her sexual obsession: a Mormon missionary.""
Now, I'll readily admit that Joyce McKinney, the, umm, protagonist of the story, is extraordinarily weird.  I suppose that makes her funny, in a sense.  But Hanna Seariac raised a really important point in a Facebook post a couple of days ago that I'm going to quote here — I hope that she won't mind my doing so — because I'm not sure that people who aren't signed up for Facebook can access it.  (Yes, I'm that social-media illiterate.)  Here is what she had to say:
I'm highly uncomfortable with the story of a man being raped and kidnapped being told in a comedy. Sexual assault and rape are not funny, they are serious crimes with horrific consequences. It seems very irresponsible to put this story in a comedy.
The description of the film is also frankly disturbing. "Obsessive first love is a magnificent premise, and sprinkle on top a killer true story involving abduction, quirky supporting characters and the era of free love, and you have a cocktail of something very potent. It is a pleasure to roll around in the world of our anti-heroine Joyce McKinney."
I don't think "it's a pleasure" to watch a story of a missionary who was kidnapped and raped. I think it's morally objectionable, horrific, tragic, and disturbing. I have some serious issues with this film being described as one that "will delight audiences."
Again, it's a story about rape and kidnap. It shouldn't be a comedy, it shouldn't delight audiences. Depicting the story of a rape and kidnap in a comedy is disgraceful and damaging.
Imagine if the comedy were to be about a young woman being accosted, threatened with a gun (that the gun ultimately proved fake doesn't significantly affect the point), chloroformed, kidnapped, tied to a bed, and raped.  Just imagine.  But, of course, it's funny when the victim is a man.  And especially so when he's a young, sexually repressed, religious fanatic Latter-day Saint missionary, the kind of dim-witted naïf at whom we've laughed for years in the stage-musical version of The Book of Mormon.  (At least two of the articles that I've seen about the new film project describe the missionary victim in the "Manacled Mormon" story as a nebbish.  The word is Yiddish, and it denotes a man who is weak, timid, or ineffectual.)  One might almost be tempted to say that such a person really has himself to blame.  Kidnapping and sexual assault are comic in such cases, right?
Perhaps, of course, the young elder desperately needed to be initiated, to be made a real man.  About a decade ago, I was at the closing dinner of a large conference, seated with people that I didn't know.  The middle-aged woman to my immediate left was thoroughly inebriated and very loud.  When she discovered that I was from Brigham Young University, she launched into a tirade about my religious beliefs.  Fortunately, by this point everybody else at the table at wandered off somewhere else.  The woman was particularly incensed about a recent visit that she had made to Temple Square, and by the sister missionaries who served there as guides.  Their "fake, plastic smiles" infuriated her.  What they needed most, she told me, was to "get laid."  She went on and on in that vein, shouting to make herself heard over the din of the large crowd.  Eventually, I left, too.  And I soon found myself in conversation at the back of the hall with Steve Forbes.  I counted it a pretty good trade.
Here are some items that might provide at least some initial food for the thought as the new comedy Sinner V. Saints moves toward production:
"The Prison-Rape Double Standard"
"Why the double standard when the rape victim is male?"
"Double standard seen when boys abused by women"
"Double standard: Society views female predators and their male victims differently (video)"
"Female sex offenders reveal cultural double standard"
"The Disappointing Double Standard Of The Female Predator"
"Another Example Of The Male/Female Double Standard When It Comes To Child Abuse"
***
On a much brighter note:  We ate at Le Nonne tonight.  I had the Stracetti ai Gorgonzola.  Lethally rich.  Incredibly delicious.
Posted from Logan, Utah