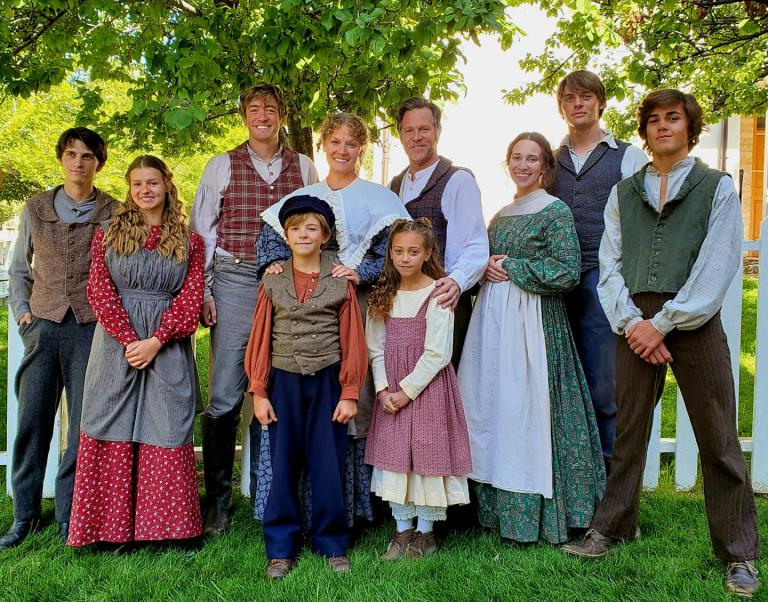 ***
Just up!
Undaunted Witnesses Episode 4: Joseph Smith: Man, Prophet—or Both?
As an uneducated farm boy claiming to see God the Father, Jesus Christ, and various angels, Joseph Smith also claimed to translate an ancient record and receive modern revelation. Experiencing sorrow and failure as well as joy and success in his abbreviated life, he was eventually killed by a mob for his beliefs. Can someone be both very human and also a mouthpiece for God?
This is the fourth episode in a series of posts supporting the testimonies of all the various witnesses to the Book of Mormon. This episode focuses on the experiences of David Whitmer, one of the Three Witnesses. For more information, go to https://witnessesofthebookofmormon.org/ or watch the documentary movie Undaunted.
Short clips from this episode are also available on TikTok and Instagram.
Be sure to Like and Share this video, as well as subscribing to our YouTube channel at https://www.youtube.com/c/theinterpreterfoundation and our other social media channels on Facebook, Twitter, Instagram, and TikTok.
***
For those of you who are paying attention either to the Hulu/FX miniseries Under the Banner of Heaven or to the publicity and discussions that have been generated by it and for it, here's a review of the book on which it's based.  Although the review was published in the journal Brigham Young University Studies, it was written by a non-LDS scholar, Laurie F. Maffly-Kipp, who currently serves as Archer Alexander Distinguished Professor of Religion and Politics and as Interim Vice Provost of Graduate Education at Washington University in St. Louis:
Under the Banner of Heaven: A Story of Violent Faith, by Jon Krakauer
***
Although neither of these articles refers to the Church of Jesus Christ of Latter-day Saints, I think that they're worthy of Latter-day Saint attention:
"Measuring COVID-19's effect: Southern Baptists report 19% attendance drop: Beyond a rise in baptisms, the only other growth Southern Baptists saw in 2021 was in financial giving."
"Why is the [Catholic] church failing in the West?  Vocations and church attendance are down. Young people are leaving the church in droves. Why?"
And perhaps this one is, as well:
"Half of churches say Sunday school, other education programs disrupted by pandemic: Overall, evangelical churches reported experiencing the least disruption to their educational programs, while mainline churches reported the most, followed by Catholic and Orthodox congregations."
***
Some time ago, I read a newly-published book that had been edited by Matthew J. Grow and R. Eric Smith, entitled The Council of Fifty: What the Records Reveal about Mormon History.
One of the chapters that interested me was Gerrit J. Dirkmaat's "Lost Teachings of Joseph Smith, Brigham Young, and Other Church Leaders."  Professor Dirkmaat is a scholar whose work I've very much enjoyed and have often recommended.  And, not coincidentally, he is featured in many of the "reels" that the Interpreter Foundation is now posting.  (See above.)
Here are a few passages that are cited by Dr. Dirkmaat from a rather emotional sermon that the Prophet Joseph Smith delivered on 11 April 1844, roughly two and a half months before his murder at the hands of an anti-Mormon mob.
In the course of it, writes Professor Dirkmaat, "Poignantly, and perhaps with a notion that his own death was approaching, Joseph extolled the virtues of friendship and ominously confided, 'The only thing I am afraid of is, that I will not live long enough to enjoy the society of these my friends as long as I want to.'"  William Clayton, the scribe for the sermon, not only took down the Prophet's words but "attempted to convey the passion with which Joseph spoke, concluding the account by explaining, 'While the president was speaking on these subjects he felt animated and used a 24 inch gauge or rule pretty freely till finally he broke it in two in the middle.'"
Anyway, here is a passage from that sermon, the text of which has not been available until quite recently.  Original spelling has been retained:
For the benifit of mankind and succeeding generations he [Joseph Smith] wished it to be recorded that there are men admitted members of this honorable council, who are not members of the church of Jesus Christ of Latter Day Saints, neither profess any creed or religious sentiment whatever, to show that in the organization of this kingdom men are not consulted as to their religious opinions or notions in any shape or form whatever and that we act upon the broad and liberal principal that all men have equal rights, and ought to be respected, and that every man has a privilege in this organization [the Council of Fifty] of choosing for himself voluntarily his God, and what he pleases for his religion.
It's really exciting (to me, anyway) to see these "new" expressions from the Prophet.  Here's another:
God cannot save or damn a man only on the principle that every man acts, chooses and worships for himself; hence the importance of thrusting from us every spirit of bigotry and intollerance towards a mans religious sentiments, that spirit which has drenched the earth with blood — When a man feels the least temptation to such intollerance he ought to spurn it from him.  It becomes our duty on account of this intollerance and corruption — the inalienable right of man being to think as he pleases — worship as he pleases &c being the first law of every thing that is sacred — to guard every ground all the days of our lives.  I will appeal to every man in this council beginning at the youngest that when he arrives to the years of Hoary age he will have to say that the principles of intollerance and bigotry never had a place in this kingdom, nor in my breast, and that he is even then ready to die rather than yeild to such things. . . .  When a man is free from [intolerance] he is capable of being a critic.  When I have used every means in my power to exalt a mans mind, and have taught him righteous principles to no effect — he is still inclined in his darkness, yet the same principles of liberty and charity would ever be manifested by me as though he embraced it.  Hence in all governments or political transactions a mans religious opinions should never be called in question.  A man should be judged by the law independant of religious prejudice, hence we want in our constitution those laws which would require all its officers to administer justice without any regard to his religious opinions, or thrust him from his office."