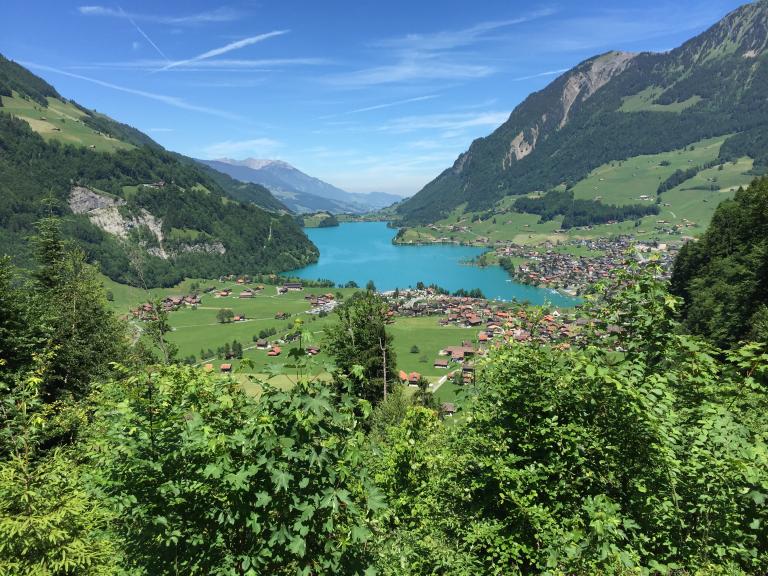 Well, my positive recent impressions of airlines and airports continue to accumulate:  Last night, trying to fly out of New York City's JFK Airport, we sat on the plane for roughly an hour and forty-five minutes before take-off.  Most of that time was spent sitting at the gate.  I wouldn't have cared quite so much except that we were trying to meet up with members of our family in Zürich, and I didn't want them waiting for us for a long time.  Happily, though, their flight from Miami arrived late as well and, so, we ran into each other in baggage claim.  And now, thanks to the generosity of a Swiss-American friend, there are three generations of us here — we're a small family, of course, and, even so, not everybody was able to come — in what is, on the whole, my favorite area on Planet Earth.
***
Responding to the recent Associated Press article regarding sexual abuse in Arizona and the Church of Jesus Christ of Latter-day Saints, and to the controversy that it has generated, I've already posted four links:
"Church Offers Statement on Help Line and Abuse: Church responds to recent Associated Press article about the Church's abuse help line"
"Are Publicized Abuse Cases Exceptional or Representative of Our Faith?  Responses to key questions regarding the Associated Press report alleging attempts to cover up sexual abuse cases in The Church of Jesus Christ of Latter-day Saints."
"Perspective: I survived abuse. I worked for the church's help line. The AP story broke my heart: No child should have to suffer what those sisters went through. Heroes are working to help stop this sickening abuse"
"Reporting Abuse, Church Helpline, & the Bishop | An Interview with Jennifer Roach"
I've also already quoted Thomas Sowell.  But I think that I'll repeat that quotation:  "It is usually futile," he says, "to try to talk facts and analysis to people who are enjoying a sense of moral superiority in their ignorance."
"Reflections on Abuse, Reporting, and the Church," by Jennifer Roach
"Failure to Report Sexual Abuse—Bisbee, Arizona"
The Usual Critics have said that I'm trying to defend the Church by declaring that "we're no worse than everybody else," that being "average" is good enough for the Lord's church.  But, of course, I've made no such argument.  Not even close.  (And people who read the links that I've given above will readily see that I haven't.)  Others have announced that, if it were really the Lord's church, there would be no sexual abuse by or among any of its members.  To which I would respond that, while it's the Lord's church, it's made up of humans — none of whom are perfect.  That's not an excuse.  It's just a fact.  And it's true of every other human organization, too,  (Utopianism is both a delusion and a heresy.)  On the whole, we're doing relatively well.  Of course, it's not good enough.  It's not perfect.  It can almost certainly be improved.  Even one case is one case too many.  But the situation is considerably better than those detractors seem willing to admit.
Posted from Matten bei Interlaken, Switzerland
.