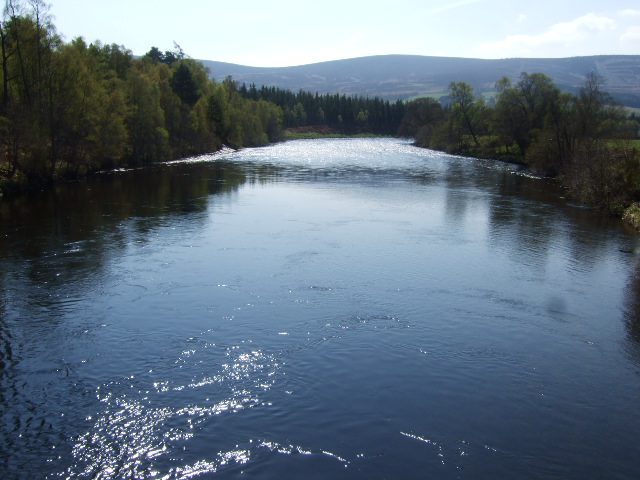 But, first:  It almost never happens anymore, but, well, something has gone up on the website of the Interpreter Foundation —  Conference Talks: "A theory! A theory! We have already got a theory, and there cannot be any more theories!"  This presentation was originally given by Royal Skousen on Saturday, 14 March 2015, at the Interpreter Foundation's conference on "Exploring the Complexities in the English Language of the Book of Mormon":
Three common views regarding the translation of the Book of Mormon, still held by some, can be summarized as follows: (1) as Joseph Smith translated, ideas came to his mind and he expressed those ideas in his own language and phraseology; (2) as a result, the original English language of the Book of Mormon is based on Joseph's upstate New York dialect, intermixed with his own style of biblical English; and (3) the Book of Mormon deals with the religious and political issues of Joseph's own time. In this paper I will draw upon the work of the Book of Mormon critical text project to argue that all of these views are essentially misguided and are based on a firm determination to hold to preconceived notions, no matter what the evidence.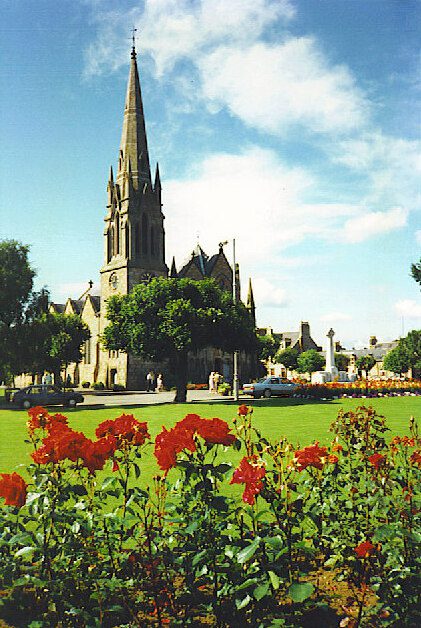 You might be interested in this interview with Josh Coates, who founded and heads the B. H. Roberts Foundation, one of the Interpreter Foundation's friendly sister organizations:  "Can we use AI to answer questions about faith?  Computer scientist Josh Coates answers questions about a new 'faithful and friendly' Latter-day Saint chatbot"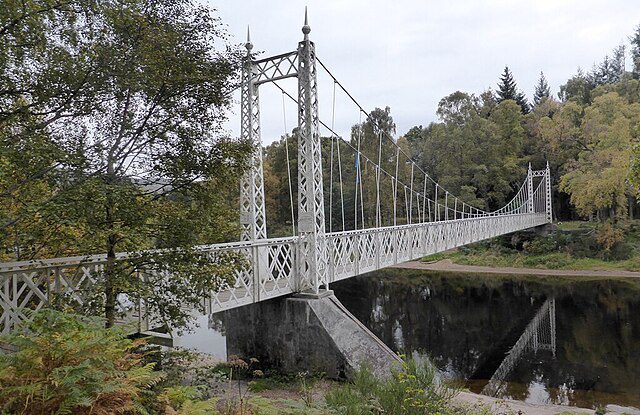 We spent part of today driving and walking along the River Dee, which runs through a beautiful hilly landscape of forests, meadows, cow pastures, and sheep paddocks.  According to Wikipedia, the name Dee goes back at least as far as
the second century AD in the work of the Alexandrian geographer Claudius Ptolemy, as Δηοῦα (=Deva), meaning 'goddess'. This indicated the river had divine status in the beliefs of the ancient inhabitants of the area.
At one point, we crossed over the Cambus O'May bridge , which was originally constructed in 1905 by the estate of a local boy who had once witnessed a drowning in the River Dee when he was a child and had vowed, as a result, that he would someday build a bridge over the river to prevent such tragedies.  After having gone off to London and made a fortune, he actually built two bridges, although this one was completed after his death.  The original bridge having fallen upon hard times, the suspension bridge that stands on the spot now, a narrow structure for pedestrians, was opened in 1988 by Her Majesty Queen Elizabeth, the Queen Mother.
The Queen Mother, widow of King George VI and mother of Queen Elizabeth II, took a special interest in the area, of course, because Ballater and Cambus O'May — which, in Scots Gaelic, means  "Crook in the Plain," referring to a tight bend in the nearby River Dee — are very near to the entrance of the royal estate at Balmoral.  (It's roughly seven miles from Ballater.)  The royal consort Prince Albert bought the estate and its original castle for his wife, Queen Victoria, in 1852.  The original "castle" was soon deemed to be insufficient for the royal family and their entourage and the current Balmoral Castle — which is perhaps better described as a Victorian "country house" rather than as a real "castle" — was completed in 1856.  Successive members of the royal family have added to the Balmoral Estate, which is the private property of the British monarch and is not legally part of the "Crown Estate," so that it currently covers an area of roughly 50,000 acres.  It is an actually working enterprise that includes grouse moors, forestry, and farmland, as well as managed herds of deer, Highland cattle, sheep, and ponies.
Queen Elizabeth II used Balmoral Castle as her summer residence and, after she died there on 8 September 2022, her coffin lay in repose in the ballroom of the castle for three days, in order to allow the royal family, Balmoral Estate staff, and neighbors to pay their respects.  Upon her death, the Royal Standard of the United Kingdom was lowered over Balmoral Castle and then, because the new monarch, King Charles III, was present in the building, was raised again.
Elizabeth II was the first monarch to die in Scotland since the passing of James V in 1542 at Falkland Palace in the County of Fife.  On 11 September 2022, the cortege bearing Queen Elizabeth's coffin passed through Ballater on its way to the Palace of Holyroodhouse in Edinburgh, where her formal state funeral proceedings began.
On a personal note:  It was the 2006 biographical film The Queen — in which Helen Mirren brilliantly played the title role — that helped me to understand (I think) why Balmoral is so important to the royal family.  It's a place where Queen Elizabeth II could drive a Land Rover by herself (she was a military driver and mechanic during the Second World War), where Prince Phillip could do outdoor barbecuing, and where they could more or less forget for a little while the incessant ceremonials and crowds that otherwise dominated their lives.  I can imagine how badly they would want that.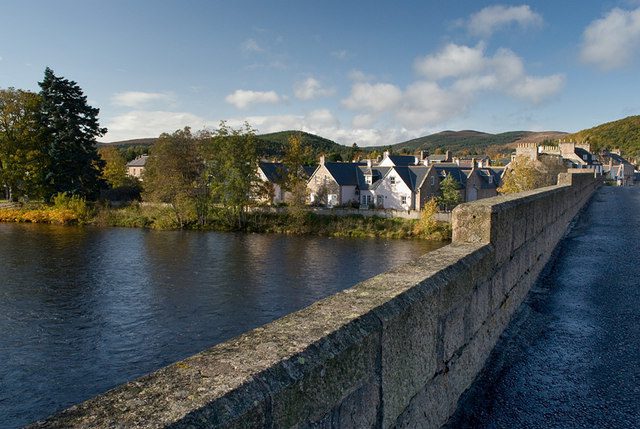 For the sake of the folks at the Peterson Obsession Board, I need to formally declare that — in company with Congolese and Bolivians as well as small furry animals of all kinds — No Scots Have Been Harmed During the Production of This Trip.  At least, not yet.
I've never found driving on the lefthand side of the road especially difficult, but I must confess that yesterday, while we were passing through a smallish town between here and Dundee, a middle-aged woman who was out walking her dog along a sidewalk on the left side of the street may, for a second or two, have had occasion to consider the brevity of life and her place in eternity.  Come to think of it, I may thereby have done her a vitally important favor.  Perhaps she even turned to God in that moment, and her passing encounter with my driving may ultimately be discerned in retrospect as having been a pivotal incident for her eternal fate.  It was a very narrow road, and I didn't think I came at all that close to her.  But my wife did.  And, of course, it's my wife's judgment that counts.
Posted from just outside Ballater, Aberdeenshire, Scotland