Pantheacon is an irreplaceable part of my spiritual path every year. It is the time of year I get to connect with many of my Pagan family that have become my family of choice, I can teach and learn from others within the community, I get to do some of the best Pagan shopping and I also spend the most valuable bonding time with my coven mates. This year was the same in those respects but there were some changes in tide that I saw come to fruition this year, more than others.  Last year I saw two specific programs on the program regarding discussions around race relations in the Pagan community; they were the Shades of Faith panel and the People of Color Caucus.  This year we saw similar offerings and yet some additions.
Here is my short list wrap up of the ways that Pantheacon has supported the movement of change around racial diversity at its 2013 event and within the community. I hope to expand on these pieces throughout the month, and although I am exhausted with post-con energy, it is important to continue the momentum.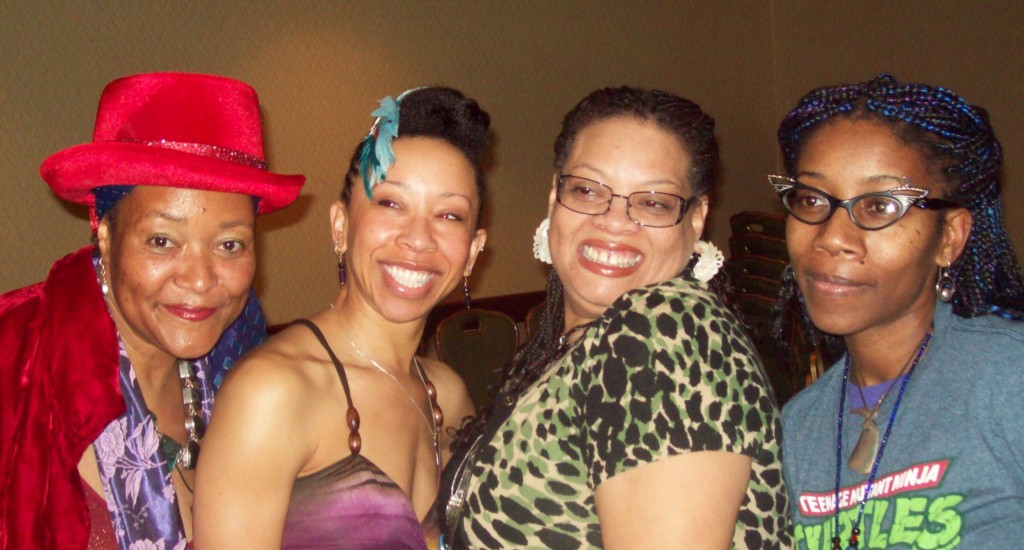 The People of Color Caucus did a second workshop this year and were able to successfully fund and host a POC hospitality suite at the Con.
Four of the contributors from the Shades of Faith: Minority Voices in Paganism anthology came together to offer the Shades of Ritual on Saturday morning. I was honored to stand aside our very own Daughters of Eve writer,  Nadirah Adeye, and authors Luna Pantera and Szmerelda Shanel. This ritual worked to show a concept of interweaving diverse paths into one, collective, cohesive ritual celebration. It was an enjoyable experience.
T. Thorn Coyle moderated a panel on the very intense topic of privilege within the Pagan community. River Higginbotham, Elena Rose, Xochiquetzal Duti Odinsdottir and I were panelists in this discussion. While this did not make it onto the official PCON programming, one of the hospitality suites stepped up and offered this panel a space to be.  Hosted in the Covenant of the Goddess, New Reformed Order of the Golden Dawn and New Wiccan Church's presidential suite, this small (yet powerful) panel packed 35 people into a small room for this discussion.  It was reported that another 10 were waiting in the other room and others were turned away. The sponsorship of the suite and Solar Cross made this possible and Solar Cross will be releasing the recording of this in the future.
Patheos Pagan portal authors hosted a panel discussion on intrafaith within the Pagan community. As a Patheos Pagan Portal writer, I got to be a part of this panel discussion, among some incredible Patheos authors.  Moderated by Christine Kraemer, Patheos Pagan managing editor, this panel was packed with exciting information and perspective. Being invited to participate on this panel was an honor for me as an author and especially since it was in my relation to this very blog. Daughters of Eve has been an space holder on the web for the perspectives of African American women in Paganism. To speak from the view of an AA Pagan woman on this panel was a powerful statement and hopefully gave some wider lens understanding of the varying needs within our community.
For the second year in a row, collaboration between Devin Hunter and Yeshe Rabbit has brought Pan Dianic practices to the floor of the Con.  This year's Rite of 1,000 crowns was another installment in offering gender inclusive Dianic rites that celebrate and honor the growing concept of equality within the public ritual arena. Any opportunity to promote equality in public celebration is a win for all.
Movement is progress, interest in these offerings show progress and attention to the collective needs of our community is progress. May progress continue to thrive.