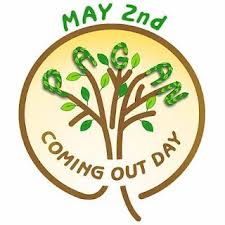 Pagan Coming Out day is a powerful day in so many ways. Not only does this day act as a type of religious diversity day, and a stance against religious discrimination for Pagans.  It is also meant as a means of support for those who are able, and desire it, to be in the process of becoming open with who they are as a spiritual person, that is Pagan. It is not meant as a means to pressure others to be "out of the broom closet" and broadcast to the world their witchyness, that is a personal choice and often there are very good reasons that someone is not safe to be out about their choice of spirituality. Professions, jobs, legalities, community intolerance, or family intolerance are all reasons that people may make the choice not to share their Pagan path with others. And for those within the African American community, dealing with the intolerance of our own people around non-Christian paths has proven to be very hard for many of us.
This is a quite complex issue for many people of alternative paths. I have been very lucky to live in the Bay Area and raised within the more liberal, accepting attitudes that come with Berkeley and San Francisco.
Coming out as a Pagan was a very important part of my spiritual growth. The merging of who I was and who I had become helped me to shed some of the confining boxes that contained my spirit, leaving my life compartmentalized in a way that I felt to be unhealthy for me.
So I can relate to the freeing of the spirit that can come from this process. And for those who are able to, and have a desire to, I support you in considering how coming out of the closet can enhance your process internally and within your world.
To be fair, I have not been successful in the past about keeping parts of myself secret from others. I think it is part of the reason that I became a clinical counselor and working in the social work field. I have always been comfortable with the amount of transparency that I operate within, showing myself to others in a very exposed manner. It is something I learned early on and has been a part of my personal mode of operation for a while.
Yet when I came out as Pagan, I was more afraid of joining the community of others who were already practitioners than I was of the others in my life who would now know that I was Pagan. I think there are several reasons for this and felt comfortable that those who were in my personal life have been exposed to my sense of self, and already knew who I was even before I found a title to encompass it. Yet those who I didn't know, and yet to connect with, would judge me by my lack of information, by my presence and by my sheer excitement for finally finding something that brought together the pieces of me spiritually. This was my fear, and it made it more challenging to come outside of the newbie Pagan shell I was living in.
Here I was, not the typical Pagan stereotype, and yet in my core I knew I had been on this path for a long time. I could not see how my story would fit into the world of the modern Pagans who had been studying and worshiping for years. Here I was, a young, Black woman, married, raising children, taking care of my disabled mother and working as a counselor in inner cities, wondering if I would find a place within a community that I could call home. And then one day I just stepped out on and took a chance.
I have learned so much through the process of integrating into the Pagan community, but I have learned more from integrating more into myself than anything. Living in a way that I can be comfortable with who I am and what I believe has been a powerful part of who I have become today. I take advantage of the privilege that I have to be "out of the broom closet", and living my life as a professional in my career, as an author, and a priestess. I am all of those people all day long, all the time. And it is a blessing to be able to blow up the internal walls of compartmentalization and cross-mingle the strengths within various areas of my being together for the support of the whole me. I rely on all parts of me to be able to move through my day in the most healthy and helpful way that I can.
And I get to present that to those around me, I get to broadcast it on the internet, I get to publish in books, and I get to show my kids what it means to harness the life that you want to have.
When I think about what it means to "come out" I think there is just as much internal process and rewards to this as there are external. And sometimes that process of coming out is separated and sometimes it is all together, it will look different for everyone.
So today, I encourage my fellow Pagans to think about a way that you can come out internally or externally. It does not have to be as I did or to the world. It could be sharing with a person you trust, or it could be to be open with yourself about your spirituality and incorporating it into other areas of your life. You chose what the right choice is for you. The act of openness with others or within you has rewards beyond the words of an article on a faith blog.
It is a chance to give yourself permissions and acceptance. And when we have acceptance inside, we are more apt to find it around us. So no matter how you move forward today in becoming more fully actualized within your spirit or your life, I applaud you and support the quest for acceptance that is embraced in Pagan Coming Out Day.
And thank you to Pagan Coming out for acknowledging the complexity of this process for many people, and creating space in that acknowledgement.
Note: International Pagan Coming Out Day information can be found on their website. The executive chair, Cara Schulz, has worked hard to keep the momentum of this supportive day in our community and spreading acceptance, tolerance and love to others through this process. Thank you Cara.  http://internationalpagancomingoutday.wordpress.com/