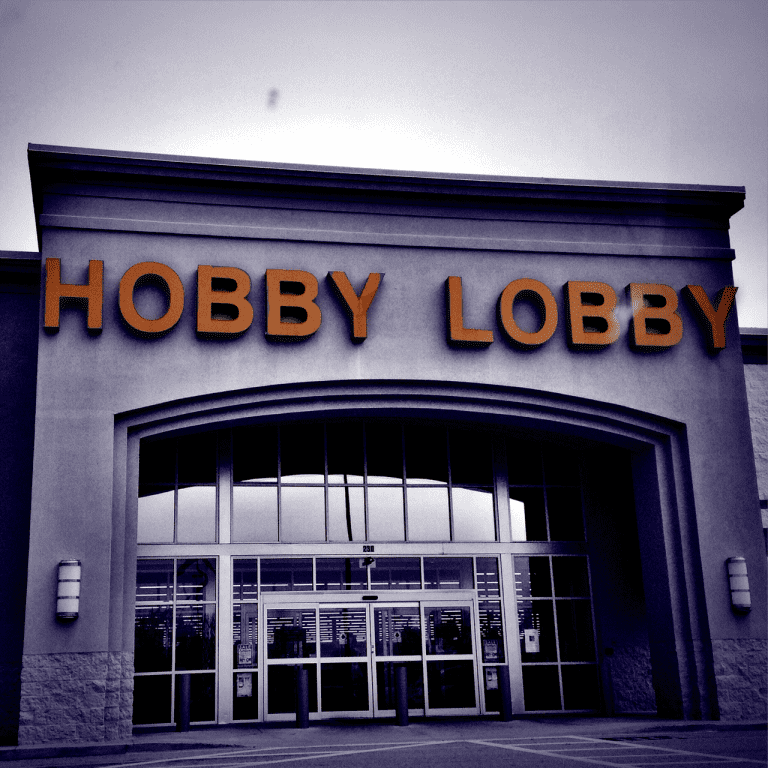 Does a corporation have religious rights? That is the question at the heart of Hobby Lobby's fight against the Affordable Care Act, or Obamacare. It's an important question — affecting everything from health care to election funding to the numerous anti-LGBT/religious freedom laws — that is in the news again as Hobby Lobby takes its case to the U.S. Supreme Court on Tuesday. It's potentially one of the most important cases of the year. And it got me to thinking. What happens if Hobby Lobby wins? What happens if Hobby Lobby wins their argument that, as a corporation, it has religious beliefs and religious rights that are protected by the First Amendment?

We might very well start seeing stories like this, where religious freedom becomes the new euphemism for open discrimination:
Craft Store Announces Conversion to Christianity
Michaels, a nationwide craft megastore, has announced he has accepted Jesus Christ as his Lord and Savior, a conversion which could have far-reaching effects for the arts-and-crafts industry and its employees.
The conversion experience, which occurred at the yearly retreat hosted by the evangelistic organization Corporations for Christ, was met with much corporate rejoicing by all who witnessed it.
Describing the conversion experience as "freeing" and "feeling like a great weight had been lifted off my shoulders,"* Michaels expressed deep gratitude for his friend who finally led him to Christ.
"Hobby Lobby and I were just having a conversation in our Corporations for Christ cabin just before lights out, and he asked a question I'd never really considered before," Michaels said. "He asked, 'If you died* tonight, do you know how you'd spend eternity?*' When it was abundantly clear I didn't know, Hobby Lobby shared with me the plan of salvation."
In his first sit-down interview post-conversion, Michaels explained that he felt terrified about the idea of bankruptcy, about Chapter 11, and potentially dying off like many of his own close personal corporation friends, like Blockbuster, Radio Shack, and Circuit City. His own uncertainty, coupled with his continued grief over the loss of these friends, made the simplicity of Hobby Lobby's plan of salvation so reassuring.
"It was such a relief to know I could be saved — or at least, save," Micheals said. "Hobby Lobby is such a good corporation friend to me, because he cared enough to ask about my final destiny."
To avoid being sent to Hell where Democrats are perpetually in office, Hobby Lobby explained, a corporation need only to accept Jesus Christ as their Lord and Savior. After that, saved corporations would have the right to exercise their religious beliefs in any way they desired, especially if those ways might save them money and increase their profit margins.
"Because faith without works is dead," Hobby Lobby added.
Some critics have balked at the idea that a corporation could have religious beliefs or even need to be saved.
But, Hobby Lobby passionately argued back, "Corporations are people, my friend. And as such, they are chartered with original sin. Like all people, they too need salvation and to accept Jesus as their Lord and Savior. Jesus said to 'go and make disciples of all nations,' so why not corporations, too?"
Besides, Hobby Lobby added, "What is the Trinity if not a Divine Corporation? We corporations, too, are made in the very image of God."
Michaels nodded along, before adding, "Jesus died on the cross for all people, and that includes corporations like me. I am so thankful I accepted Jesus as my Lord and Savior, because now, I, too, like Hobby Lobby, can work to discriminate against others in the name of my religious beliefs." 
____________
* For corporations identifying as people, "shoulders" is another word for balance sheet. Corporations for Christ is in the process of developing a new translation of the Bible — The Corporate Testament — and a worship text — The Book of Corporate Prayer.
* "If you died tonight" is the equivalent of "If you filed for bankruptcy tonight." Source: "Go And Make Disciples of All Nations Corporations: Evangelizing Strategies for the Corporate Person," Corporations for Christ. Jan. 2015.
* Eternal or final destiny is an approximation for Chapter 11, but translators are still working out whether this resembles Purgatory or Hell more.