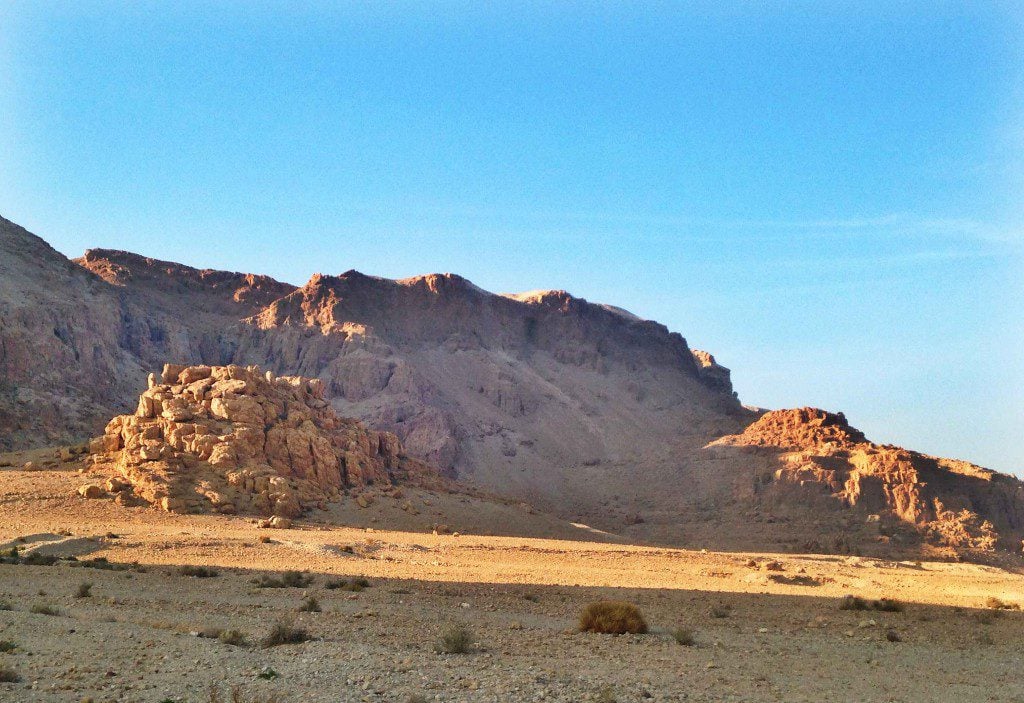 Lent 1 — Year A — Gen. 2:15-17; 3:1-7, Psalm 32, Rom. 5:12-19, Matt. 4:1-11
I don't want to talk about the temptation of Jesus today. Or the temptation of Adam and Eve. In fact, I really don't want to talk much about temptation at all.
Because, to me, Lent isn't really about temptation and how to resist it. It's not about white-knuckling it through our cravings for caffeine, chocolate, snarky comments or whatever else we've chosen to do without for this season.
But, because we get this same gospel text year after year on the First Sunday of Lent, and because our Lenten liturgy reminds us of it each week, it's understandable that we might think of this season primarily in terms of fasting and resisting temptation.
Maybe, though, we're focusing on the wrong part of this story as we enter into these 40 days of Lent.
Instead of the temptation, perhaps we should be focusing on the wilderness where it all takes place.
This just isn't any old wilderness, either. It's not a place of lush green trees, with shaded canopies, rivers, and abundant wildlife. This is the Judean wilderness. It's a desert, a foreboding and desolate stretch of sun-scorched earth, with steep, barren mountains and dusty, rocky soil, all of it bleached the color of bones. This is how Jesus enters his own 40 days of fasting, through the wilderness, the desert.
Lent isn't an invitation to resist temptation.
It's an invitation into the wilderness, to get lost in the desert.
Maybe some of you are already there. If you're a Christian for any length of time, chances are you will spend at least part of it in the wilderness. Your entrance into that wilderness might come in many different forms, at the foot of a hospital bed, in a job that demands more than you can give, or maybe a job that hands you a pink slip with your paycheck one Friday. The wilderness comes through fractured relationships, at the funeral of a loved one who died too soon, in a chronic illness, as you move from a place you loved or a job you treasured. It might be one of those things, none of those things or more than one of those all at the same time. It might just be you find faith difficult in the face of so much doubt.
One way or another, we all find ourselves in the wilderness eventually.
Personally I wouldn't wish my own experience of the wilderness on my worst enemy. It was a place of extreme disorientation and confusion, of depression and doubt so deep that it pushed me to the limits of faith in God. It was a painful time, and I would never, ever hope for anyone to experience what I did.
But, at the same time, neither would I ever, ever trade it.
That was the paradox of the wilderness for me. The wilderness, more than anything else in my spiritual life, has made me who I am today as both a Christian and a priest. It was in this place, in my experience of God's absence and in the darkness of my own doubt, that I found not just abiding faith but, more importantly, compassion.
The wilderness has a long and storied place in Christian history. It goes by many different names. St. John of the Cross termed it the Dark Night of the Soul. Mother Teresa experienced the wilderness so profoundly she ceased to pray to Jesus altogether and instead began to address him as "the Absent One." Monks and mystics have always sought out the desert as a holy place.
Would we understand these giants of the Christian faith to have lost their faith because of their experiences in the desolation of the wilderness?
Not at all. It was exactly these experiences that made them such profound witnesses for God.
Stories about the wilderness aren't stories of temptation, either resisting it or triumphing over it. Rather, they are stories of identity. It's a story of getting a little lost and scared and finding out who you really are. Like the Israelites who wandered for 40 years in the desert. Like Noah and his family who holed up on a boat for 40 days of cataclysmic rain. Like Moses who went to the mountaintop to meet God for 40 days. Or even like Jacob who wrestled with God at midnight in the wilderness only to walk for the rest of his life with a limp and a new name.
Jesus' story of the wilderness doesn't actually begin with today's gospel text. We are actually picking up the story midway through it. We should begin with Jesus' baptism by John in the Jordan River, with the stunning and mystical proclamation as he comes out of the water that he is God's son, the Beloved.
The way the story reads, it's almost as if Jesus rises up out of the baptismal waters and sprints straight into the desert. As Presbyterian minister and author Frederick Buechner explains, "After being baptized, Jesus went off alone into the wilderness where he spent 40 days asking himself the question what it meant to be Jesus."
Only after those 40 days is Jesus finally tempted by the devil. But this is no ordinary devil. It's not a guy with horns and a pitchfork. It's not a serpent. There's really no indication it's a physical reality at all. The Greek word used here for the devil is diabolos, which means, literally, the Slanderer.
Now, and I'll speak for myself here, but when I am in the wilderness, the loudest voice slandering me is my own. It was those times I beat myself up and told myself all kinds of lies about how I wasn't good enough, worthy enough, talented enough, loving enough. About how I simply wasn't enough. It seems like when we're out in the wilderness, and there's nothing to rush toward, to distract us, and no other voices save the ones in our heads, we, like Jesus, wind up facing our demons, and in doing so, we come face-to-face with ourselves and the lies we tell ourselves.
That's the great temptation, really. That we will believe those lies — whether they come from us, our peers, or our parents — that we are something other than beloved sons and daughters of God.
And that, to me, is what Lent recognizes. Not just our need to resist simple temptation. Not just our need to sacrifice and deny our appetites. All those are good things, but they merely scratch the surface of this season.
Lent recognizes the wilderness. And invites us to experience it and to see it as not only a normal part of the Christian faith but also as an important, formative part of it as well.
And our gospel text today reminds us that when we find ourselves lost and wandering in the desert, Jesus is there too.
But it also reminds us that he isn't there to fix us, but to walk with us in that desert.
He's emaciated and thirsty.
Like Matthew reminds us today, he's famished, both in body and spirit.
But, if you're like me, when you're in the wilderness, it's not about being fixed. Or finding the right solution to a problem. Most of the time, it's enough to know we're not alone in the darkness, even if our eyes haven't quite had the time to adjust to see.
To see our Lord, walking in the wilderness, too.
__
Sources:
The Moonshine Jesus Show, mini-cast. (This sermon actually started with this conversation with Mark)
Frederick Buechner, Whistling in the Dark, or excerpted here
Barbara Brown Taylor, "Wilderness Exam."
"40" by Si Smith.