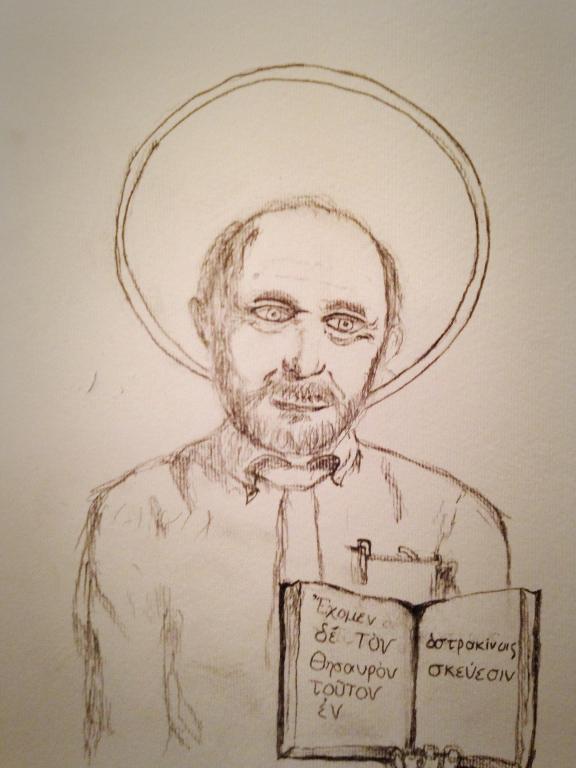 Like many, I was deeply saddened to hear of the death of Marcus Borg, a scholar of the New Testament, a brilliant writer, and a gentle, courageous Christian.
Like many, I never knew him personally, but his work nevertheless had deep and formational effect on me as a Christian.
As I remembered him in my prayers this morning, I decided to draw him as the divine he was. As a scholar of the New Testament, he holds a Bible, and the text in the book is from 2 Corinthians — we have this treasure in earthen vessels — and was a verse he had quoted when speaking about how he understands Scripture. In a June 2014 blog post, Borg wrote:
The Bible is "treasure in earthen vessels."

The phrase is from II Cor. 4.7, written by Paul in the 50s. In context, the

treasure

is "the gospel" (the message about Jesus) and the

earthen vessels

are the messengers of the gospel, including Paul. Imperfect, fragile, and finite, they and their words are "clay jars," not the treasure itself. So it is with the Bible: the treasure is "God's Word," God's revelation, in the earthen vessels of our spiritual ancestors.
It struck me as poignant, given his life's work and his brilliance. So today, even as I am sad at his death, I give thanks also for Marcus, for being an earthen vessel for the Good News for so many of us here.