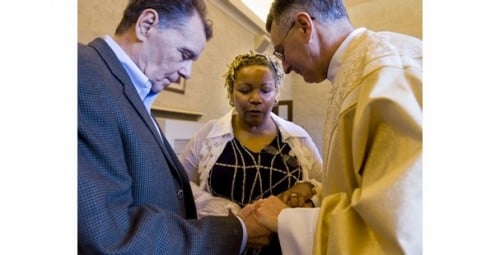 You'd be hard-pressed to find a more moving story of generosity and gratitude than this amazing story, sent from a deacon reader:
By the time parishioners, parents, students and staff at Cathedral of the Immaculate Conception got Father Val's e-mail that Tuesday morning, Nov. 8, he was already in surgery.

"Peace in the Lord!" read the e-mail from Rev. Valentine Handwerker, a 63-year-old Catholic priest who lives his life as if every day should end with an exclamation point.

"I want to go over something with you. Often times I speak about stewardship. As you know, stewardship first and foremost is gratitude to God for the gifts and blessings entrusted to us. Out of that gratitude to God, then, we are called as stewards to use these gifts and blessings not only for ourselves but also for the good of others."

In 2009, Father Val became Monsignor Val, an honor bestowed on him by the Pope at the request of Bishop J. Terry Steib of Memphis. The title is from the French mon seigneur, meaning "my lord."

Handwerker, the son of Kathleen and Vallie Handwerker of North Memphis, is one of the community's leading advocates for social justice, and still prefers the title Father Val.

"Throughout my life God has blessed me with excellent health. In ministry I am often with persons who face serious illness. Being with them only reinforces the blessings of health which I have received. Over time I have been drawn to use my health also for the benefit of others."

On Dec. 16, 2009, Father Val sat at his kitchen table and read a newspaper article about 13 patients who received new kidneys from donors they didn't know. It was the world's largest kidney exchange. "It's not like I'm doing anything courageous," one of the donors told The Associated Press. "If I don't donate, who will?"

As the article noted, there are about 90,000 people on a national waiting list for a kidney transplant. About 17,000 kidney transplants are performed each year — about 5,000 from living donors.

"I need to do this," Father Val thought as he read the article. Over the next several months, he thought about it and prayed about it. Earlier this year, he told his doctor he wanted to donate one of his kidneys to someone — anyone — who needed it.

"Out of prayer and discernment I have decided to be a living kidney donor. I have gone over that decision with my spiritual director. I have also sought the permission to be a living kidney donor from Bishop Steib. I am very grateful for his support throughout this process, and that recently Bishop Steib celebrated with me the Sacrament of Anointing of the Sick."

The sacrament, also known as Extreme Unction or Last Rites, is no longer administered only to the dying, but also to those who are gravely ill or about to undergo a serious operation. As it says in James 5:14-15, "Is any man sick among you? Let him bring in the priests of the church, and let them pray over him, anointing him with oil in the name of the Lord. And the prayer of faith shall save the sick man."

On Sunday Oct. 30, Bishop Steib administered the sacrament to Father Val in a private ceremony with a few others at the Midtown Cathedral. On Sunday Nov. 6, Father Val administered the sacrament to the man who would receive one of his kidneys.