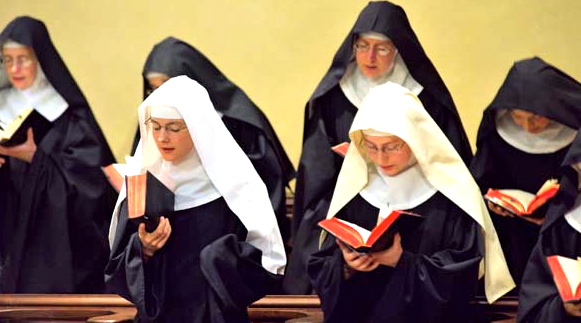 The age of women who are attracted to religious life in Britain is getting younger, and Vanity Fair is taking a look at the phenomenon:
For twenty-something women considering a life in a habit, it's God's honest truth: "Not everyone looks good in black."

So says Triona Adams, an effervescent former nun who, at 26, left her position with a successful London theatrical agency and joined an enclosed Benedictine order in Oxfordshire, England. The youngest at the convent by far— the next youngest sister was 52, the oldest 101—Adams had been fascinated by nuns throughout her Catholic childhood. In 2001, she went on a weekend retreat with the convent, deciding whether to join—and afterward made several phone calls to the sisters to affirm her choice. No one called her back. As a last resort, she sent them a fax—and it worked. "You have to knock three times," she says. "People assume they're just taking anyone—[that] you just have to show up. But they want to make sure you have a vocation, not that you just don't have anything else to do."

Joining an enclosed order for Adams meant waking up at six a.m., going to church an average of seven times per day, talking very little, and making no contact with the outside world except through letters—she had a friend who, without fail, mailed her a Galaxy chocolate bar every week. "I went with the aim of wanting to make it the rest of my life," Adams says. "I do wonder if I knew early on [that it wasn't right] and was being really stubborn. It was like a bad blind date—that little spark was not there." Since leaving the convent, Adams has written a one-woman play about her experiences, titled Nun the Wiser, which she performs all over the U.K. Still, she says, her relationship with Catholicism endures—"I still go to church every week."

Adams's story is not as unique as it might seem. According to the Catholic Church's National Office for Vocation, the age range of people showing an interest in formally entering a religious community is skewing younger: the young end is now 16 to 18 years old, whereas 10 years ago it was 30 or 40. From 2006 to 2010, the proportion of women in formation—training to become a nun—who were under 40 increased from 42 percent to 70 percent.

BBC1 recently aired a documentary on the subject called Young Nuns, which follows two young women considering the convent: Clara, 23, and Catherine, 25. It also features the Franciscan Sisters of the Renewal, one of the U.K.'s youngest religious communities, with an average age of 30.

Vicky Mitchell, 30, and not herself religious, produced and directed the documentary. "I used to live in a student house that was opposite a convent, [and] that planted the seed," she says. "They were all quite elderly. I became interested in finding out what the women of my generation were doing." For decades, she says, the participation numbers have been falling, but now they're starting to rise. "I've never found a clear answer to the question—I guess the main thing was, the women choosing this life weren't easy to categorize," she says.