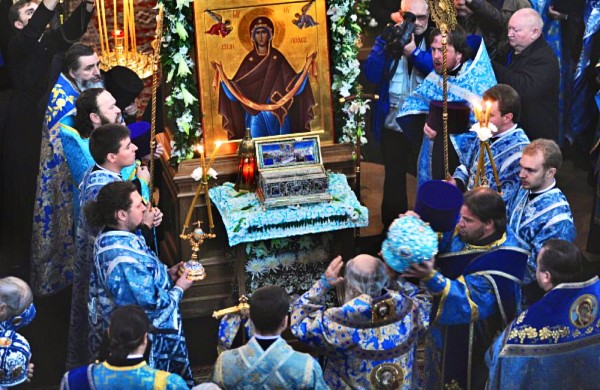 From our brothers and sisters in the Orthodox Church, some news out of Moscow:
The Holy Belt of Virgin, one of the most venerated relics of the Orthodox Christian world, has arrived in the Russian capital after a tour of the country which began Oct. 24 from St. Petersburg. Over 50 thousand faithful went to the at the Cathedral of Christ the Saviour in the first two days of exposure (19 to 20 November), where it is on display until Nov. 27. Thelucjey ones waited six hours before entering. Others expected to wait 18 hours beneath the first hints of autumn snowfall in Moscow.

The security measures deployed are at the highest levels, because the exposure of the relic coincides with the celebrations for the birthday of Patriarch of Moscow, Kirill, November 20. Already the night of November 18, the authorities had placed metal detectors at every entrance to the large square which leads to the cathedral, a symbol of post-Soviet Russia's religious revival. For two days the traffic around Christ the Saviour was paralyzed and a queue of people waited on sidewalks adjacent to the church, preventing the passage of pedestrians.
So what, exactly, is the "Holy Belt of the Virgin"? An explanation:
The belt was woven from camel hair by Mary herself. The legend tells that, before her Assumption, Mary gave it to the Apostle Thomas. It was later preserved in the Imperial Palace of Constantinople until, in the fourteenth century, a king of Bulgaria seized it. Later, Prince Lazarus of Serbia gave it to Vatopedi.

For years the monks have donated to the faithful small belts modeled on that of the blessed Virgin. They are placed in plastic bags containing prayers and instructions on how to observe fasts. The Orthodox believe that thanks to the intercession of the Virgin these belts help treat female infertility.
UPDATE: A reader notes something worth remembering:
The Orthodox do not revere Mary's Assumption into Heaven as such, rather they refer to it as the Dormition, the falling asleep of the Virgin. At her death, Jesus received her soul and takes it into heaven. In Orthodox iconography, Jesus is at the BVM's deathbed, receiving her soul that is in the form of a child. The apostles come from the ends of the earth to mourn her falling asleep. Orthodox do believe that Mary's soul and body have already experienced the Resurrection. One of the points of contention between the Orthodox and the Catholics are the different nuances regarding Mary's end on earth. As you know, this did not become Catholic dogma until 1950.
Below, a video of the veneration.