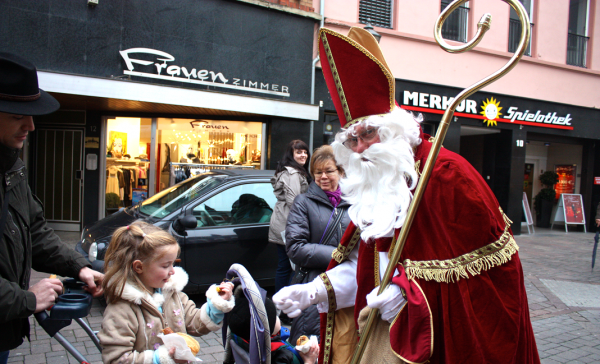 Good St Nicholas,
Help us prepare for the miracle of the coming of Jesus.
Help us not to be blind to the gifts of getting ready.
Help us be sincere in the greetings we send and receive, with love and prayer.
Kind St. Nicholas, protect us from shoppers' fatigue, stress, overspending, yet help us to be kind and generous of heart to all, especially those who are alone, poor and fearful.
May our celebration of your feast lead others to see the true meaning of giving and receiving and to guide all people to the greatest of all gifts: Jesus Christ, prince of peace and child of Mary, Our Lord and only saviour.
— From the St. Nicholas Society
Check out other prayers and devotions to the saint, whose feast is today.
UPDATE: There's more on St. Nicholas and the cult surrounding him over at ONE-TO-ONE:
Before the Communists suppressed the Orthodox Church in Russia, St. Nicholas the Wonder Worker virtually dominated the popular piety of the nation. Countless churches were dedicated to him. Russian men, from the exalted tsar to the humblest peasant, honored him as their patron. A pious peasant asked to identify the Holy Trinity would, more often than not, mutter the names of Jesus, the Virgin Mary and St. Nicholas the Wonder Worker. Icons of this trinity, enshrined in every Russian home, reinforced this understanding.