Last year, a priest in Italy (pictured below) made headlines when he celebrated Mass using the iPad instead of a book.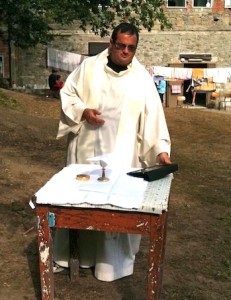 Now I know what it's like. We did that today.
At CNEWA, we have monthly Mass in the office boardroom, with about two dozen people, a couple of priests and (ahem) one deacon.
Today, though, it was a little different.  We didn't have a copy of the new translation of the Roman Missal.  What to do?  The celebrant just popped open his iPad, propped it on the conference table (which we use as an altar), and prayed the Mass from that. It went smoothly and, if you didn't know better, I doubt anyone would have been able to tell the difference.
We were less successful with the new Mass responses (though we did have prayer cards to help us along).  The whole "And with your spirit" thing is going to take some getting used to, along with some of the other long-familiar prayers.
Maybe we should all download the new missal onto our iPhones to pray along.
Anyway, our maiden voyage into this uncharted territory was successful.  And if anyone has any doubts, I can just say: try it.  You might be surprised.
You can read more about the iPad-as-Missal phenomenon, and the man behind it, here.