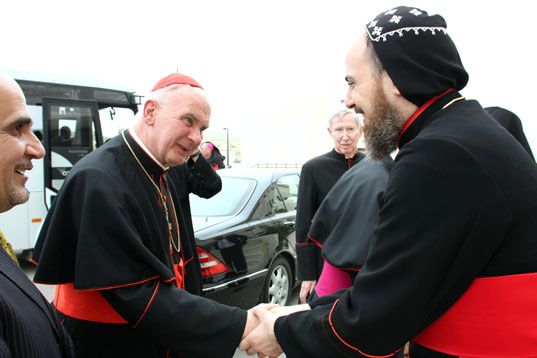 That would be the late, great Cardinal John Foley, who died over the weekend after a long battle with cancer.
My colleague Michael J.L LaCivita remembers the prelate who was a member of the press:
For those of us in the trenches of the Catholic media, Cardinal Foley was like a godfather, a prelate with media credentials; he had a Masters in Journalism from the Columbia University School of Journalism, and was a longtime editor of the Catholic Standard and Times in Philadelphia. He understood us and sympathized with the challenges we faced as Catholics and as journalists. "We know as journalists," he said, "that the more some people try to cover up bad news, the more likely it is to be known."

For more than two decades, Cardinal Foley headed the Holy See's social communications council, and perhaps he is best known for his commentary during the pope's celebration of midnight Mass on Christmas Eve.

I remember him best for his yearly trek to the annual convention of the Catholic Press Association of the United States and Canada. This ragged band of wounded warriors (well, some of us) were his colleagues and friends, and he made no attempt to hide the fact that this visit was a highlight on his very busy calendar. Though an archbishop, he did not preside at events or deliver key note addresses. Instead, he mingled with the gang — attending seminars, asking questions, grabbing minutes here and minutes there for a question or simply to tease. His presence was powerful.

His annual celebration of the Eucharist commemorating those colleagues who had died since the previous convention — and his excellent homilies at those liturgies — stand out. Whether in a convention hall or a 19th-century church, John Patrick Foley celebrated the Mass as one expected from a priest bred in the Archdiocese of Philadelphia: with reverence, thoughtfulness and care. His homilies always inspired, always brought laughs, always brought tears.